Turning scrap into works of art
Share - WeChat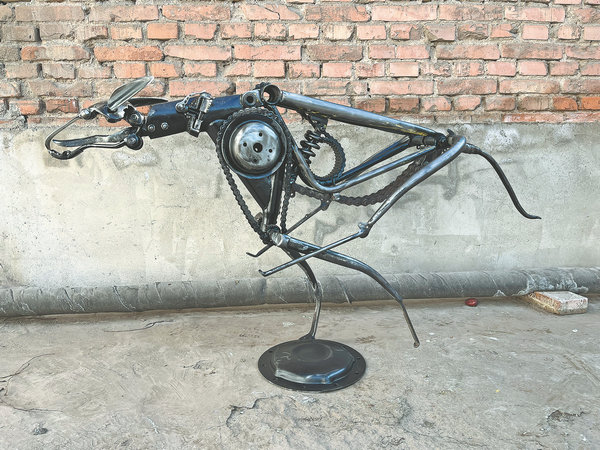 Childhood passion to make things out of discarded items paves the way for a creative career, report Xing Wen and Sun Ruisheng.
In the late 1970s, every time the bell rang, Li Zhi, 7, couldn't wait to dart out of the classroom with his backpack. He made a beeline for the three garbage dumps that were situated respectively in the east, west, and north of his village in Taiyuan, Shanxi province.
For Li, these were no ordinary trash heaps, but his treasure troves. He would pick up discarded items including metal barrels, rubber hoses, screws, bicycle chains, and old clocks.
"During festivals, the villagers would dispose of many household items, making it a prime time for scavenging. That was when I dug deep into the garbage to reap a bountiful harvest," recalls Li, 51.
He transformed these seemingly worthless items into raw materials of limitless potential, carefully sorting and storing them in seven special drawers in his home.
In those days of scarcity, employing a child's ingenuity, he used those materials to make his own toys — models of cars and weapons, and anything else his fertile imagination could conjure up.
Most Popular