Brewing up a career
Share - WeChat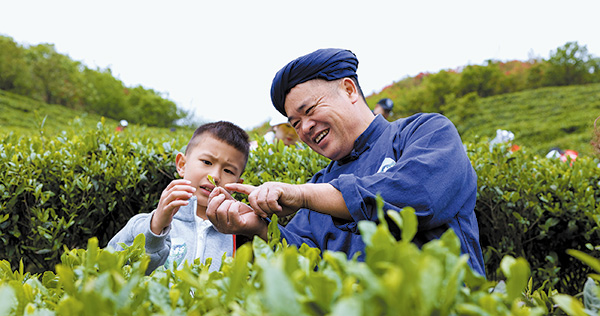 Endless rows of tea trees have been competing to sprout new buds since March, and Zhang Ziquan and his staff members have been adeptly picking tender, green tea leaves and placing them into baskets at the foot of a mountain.
The scene is from Zhang's plantation in Pingyang village, Maojian town, Duyun city, Qiannan Bouyei and Miao autonomous prefecture, Guizhou province. There, he practices an ancient art, innovates, follows his dream of being a tea maker, and contributes to the maintenance of China's cultural heritage.
As the tea leaves accumulate and the sun comes down, Zhang starts the frying process. The first step in frying tea is to remove the grassy taste from the tea leaves, he explains.
The emerald green tea leaves crackle as they come into contact with the burning pot. Zhang then stretches his hands into the pot, stirring up the leaves.
"The temperature of the pot needs to reach 250 to 300 C," says the Maojian native, who is in his 50s.
More than four decades of tea making has granted him the capacity to pull off the feat of sensing the high temperature through his bare hands.
"If I feel it is scorching, it is the right temperature," he says.
Zhang's hands have long been accustomed to high temperatures, and he can accurately sense the different temperatures required for frying tea, just like a thermometer.
After the frying, the rolling and kneading start. At this point, the temperature of the pot is maintained at around 80 C.
Zhang quickly rubs the tea leaves in his palms. After the process is complete, the astringency of the tea begins to fade, giving way to a pleasant, ripe flavor.
The third step is to roll the tea leaves into tight strips. Zhang then spends about five minutes pushing the tea leaves in a centrifugal motion around the pot until the leaves turn into a fishhook shape and all moisture is removed.
Most Popular