G7 leaders should be ashamed of their shamelessness
Share - WeChat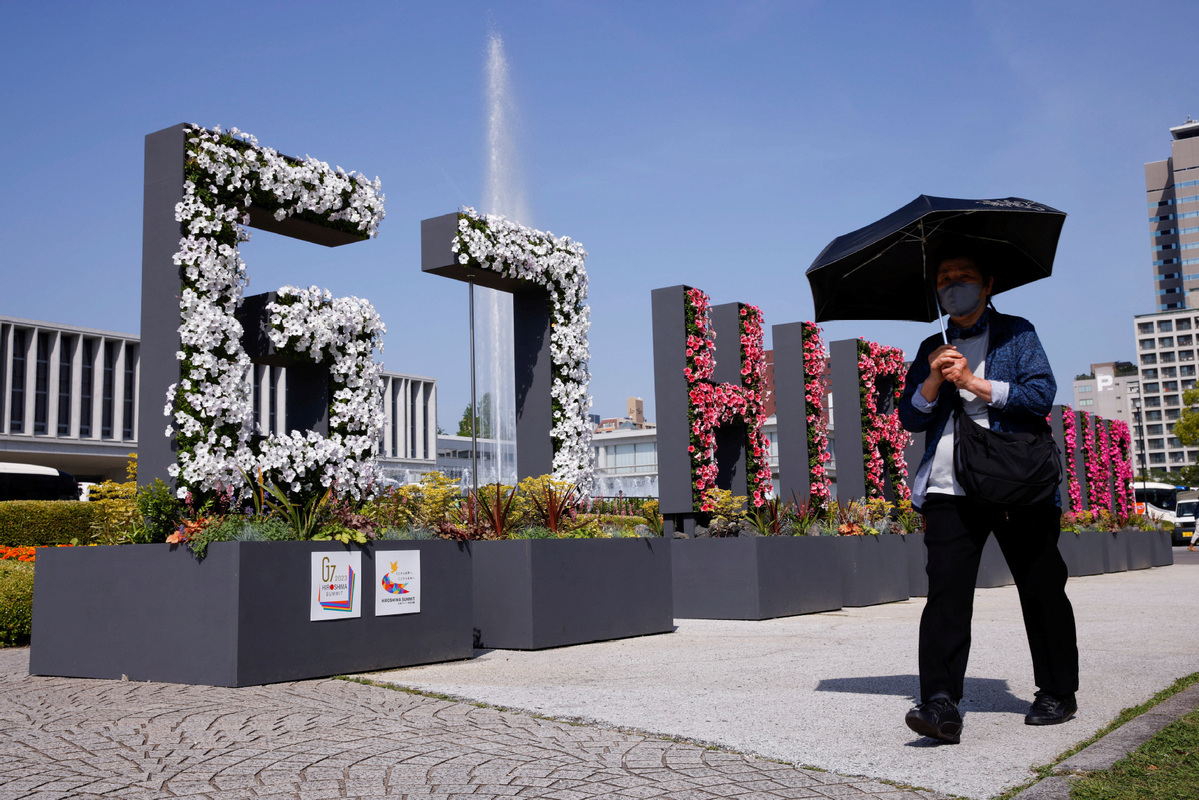 By preparing to use its summit in Hiroshima, Japan, from Friday to Sunday to accuse China of using economic coercion, the Group of Seven is proving itself to have become not only outdated but also somewhat of a joke.
The G7 has become outdated because it was formed during the Cold War, in 1973 to be precise, based on ideology and dictated by the United States. And the G7 members, mostly former colonial powers, no longer deserve the title of industrialized countries and the world's largest economies because China and India are bigger economies than most of them.
Also, BRICS — Brazil, Russia, India, China and South Africa — has overtaken the G7 in terms of GDP based on purchasing power parity, according to a report of British firm Acorn Macro Consulting in April. As BRICS accounts for 41 percent of the global population, it is also more representative of the world compared with the G7, which accounts for a mere 10 percent of the global population.
As a matter of fact, the G20, which includes both developed and developing economies, is today much more relevant than the G7.
The US has been manipulating the G7 to stage all sorts of anti-China farce in recent years. For example, the group launched the "Partnership for Global Infrastructure and Investment" last year as a "counter" to the China-led Belt and Road Initiative. But no one knows whether the PGII, which is much smaller in terms of size and reach than the Belt and Road Initiative, has achieved anything, or completed even one infrastructure project which Chinese companies can learn from.
European Union foreign policy chief Josep Borrell lamented on Monday, saying that when he talked with African leaders, they told him that "when you (Europeans) came, you gave us a lecture, but when the Chinese came, they gave us investments".
Yet European Commission President Ursula von der Leyen joined the US this week in accusing China of economic coercion by citing the examples of Lithuania and Australia. She got is all wrong, of course.
Beijing's move against Canberra was in response to Australia banning Huawei's 5G technology from its telecommunication network during Scott Morrison tenure as prime minister. And China had no option but to respond to Lithuania violating one-China principle, which formed the basis of the two countries' diplomatic relations. China's move was simply to safeguard its sovereignty, territorial integrity and core interests, something that every country would do.
Interestingly, von der Leyen forgot that the EU condemned the US for violating international laws by using long-arm jurisdiction to impose sanctions on EU companies that were conducting normal trade with Iran after the Donald Trump administration pulled the US out of the Iran nuclear deal. She also forgot how furious EU leaders, including former German chancellor Angela Merkel, were with the US for resorting to economic coercion when Trump launched a trade and tariff war against European countries, although his main target was China.
She and most G7 leaders have become willing collaborators of US since it forced them to ban Huawei from their 5G networks by threatening that, if they didn't do so, the US would stop sharing intelligence with them.
For the past months, the US has been coercing leading Dutch chip-equipment manufacturer ASML to restrict its exports to China. While von der Leyen chose to turn a blind eye to the US' coercion, Sanne van der Lugt and Frans-Paul van der Putten, both researchers at the Dutch think tank Clingendael, condemned the US policy, saying it is a threat to European countries' strategic independence. And they warned that the US restrictions could blunt the competitiveness of EU flagship companies in the microchip industry.
Even US Treasury Secretary Janet Yellen admitted that Washington has been using economic coercion lately by saying that the weaponization of the US dollar could undermine the hegemony of the dollar.
The US is by far the biggest bully, using economic coercion to fulfill its narrow goals. Its 60-plus years of embargo against Cuba, which has been condemned by the United Nations General Assembly for 30 years in a row, is the most barbaric economic coercion ever used.
Shame on the rest of the G7 leaders for dancing to the US tune.
The author is chief of China Daily EU Bureau based in Brussels.
chenweihua@chinadaily.com.cn