Engineering a fashionable trend
Share - WeChat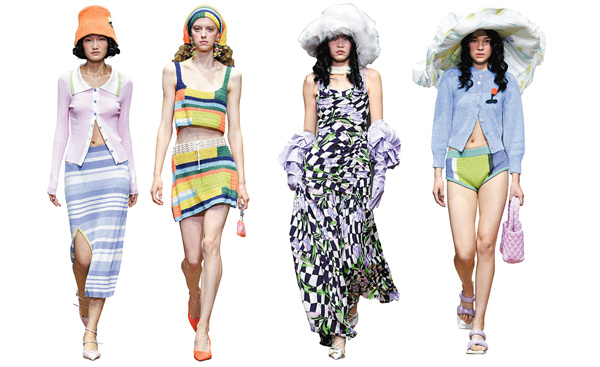 On the afternoon of April 15, against a backdrop of sea gulls chirping and waves crashing onto the beach, independent designer brand ZI II CI IEN unveiled its spring/summer 2023 collection at the Zen Hall in the ancient water town of Puyuan, Tongxiang city, Zhejiang province.
Using floral elements and gorgeous colors matching, Zhi Chen, the 33-year-old founder of the knitwear brand, has tried to get people to notice beautiful things that could fade away in one blink through the collection named The Moment.
After the show, Zhi revealed her wish and the concept she wanted to pass on, as if she were toasting with a glass of champagne, "to catch the beauty of every moment, and to live every moment happily".
The new collection was inspired by a namesake picture album, which introduced US artist Alex Katz's exhibition Flowers held by the Gladstone Gallery during Gallery Weekend Beijing in 2021. The book included his works and a few words that recorded his understanding of life during the COVID-19 outbreak.
Zhi says: "Most of my design inspiration actually comes from the beautiful moments in life that hit me."
She recalls that on a breezy evening, with the shadows of the trees spilling gently onto the ground, the picture book with a bright cover caught her attention.
"It was very much like a crush, a moment of being hit, of romance, of going against the grain of rational analysis," she says.
After opening the book with delight, Zhi couldn't take her eyes off the tulips in one of Katz's paintings. Those bright red tulips in round shapes, which are in full bloom, took her breath away.
She was also amazed by the orderly arrangement and the close-up composition of the painting. The beige background neutralizes the flamboyance that comes from the extensive red color, and creates just the right amount of retro atmosphere.
The designer then spent days drawing her own tulips, and changed the design dozens of times.
Zhi mainly struggled with whether to depict them as a bunch or in a row; whether to have the leaves flare out or snap in; whether to have highlights or heavier shadows.
"I wanted to get the design down to every pixel point," she says.
After completing the design of this individual element, the next round of struggle began, mainly about size, sparseness and specific arrangement and superimposition.
Finally, it was decided that her tulips, which have pink petals and blue shadows, are going to grow on the irregular black-and-white checkerboard.
"People would never confuse the sunflowers painted by Vincent van Gogh with the sunflowers painted by Oscar-Claude Monet. The geometric checkerboard pattern is the hint that tells it's a work of Zhi Chen," says the designer.
Most Popular