2023 World Intelligence Congress to be held in Tianjin
Share - WeChat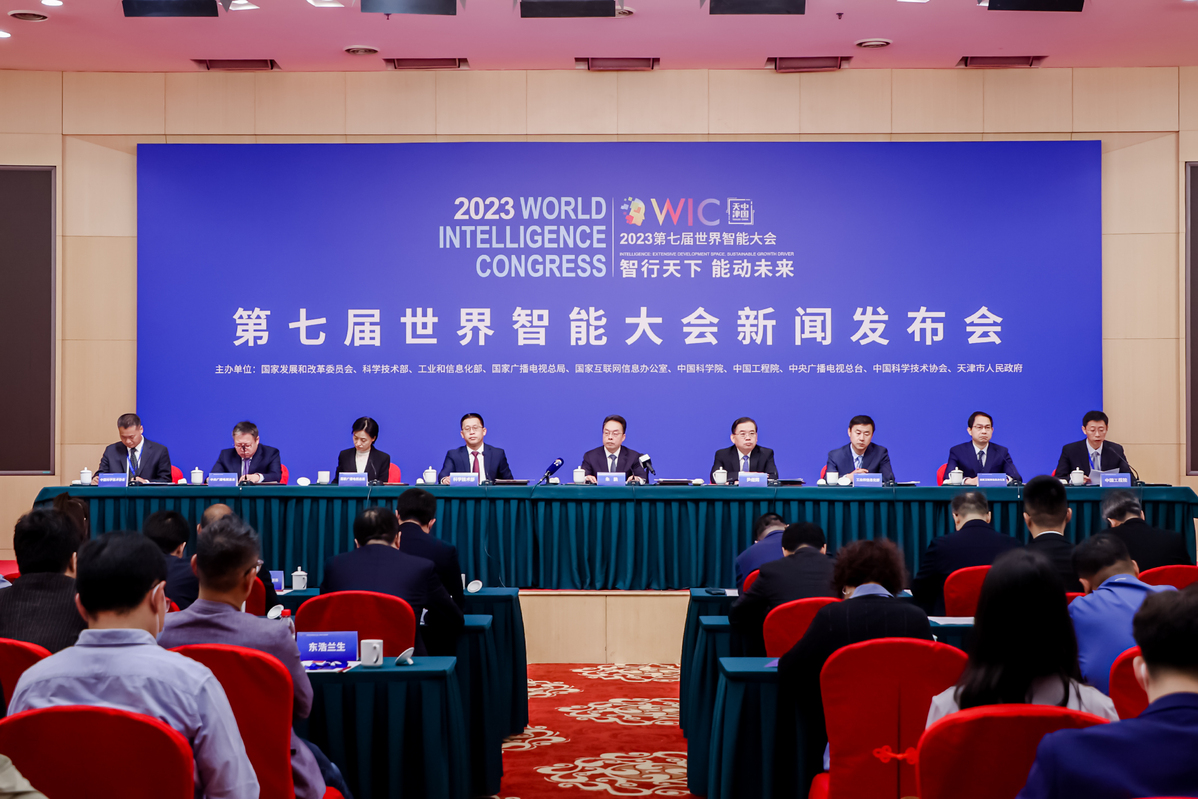 The 7th World Intelligence Congress is set to take place from May 18 to 21 in North China's Tianjin municipality, with the largest, high-quality smart tech exhibition to be held offline, said Zhu Peng, deputy mayor of Tianjin at the news conference for the event on Thursday.
This year's AI congress, under the theme of "Intelligence: Extensive Development Space and Sustainable Growth Driver", aims to showcase the latest achievements and trends of AI development and expand international cooperation into new fields.
The four-day event will bring together experts, scholars and entrepreneurs from 21 countries and regions to discuss topics such as intelligent connected vehicles, generative artificial intelligence, brain-machine interaction and other cutting-edge technologies.
This year's WIC will host two major summits, the Summit on Innovation and Development and the World Summit on Intelligent Technology Innovation and Cooperation, which will bring together experts and scholars to discuss global frontier topics of intelligent technology.
Parallel forums on various topics including intelligent connected vehicles, intelligent manufacturing, generative AI, Internet and medical health, and urban energy revolution will also be held during the event.
The 7th WIC will also hold its intelligent technology exhibition at the National Convention and Exhibition Center in Tianjin for the first time, covering an area of 120,000 square meters.
It includes 10 themed exhibition areas, such as information technology application innovation, AI, 5G and industrial Internet, intelligent transportation, intelligent manufacturing and smart life, as well as two intelligent experience areas for 5G and intelligent connected vehicles.
The smart tech exhibition will showcase cutting-edge products and technologies from 487 domestic and international enterprises, including world and domestic top 500 enterprises and research institutions and universities.
Multiple international organizations and institutions, such as the Society of Automotive Engineers from the United States and the Asia-Pacific Engineering Organization Federation, will participate in the conference, seeking new models and opportunities for industrial cooperation.
Over the past six years, WIC has helped sign 702 cooperation agreements with a total investment amount of 543.8 billion yuan ($78.35 billion), where delegates from 41 countries and organizations gathered in Tianjin to deepen international pragmatic cooperation.
Nearly 100 billion yuan of special funds for intelligent manufacturing have been allocated by the Tianjin's municipal and district governments, supporting nearly 3,000 projects and building over 300 intelligent factories and digital workshops.
The conference acts as a window for China to showcase the development of the AI industry, attracting online overseas visitors from over 30 countries and regions such as the United States, the United Kingdom, Germany, Australia, Japan, South Korea and Singapore.