Uncorking their passion
Share - WeChat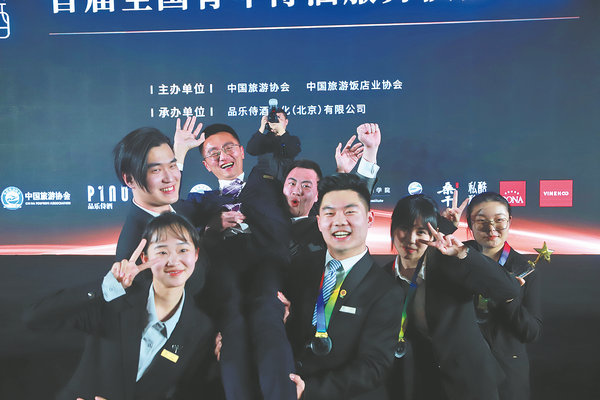 Huang Nian'er, 22, and her two schoolmates, Jin Chenhao and Li Jingshi, have been practicing dance and performing onstage since their freshman year in 2019. As they prepared to graduate from college this summer, they found themselves back onstage once again.
However, this time they were not dancing, but rather serving wine. Despite the change in their performance, their dedication and hard work did not waver.
The trio, who have named themselves "Huang Jin Li" after a combination of their last names, aced the contest, ultimately being named the winners of the first National Young Sommelier Service Skills Competition.
Their participation not only brought them victory, but also opened up a new career path. Despite majoring in hospitality management at Beijing Hospitality Institute, they now see the possibility of becoming sommeliers in the future.
Huang recalls that, after the competition, jury head, Lyu Yang, who is, himself, a Master Sommelier, shared his own stories with them. "Learning from his career experience, I have a clear understanding of this job, which used to be more of a concept for me. His understanding of the service industry has made me think it's a meaningful career," Huang says.
Huang is set to begin her postgraduate studies in the United Kingdom in September, and the competition has inspired her to delve deeper into the world of wine. Although her previous knowledge about the libation was mostly gained through her previous internships and preparation for the competition, the event has sparked her interest in learning systematically about wine.
Previously, both Huang and Jin had worked at bars in Beijing, which gave them some exposure to the world of wine. However, the competition proved to be a turning point for both of them. In fact, Jin discovered his interest in sommelier services through the competition and is now actively seeking opportunities to join the field.
Most Popular