EDCA sites not a boon but a bane to the Philippines
Share - WeChat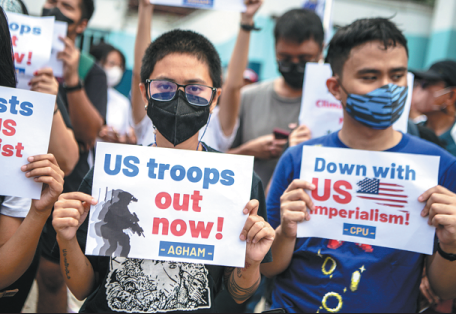 In about a month, Filipinos across the world will be celebrating Independence Day. That the date was moved from July 4th — American relinquishment of domination in 1946 — to June 12th — when the Philippines proclaimed independence from Spanish rule in 1898 — shows just how much the proud nation values its dignity and heroic struggle.
Today, they continue to stand tall in the family of nations, striving to be a friend to all and an enemy to none. The Philippines' self-respect and goodwill, however, is now at risk of being used by some outside forces to serve their geopolitical agenda — through EDCA.
The United States is waging an all-out war on China. This is an open secret. Marching orders are coming from Washington to allies far and near: Find your place in the formation. A political mouthpiece, war chest contributor, tech hitman or a "regional contingency stockpile for Taiwan that consists of munitions and other appropriate defense articles."
Apparently, the last task is contracted to the Philippines. Only some 400km away from Taiwan, the Cagayan EDCA sites, a naval base and an airport, make ideal staging platforms for US fighter jets and missiles. To sooth fears of the locals, politicians claim that the additional sites are purposed for humanitarian assistance and disaster relief and that any new usage of the sites will be subject to consultation with and approval by the Philippines.
But many Filipinos are skeptical.
Asking politely is never America's way with the Philippines, or anyone. Did they ask when they looted away the church bells of Balangiga and didn't return them until 2018? Did they ask when they occupied Manila and bought the archipelago from Spain for $20 million? Did they ask when they launched a war of aggression that resulted in nearly half a century of imperialist rule? And didn't US Defense Secretary Lloyd Austin admit that the EDCA sites are part of the efforts to counter China?
Filipinos see the stakes. Political leaders warn that the country is courting war by hosting the sites and the maintenance work would divert significant resources away from social programs. NGOs are debunking rosy claims of business opportunities and jobs and sounding alarms about worker exploitation. Under the #JunkEDCA hashtag, patriotic Filipinos are denouncing US imperialist designs and worrying about all the associated problems of US troop presence.
Make no mistake. Taiwan is not a question to be toyed with. China is not a fan of conflict. But Taiwan is "the reddest of China's red lines". Such is the stern warning from China. Look at the Chinese People's Liberation Army's massive live-ammunition drills in response to US House Speaker Nancy Pelosi's ill-advised visit to the island last August. Read the tough comments on Taiwan by Chinese bloggers. You get how absolutely determined the 1.4bn Chinese are to reunify the country.
America knows the high stakes and it is not confident of managing the fallout. A recent war-game simulation by the US House Select Committee on China predicted that, in the event things happen in the Taiwan Strait, existing US deterrence would fail, PLA troops would land successfully on Taiwan and the world economy would collapse.
In that terrible scenario, what would happen to US runners and helpers? Think of how US troops abandoned Afghanistan. Is it not true that the Philippines are still struggling to get the US to be specific about its commitments under the 1951 security pact?
Many countries keep their distance. Emmanuel Macron says France should set its own policy on Taiwan to avoid being "followers" of America's agenda. European Commission's Ursula von der Leyen is convinced that "we can, and we must, carve out our own distinct European approach." Other ASEAN nations are urging an end to big-power rivalry and calling for ASEAN centrality — a diplomatic euphemism for not accepting the domination of any power in the region.
Filipinos love their families and communities. They know every community has its problems and also its own way of working them out. They do not take a gun from an outsider and point it at their neighbor over some differences. Like their ASEAN siblings, Philippine decision-makers do not have to choose between pro-US or pro-China. Their allegiance must be pledged to Filipinos and no other.
The author is a Beijing-based commentator on international affairs.
The opinions expressed here are those of the writer and do not necessarily represent the views of China Daily and China Daily website.
If you have a specific expertise, or would like to share your thought about our stories, then send us your writings at opinion@chinadaily.com.cn, and comment@chinadaily.com.cn.
Most Viewed in 24 Hours
China Views