Musical memorializes heroic patroller
Share - WeChat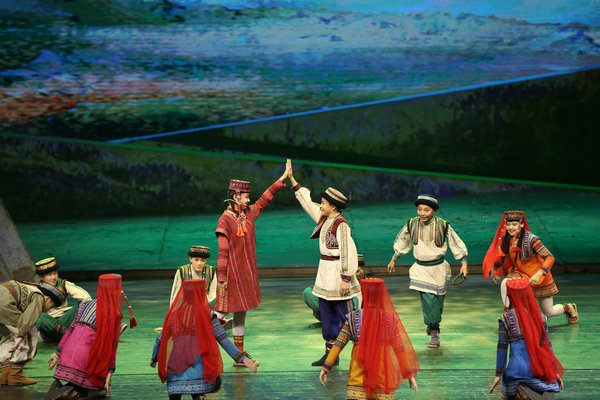 The musical Laqini Bayika was staged in Beijing in memory of a 41-year-old border patroller who sacrificed his life trying to save a child.
The border patroller, for whom the show was named after, from Tashikurgan Tajik autonomous country in Northwest China's Xinjiang Uygur autonomous region, sacrificed his life while attempting to pull a child out of the water after they had fallen through the ice and into the lake at Kashi Univeristy in 2021. The musical was first shown on April 26 and continued to be staged for four consecutive days.
The production chronicles the hero's life from childhood, when he became determined to follow the steps of his father and grandfather to become a patrolman in the future, all the way to his final moments.
According to Wang Tiejun, the playwright of this musical, crew members visited relatives, colleagues and village fellows of Laqini to know more about him, and he was moved by the heroic sacrifice of the modest and reserved man who often remained under the radar. "I didn't need to add anything. Instead, I just tried to show the true story of him as vividly as possible to the audience," says Wang.
The production premiered in Xinjiang last year, and will tour to other places in China like Guangdong province, Shanghai and Shandong province.
Most Popular