Moving in the company of four or more
Share - WeChat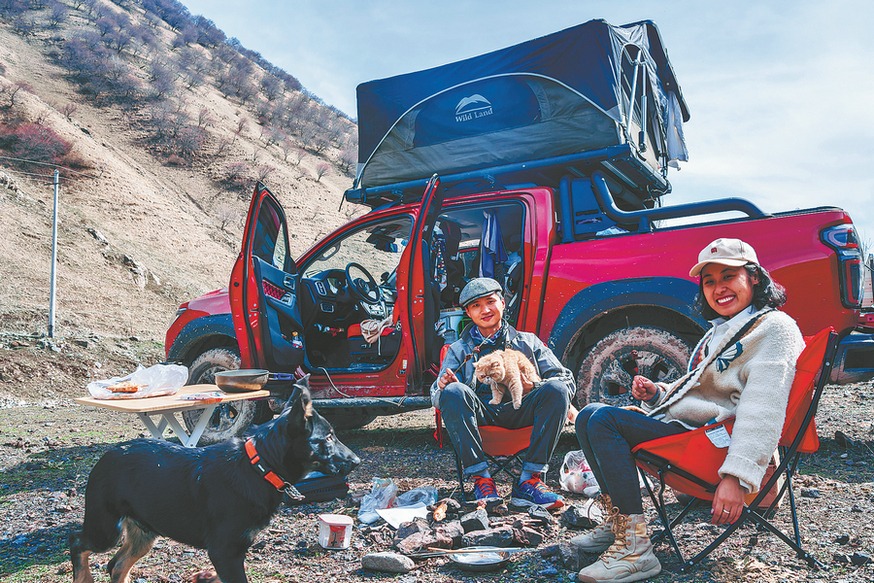 A dog and a cat sit agreeably on the back seat of a pickup.
Li Yaming, 34, is driving while his wife, Jiang Yao, 29, is the front-seat passenger. It's a lovely road trip for the couple and their two pets. At night, Li and Jiang sleep in a rooftop camp while their cat rests in the car and their dog sleeps beside the car as a guard when the weather is good.
They started to tour the country in July 2020, two months after they got married. It's been like a honeymoon that never ends. They return to their hometown to rest for one or two months after traveling for a while and continue to be on the road again.
"Traveling with our furry friends has brought us much joy on this long journey," says Jiang.
They keep recording their travel experiences via short videos and photos online, attracting over 121,000 followers on microblogging site Sina Weibo.
The couple used to work in Beijing and lived with their cat. Li shot and edited videos and Jiang wrote articles for new media platforms. During the COVID-19 pandemic in early 2020, their companies shut down, so they decided to realize their dream of traveling around China ahead of time. After they set out, they raised an East German shepherd.
They prefer to explore remote and vast areas with natural scenery, and it's convenient to take their dog and cat along. They chat with other people traveling with their pets at caravan campsites, which are one of the best lodging choices for them. Their dog and cat have become good travel companions, especially when they venture into less populated areas with weak mobile signals.
"My dog likes to swim in streams and play Frisbee with us. Also, being with a big dog has given us a sense of security," she says.
"My cat is smart and has adapted to this nomadic lifestyle. After we set up camp, it explores the surrounding area and returns to our tent later. Sometimes when we stroll around, we use a leash or simply carry the cat in a bag," Jiang says.
She was surprised when the feline caught a mouse and brought it back to the car, she adds.
They were once camping in a sparsely populated area in the Xinjiang Uygur autonomous region when they unexpectedly encountered a sandstorm. Fearing that their tent might not withstand the strong winds, they made the decision to seek shelter in their car. With their dog and cat in tow, they folded the seats and squeezed into the vehicle for the night. The dog lay down under the seats while the cat curled up beside their heads.
"The four of us turned over all night and couldn't sleep well. It's an unforgettable experience," she recalls.
Jiang says it's better to have one's pets neutered before traveling with them and then regularly deworming because they often roam in the wild.
Besides camping, they stay at a minsu (Chinese-style bed-and-breakfast establishment) or hotel every one or two weeks. In Yunnan province, there are pet-friendly minsu, where their dog can be on the room's balcony. It's also convenient to travel with pets in Xinjiang and the Tibet autonomous region, where many restaurants allow pets to stay in their backyard.
However, there are some scenic areas or restaurants where dogs are not allowed, so Jiang and Li have to choose pet-friendly places instead. "If you want to travel with pets, you have to be prepared to sacrifice some convenience," Jiang says.
They spent all their savings on the trip, including a car loan of 190,000 yuan ($27,643) and monthly travel expenses exceeding 5,000 yuan.
To supplement their income now, they've taken on part-time jobs such as video-editing but can hardly make ends meet.
"I had a warm house to live in and a stable salary when I was in Beijing. But I was tired of a routine nine-to-five job and realized that this monotonous lifestyle would never change," Jiang says.
"I don't like being in a rut — I like to keep moving. I want to see many things in the limited time of my life. I believe that exploring the world is an essential way to extend one's life."
Her husband cannot agree more.
"We've encountered many difficulties during the bittersweet journeys such as bad weather and car breakdowns. But it's important to persist and face uncertainty," Li says.
When they first embarked on the road trip, they were excited about the picturesque scenery. But now, they focus more on what will happen and who they will meet during the journey.
Jiang's perspective of life has also changed gradually.
"The more I see during my trips, the less I require and the more content I become. I have less material desire and no longer feel the need for a lot of fancy clothes. I am easily satisfied, for example, by grabbing a bit of local snacks," she says.