AI technology invigorates China's digital development
Share - WeChat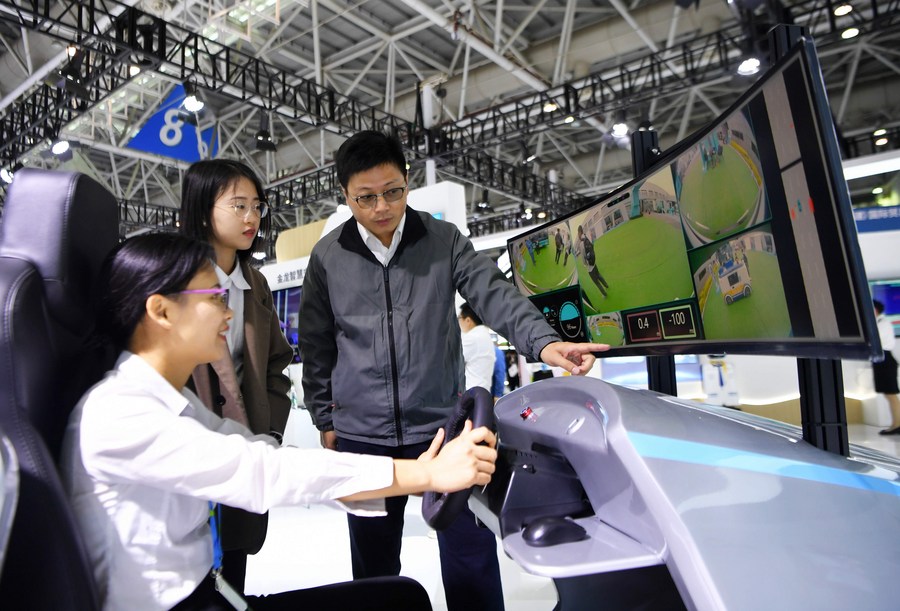 FUZHOU -- At the 6th Digital China Summit, an exhibitor surnamed Zhang experienced an AI emotion-recognition system. Simply standing in front of the device, her stress values, blood oxygen levels, heart rate and other physiological indexes appeared on-screen within seconds.
The AI emotion-recognition 3.0 system made its debut at the summit, a two-day event held on Thursday and Friday in the city of Fuzhou in east China's Fujian Province.
The AI system was developed by the smart information technology services provider Hengfeng Information. It uses a 4K high-definition camera to capture subtle changes in the brightness of human faces, and analyzes behaviors and physiological signals by building a computational model of emotional states.
"An emotional interaction between a human and the computer can be established based on the measured physiological states," said Lin Zhixian, a senior product manager at Hengfeng Information. "The device can be applied in many fields, such as public security, municipal governance, medical care, finance and insurance, and entertainment."
AI technology is accelerating its deep integration into various industries, constantly promoting the innovation and application of digital technology, which will beef up the integration and development of the digital economy and the real economy.
"AI has become a crucial driving force for China's leapfrog sci-tech development, its industrial transformation and upgrading, and the overall improvement of its productivity, propping up the replacement of old growth drivers with new ones and high-quality economic development," said Cao Shumin, deputy head of the Cyberspace Administration of China, when addressing a sub-forum at the summit.
During a digital product expo at the summit, humanoid robots welcomed a big crowd of visitors.
The Aelos EDU robot was developed by a leading humanoid robot company, Leju Robotics, and was designed to provide humanoid robot education services for primary and secondary school students and robot enthusiasts around the world.
"Students can customize our robots by programming. In the process, they can comprehend basic subjects like science, technology, engineering and mathematics better in a tangible and experiential environment," said Tian Guisheng, a senior product manager at Leju Robotics.
"We are committed to cultivating teenagers' AI interests, stimulating their innovative thinking through humanoid robot education, and providing a talent reserve for China's digital development," he said.
"In recent years, China has achieved fruitful results in AI development. The numbers of invention patents granted and papers published in the field of AI rank among the highest in the world," Cao said. Artificial general intelligence is expected to gain momentum. Making breakthroughs in the research and development of core technologies is crucial.
An artificial intelligence computing center established by the Fujian Electronics and Information Group was officially opened in Fujian on Wednesday.
Featuring a low-carbon mode, a high-density computing capacity and an integrated operating platform, the center is accelerating the construction of AI infrastructure and the deep integration of AI technology and relevant industries, which will boost the transformation and upgrading of various industries in Fujian.
The center intends to cooperate with 170 enterprises and scientific research institutions in the province. It has already cooperated with 47 high-tech enterprises to incubate AI innovation schemes based on local industrial characteristics, and trained more than 200 skilled individuals in related fields.
Though it promotes China's digital development, AI also brings about problems such as high energy consumption levels, high carbon emissions and environmental pollution. "Green AI is the inevitable trend for digital development in the future. It is necessary to set up a green technology innovation system and beef up efforts in the green AI industry," said Mei Jianping, deputy director-general of the Ministry of Science and Technology's Department of High and New Technology.