New hope for lake rooted in aquatic plants
Share - WeChat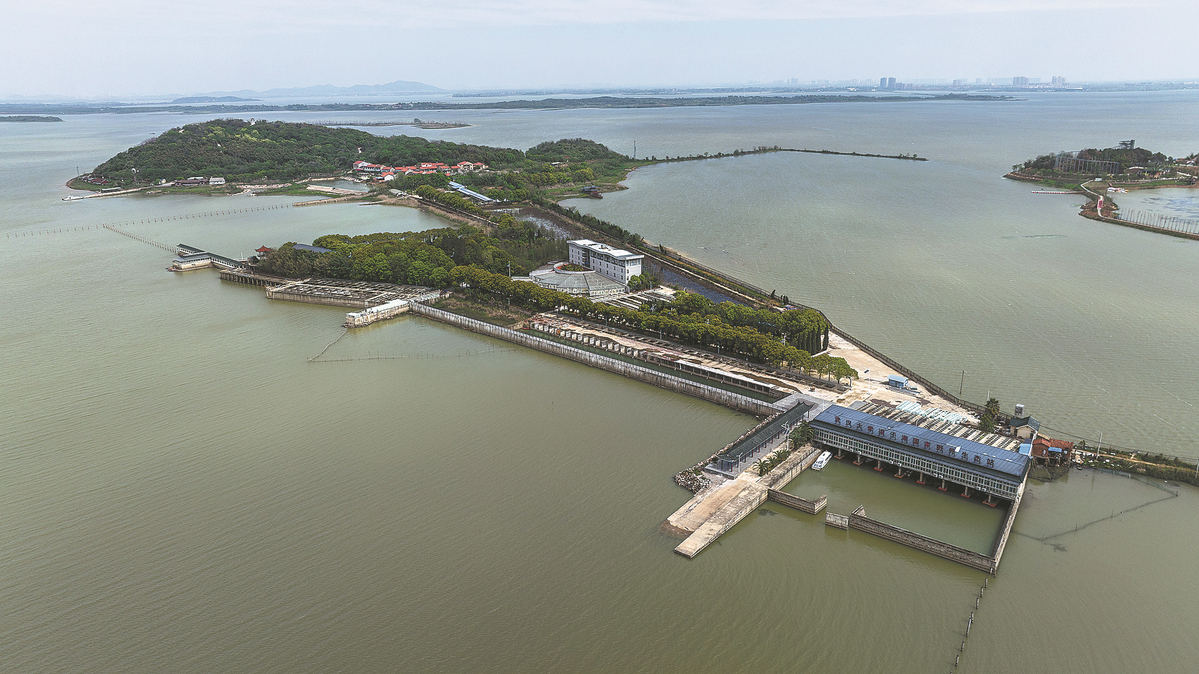 Scientist pioneers use of weeds to improve water quality in ecological test
It's hard to imagine when seeing Yu Dan — dressed like a common worker, usually in crumpled, untidy clothing, splashed with mud or soaked with water — that he is a professor at a famous university.
Yet Yu is a professor at the College of Life Sciences of Wuhan University in Hubei province.
His life has revolved around aquatic weeds since the 1990s.
For more than three decades, the 66-year-old has devoted himself to planting weeds in a large lake in Hubei in order to reduce its contamination and improve its ecosystem, and his efforts have been paying off. The lake's water quality and ecosystem have greatly improved.
Liangzi Lake, Hubei's second-largest freshwater lake, is the object of his attention and his workplace.
The lake, situated in the cities of Wuhan, Huangshi, Ezhou and Xianning in Hubei, has a total water surface of 328.2 square kilometers, according to Ezhou's bureau of water resources.
Working and living on the lake's Niushazui island, Yu and his students have planted more than 13,000 hectares of aquatic weeds, which, along with natural weeds, form an underwater forest sprouting beneath the lake's surface.
Because of that work, Liangzi Lake has the best water quality of any lake in the middle and lower reaches of the Yangtze River.
As leader of the National Field Station of Liangzi Lake Ecosystem, Yu spends more than 300 days a year on Niushazui island, where it is housed.
He developed an interest in aquatic weeds while in college in Northeast China.
"At that time, there was almost zero study of aquatic plants in our country," he said. But he was determined to explore the mysterious world.
Back in 1990s, Yu went to Wuhan for postdoctoral research on the aquatic vegetation of lakes in the middle and lower reaches of Yangtze.
"At the first sight of Liangzi Lake, which presented its clear water, swaying grass, and living shrimp and crabs, I fell in love with it," he recalled.
In 1992, Yu founded an observation station on Niushazui island to conduct a follow-up survey of aquatic plants.
There were only a few trees and several stone houses of local fishermen on the island, making the work lonely and hard.
Yu and his students lived in fishermen's houses and borrowed fishing boats to collect aquatic plant seeds in their first few years on the island.
"In order to research aquatic weeds, abundant and different weed samples are necessary," said Xu Xinwei, one of Yu's students.
"We went to places almost all over the country, as long as it had an aquatic area, bringing specimen containers with us," Xu said.
In their travels, they collected more than 400,000 specimens from countless bodies of water and studied more than 30,000 aquatic plant communities.
Their research yielded accurate data and scientific analysis on aquatic plants, and that provided basic theoretical and practical information for the ecological reconstruction of plant communities and restoration of degraded lakes in the country, Hubei Daily reported in an article on April 3.
In 1998, Liangzi Lake was struck by extreme flooding that killed almost all of its water plants and fish. It was a severe blow to the lake's ecology, and its water quality deteriorated from Grade II to Grade IV, the second-worst level in China's five-tier categorization system of surface water quality.
Yu put forward a bold idea — planting aquatic weeds at the lake's bottom and letting the weeds help purify the water.
At the time, there was no successful precedent in China or elsewhere for large-scale planting of underwater plants. "Even so, we needed to try," Yu said.