Xiplomacy: How China helps preserve cultural heritage sites in Asia
Share - WeChat Since Chinese President Xi Jinping pledged to work with other countries to protect Asian cultural heritage in 2019, the past years have witnessed growing cooperation among concerned parties in such fields as academic research, archaeological work, and the restoration of historic sites.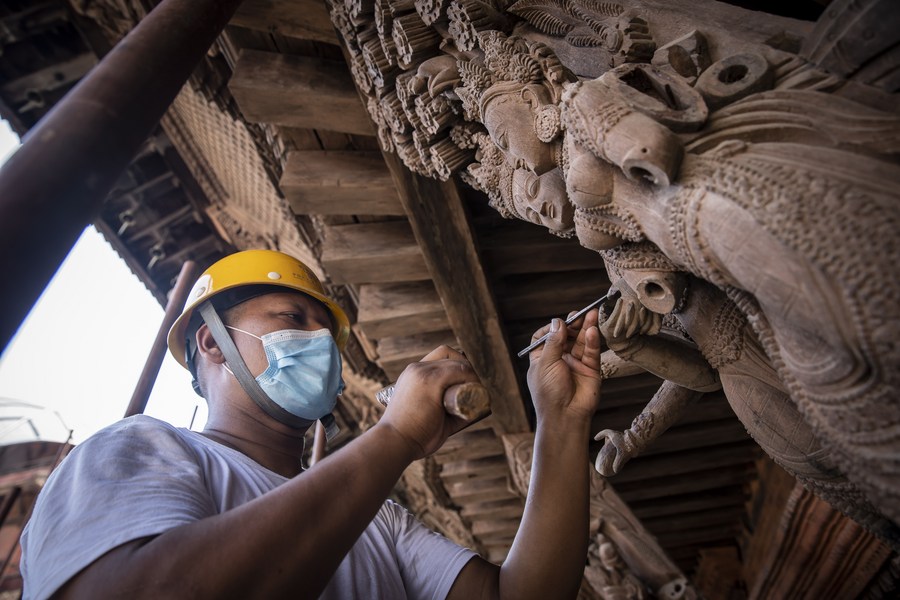 BEIJING -- A devastating earthquake jolted Kathmandu Valley in 2015, causing great damage to many of Nepal's historical building complexes, including the nine-story Basantapur temple complex. After a five-year restoration project in cooperation with Chinese professionals, the temple complex has now recovered its past splendor.
"They (the Chinese) are very cautious about maintaining the authenticity, integrity and values of the world heritage site," said Damodar Gautam, director general of Nepal's Department of Archaeology, when recalling the project completed last year.
That's one of the many examples of how China has been fostering international cooperation in cultural heritage preservation these years.
Since Chinese President Xi Jinping pledged to work with other countries to protect Asian cultural heritage in 2019, the past years have witnessed growing cooperation among concerned parties in such fields as academic research, archaeological work, and the restoration of historic sites, with the latest progress being the establishment of the Alliance for Cultural Heritage in Asia joined by 13 Asian countries.
AN ACTIVE ROLE
Apart from the alliance, the General Assembly of the Alliance for Cultural Heritage in Asia, held in China's historic city of Xi'an from Monday to Wednesday, yielded many meaningful results, including a joint declaration to facilitate archaeological collaboration and the launch of a fund for cultural heritage conservation.
In his congratulatory letter to the Assembly, Xi pledged to work with all Asian countries to strengthen experience sharing on cultural heritage preservation, promote international cooperation in the cultural heritage sector, and establish a network for dialogue and cooperation among civilizations.
Calling Xi's letter and the event "encouraging," Mohammed al-Jubouri, a professor of media at Iraq's al-Iraqia University, said, "I hope that Iraq and China can exchange experiences and promote cooperation including joint archaeology ... I also hope that China can help protect Iraq's cultural heritage."
"Such cooperation can also promote cultural exchanges and the relationship between the two countries," he said.
In fact, China has played an indispensable part in multiple cultural heritage protection projects in Asia and beyond. For example, Southeast University in the east Chinese city of Nanjing has been working closely with the United Nations Educational, Scientific, and Cultural Organization (UNESCO) on this front for more than 20 years.
In 2017, a team of scholars and students from the university's School of Architecture, including Professor Zhou Xiaodi, were invited by Myanmar's cultural authorities for preliminary work on the ancient city Mrauk-U's application for a UNESCO World Heritage Site status.
The first glimpse of Mrauk-U is something Zhou still vividly remembers. "It was late at night when we reached Mrauk-U. The ancient city is nestled among the mountains, and on top of almost every hill, there is a pagoda," he recalled. "The lights from the pagodas were reflected in the water mist on the river, making the whole scene quiet and layered."
Between 2017 and 2020, the team has mapped 112 ancient pagodas and monasteries in Mrauk-U and completed a high-precision map of the ancient city's core area and an area of 30 square km around it. They also built a visual geographic information database and worked out plans for Mrauk-U's protection and the management of its world heritage application.
STRONGER CULTURAL BONDS
Central Afghanistan's Bamyan Valley is home to the famous Buddhas of Bamyan. Years of war and economic hardship have left the caves there not numbered and cleaned for a long time.
However, the situation that badly hindered the heritage protection and further archaeological research has now been reversed. A group of young Chinese scholars have financed a protection project for the heritage site, as well as a program to teach local children how to preserve cultural heritage sites.
"With our specific suggestions and financial support, most of the caves near the Buddha site have been officially numbered and installed with introduction nameplates," said Shao Xuecheng, one of the Chinese scholars.
In addition, they funded a program to teach local children how to preserve cultural heritages. Kids from impoverished families were invited to attend training activities on relevant knowledge by distributing bread.
"I'm thankful to Chinese friends for providing training and assisting the children to learn how to protect and preserve the cultural heritages in the future," said Ahmad Ali Hussianyar, a local archaeologist.
For Mawlawi Saifurahman Mohammadi, Bamyan provincial director of the information and culture department, the "Chinese friends have provided us with real help, and we are very grateful."
In 2003, the cultural landscape and archaeological remains of the Bamyan Valley were listed as a UNESCO World Heritage site.
In recent years, China has cooperated with six Asian countries such as Cambodia on 11 historic sites' conservation projects, and with 14 Asian countries, including the United Arab Emirates, Uzbekistan and Saudi Arabia, in more than 20 collaborative archaeological projects, official statistics showed.
China has been actively involved in the restoration of Cambodia's Angkor Archeological Park and Preah Vihear Temple, two UNESCO-listed World Heritage Sites.
Speaking of the newly-established Alliance for Cultural Heritage in Asia, Long Kosal, deputy director-general of the APSARA National Authority, a government agency responsible for managing and preserving the Angkor park, said, "I have a strong conviction that our Cambodia-China cooperation in the safeguarding and development of cultural heritage sites will be further strengthened and expanded."
"China used to be a beneficiary of international cultural heritage cooperation, and now we have become an active contributor," said Wen Dayan, director of the exchange and cooperation department of China's National Cultural Heritage Administration.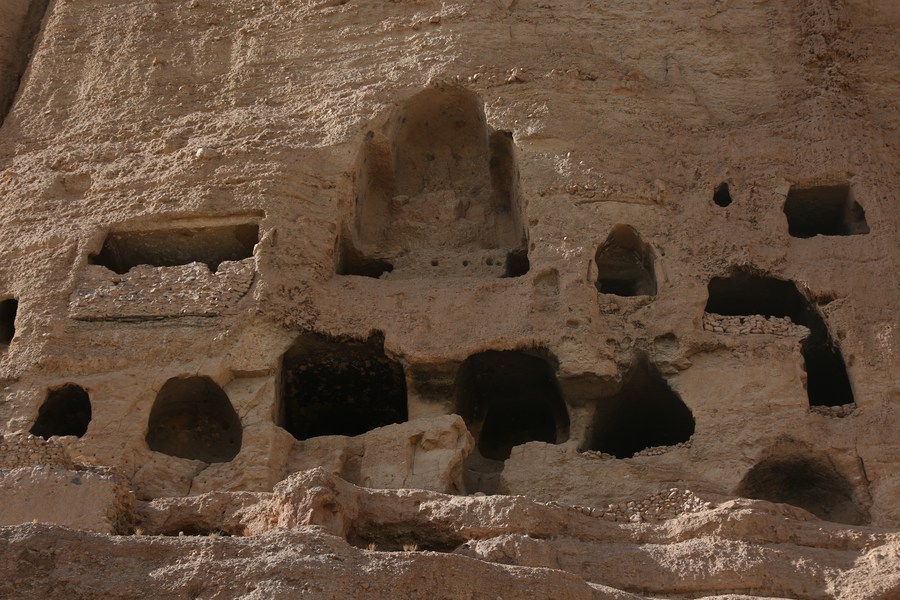 CELEBRATING CULTURAL DIVERSITY
"All civilizations are rooted in their unique cultural environment. Each embodies the wisdom and vision of a country or nation, and each is valuable for being uniquely its own," said Xi at the Conference on Dialogue of Asian Civilizations held in Beijing in 2019.
Over the years, China has stayed committed to and taken concrete actions for the harmonious co-existence of various civilizations in the world. Besides collaborative exhibitions, such as the ongoing exhibition of Pakistan's Gandhara art at the Palace Museum, China has also launched a number of professional training programs, signed cultural relics cooperation documents with other Asian countries, and had Chinese archaeologists participate in various joint surveys and cultural relics repair projects in other parts of Asia.
The Chinese contribution to cultural heritage cooperation and exchanges among Asian countries and civilizations, both academic and practical, has been widely recognized by Asian countries, said Xie Bing, deputy head of China's National Cultural Heritage Administration.
At the Communist Party of China (CPC) in Dialogue with World Political Parties High-Level Meeting last month, Xi proposed the Global Civilization Initiative, calling for respecting the diversity of civilizations, advocating the common values of humanity, valuing the inheritance and innovation of civilizations, and strengthening international people-to-people exchanges and cooperation.
"This initiative is commendable because it is based on respect for the diversity of civilizations, reflecting China's desire for exchanges and cooperation," said al-Jubouri, the Iraqi scholar, adding that the establishment of the Alliance for Cultural Heritage in Asia showed that China walks its talk.
Noting that misunderstanding results in disputes, he said that China's plan will help promote mutual understanding and learning among people all over the world, and contribute to the security, stability and peace of the world.
Nasir Khan, an official from Pakistan's Department of Archaeology and Museums, has a similar opinion.
Respecting the diversity of civilizations and cultures is core to peaceful co-existence in the world, he said, adding that the Global Civilization Initiative will promote the peace and harmony of mankind at a time of conflict, hegemony and selfishness.