Europe needs strategic independence
Share - WeChat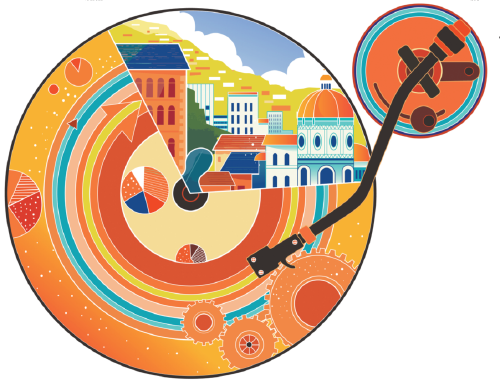 A large number of European officials have visited China in recent days. Is Europe becoming more independent, and will it adopt a more pragmatic policy with its own security and development in mind? Some observers have drawn this conclusion from French President Emmanuel Macron's responses in an interview after returning from his trip to China. Macron suggested that Europe cannot follow the United States "into crises that are not our own." Furthermore, given the complex global challenges, such as climate and demographic changes, military conflicts, refugee flows, and intensified technological and economic competition, is it even reasonable for the old continent to consider strategic independence?
The French position is hardly surprising. Since Charles de Gaulle in the late 1950s, there has been a tradition among French presidents to express independence from the United States, particularly on security issues. Unlike the United Kingdom or even Germany, France has always been the independent-minded ally. While de Gaulle was hesitant about NATO, Francois Mitterand once proposed French nuclear weapons to replace the US-based nuclear defense shield. Jacques Chirac was also concerned about the US-led Iraq war, as was then German chancellor Gerhard Schröder.
However, the recent US administrations under former presidents Barack Obama and Donald Trump have lost interest in the transatlantic relationship. Trump ("America first") even suggested dissolving NATO and prepared for the reduction of US military presence in Europe. The current military conflict in Ukraine has substantially revitalized NATO and made the value of transatlantic relationships apparent again. Europe had to realize that it badly needs economic and military support from the United States, as European resources are insufficient. For instance, substantial increases in European military spending and a reorientation of defense strategies are needed.
True, Europe needs to develop more independence in economic and military matters from both global superpowers, the United States and China, in its own interest. Economically, this means more diversity in global trade to reduce dependencies. However, the transatlantic partnership remains a crucial relationship for Europe, deeply rooted in close political systems and cultural values. Without peace, Europe cannot become more independent from the US.
The European Union is a political entity comprised of independent states that strive to achieve unity despite their diversity through complex decision-making processes. In addition to the 27 current member states, most other European countries aspire for membership. Recently, regrets about Brexit have risen in the UK. The focus of cooperation in the EU is on economic and sociopolitical issues, while military issues are largely left to NATO.
Nevertheless, the individual states pursue independent goals, and strategic independence is a frequently used concept. For example, Germany has just shut down its last nuclear power plant and is relying on the rapid transition to renewable energy. However, most other countries continue to use nuclear power plants. Hungary continues to use Russian natural gas, which Germany gave up completely at the end of 2022.
Despite the damage it causes to economic progress and the improvement of global well-being, the strength of globalization has been hindered by a trend toward re-establishing a bipolar world. This trend started long before COVID-19 and the conflict in Ukraine challenged Europe and the world in general. Building border walls and fences has become popular among policymakers worldwide since the early 1990s. Since the financial market crisis and economic turbulence in 2008, world trade has not grown faster than global production of goods and services.
Geopolitical conflicts are increasingly taking place through economic means, media strategies, and even cyberattacks. Threats of the use of nuclear weapons fuel fears. Food crises and refugee flows are used as political weapons. State interventions in free trade can be easily justified because they are not internalized by market processes. This way, worldwide conflicts have strong and costly side-effects on trade-dependent nations like Germany and China, as they hinder the benefits of the global division of labor.
Moreover, to achieve ambitious climate goals and address similar demographic imbalances, Europe and China have many important common areas for successful collaboration.
This highlights the need for better understanding and trust through intensified dialogue, beyond system rivalry. More in-person visits by leaders from both China and Europe would be advisable to foster exchange. However, such a strategy is not without risk given the significant gap between the views of European leaders and Chinese officials. Recent visits by the President of the European Commission, Ursula von der Leyen, and Germany's Foreign Minister Annalena Baerbock to China have revealed some of these differences. Nevertheless, the risks of missing potential benefits from collaboration appear to be far greater.
Strategic independence achieved through collaboration may foster peace and economic progress, but without peace, there can be no strategic independence for Europe.
The author, a professor at the Free University of Berlin, is the president of the Global Labor Organization, a Germany-based world-wide network of researchers investigating the path of globalization.
The views don't necessarily represent those of China Daily
If you have a specific expertise, or would like to share your thought about our stories, then send us your writings at opinion@chinadaily.com.cn, and comment@chinadaily.com.cn.
Most Viewed in 24 Hours
China Views