Traditional cultural elements hailed at Diving World Cup in Xi'an
Share - WeChat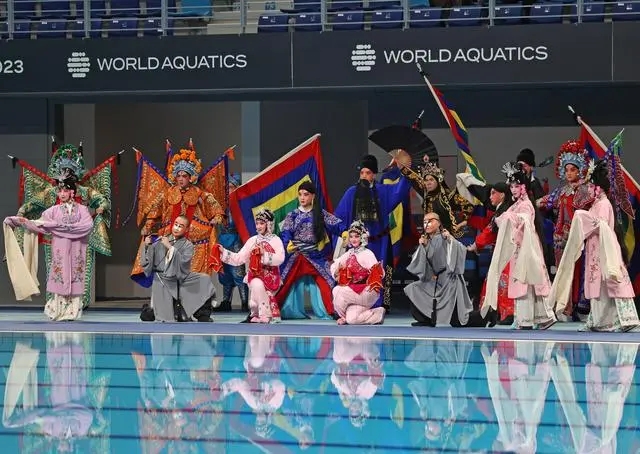 Shaanxi Opera, leather shadow puppetry, ink-painting on water, dough sculpture, paper cutting, Hanfu clothes, drums, Terracotta warrior mascots...
Divers from the World Aquatics Diving World Cup were absorbed in dazzling Chinese cultural elements during their one-week stay in Xi'an, a historical ancient capital of 13 dynasties.
A total of 63 elite divers from 13 teams competed in the Diving World Cup, while host China swept nine golds at the top-tier international competition. However, medals were not the only thing divers sought; stepping out of the pool, they also gained a better understanding of Chinese traditional culture.
A "walking street" en route to the dining hall in the athletes' hotel was decorated with Chinese intangible cultural heritages by local organizers.
Olympic gold medalist Jack Laugher of Britain was attracted to the cultural performances in the hotel.
"I have been to Xi'an at least five times during the last 10 years. It is a really, really cool way to learn about Chinese culture just within our hotel. I have banged on drums and played with shadow puppets. By the way, the event mascot of Terracotta Warriors is very cute," said Laugher, who was awarded three mascots as he took two silvers and a bronze from the World Cup.
Eduard Cristian Timbretti Gugiu and his Italian teammates enjoyed Chinese folk music and took photos wearing Chinese traditional clothes, Hanfu.
"We have seen many interesting things here. The Hanfu clothes are very unique and cool. The music is so different from Westerns. I am learning a lot. It's fun," Gugiu told Xinhua.
"It is my first time visiting China, and I am really interested in many things. I also tried noodle making, but I don't know what to call them; there are too many types and flavors. Some of the noodles taste really good. The local specialty food - sandwich with meat (Roujiamo) - is very delicious," said the 20-year-old Italian.
Most Popular