Sowing expertise to reap food security
Share - WeChat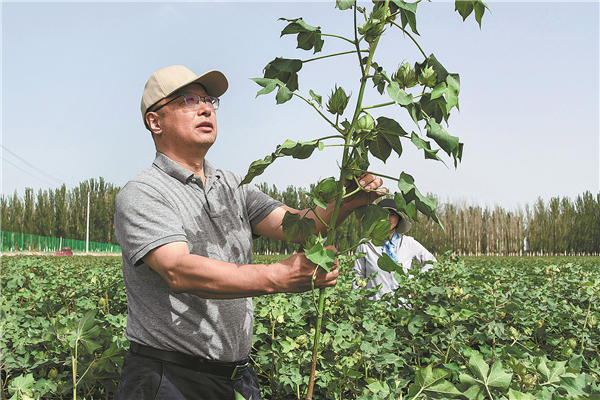 Agricultural university's researchers are putting agronomy on the menu, to ensure adequate supply of nutrients and bolster crop research, Xing Wen reports.
The ability of China to feed nearly 20 percent of the world's population with less than 9 percent of the world's arable land is truly a remarkable feat and testament to the tireless efforts and unwavering dedication of generations of agricultural scientists who have toiled in the fields.
Huazhong Agricultural University, an institution with a nearly 125-year history, has been nurturing generations of students who have gone on to bear the weighty responsibility of advancing China's agricultural development, ensuring an ever-increasing variety of food for the population.
University President Li Zhaohu shares his personal academic journey as an agriculture enthusiast and how it has shaped his educational philosophy. In 1983, Li enrolled in the China Agricultural University and became the first ever university student from his neighborhood, a small place in the Inner Mongolia autonomous region. "Up until then, I had never even laid eyes on a television set and lacked knowledge about the outside world. I had no idea what to study," Li recalls.
Nevertheless, during his college years, he discovered a deep interest in agriculture and gained a greater appreciation for the importance of science in the field. "As someone who grew up in a rural area, I felt a strong desire to transform my underdeveloped hometown and make a positive impact on China's rural development," he says.
To pursue these goals, Li remained dedicated to his studies throughout his university years and eventually earned acceptance into a postgraduate program in 1987.While many of his peers still slept in the mornings, he would rise early to tune in to English news via a semiconductor radio. In instances where the dormitory supervisor had yet to awaken, he would use the illumination from the streetlights outside his room's window to study.
The idea of learning agricultural science to advance rural development has inspired him to become an advocate for younger generations of students to align their research goals with the strategic needs of the country. "Integrating their scientific pursuits with the current era's context is crucial," he says.
Most Popular