Multinationals expect to unlock new opportunities in Chinese market through Hainan expo
Share - WeChat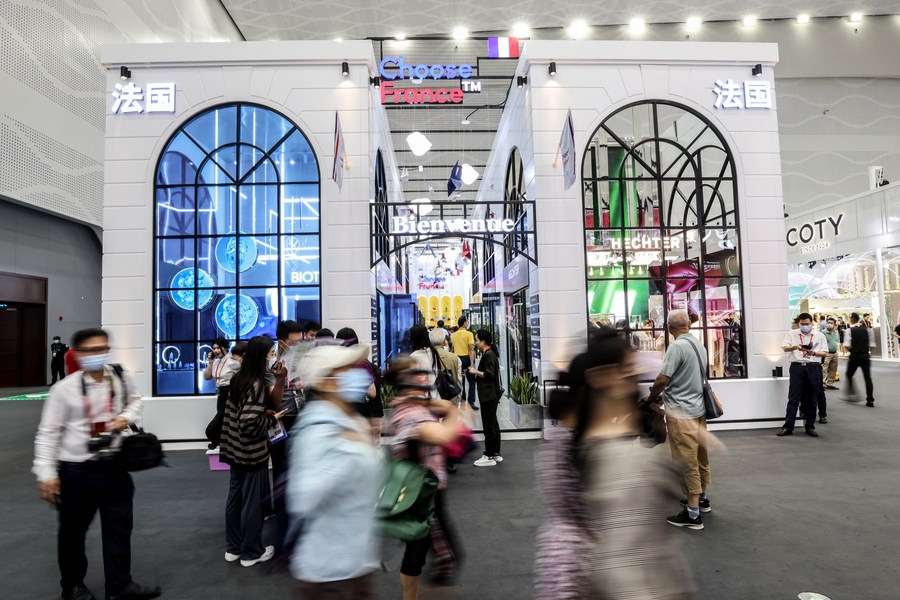 BEIJING -- For Stefania Lazzaroni, general manager of Italy's luxury brands committee Altagamma, the third Hainan expo presents "an amazing opportunity, and we really want to have the occasion to illustrate and tell the story of the amazing beauty of our brands."
As part of China's campaign to bolster consumption, the event, officially known as the China International Consumer Products Expo, held from Monday to Saturday in Haikou in South China's Hainan province, has attracted over 3,100 brands from 65 countries and regions.
Numerous exhibitors aspire to opportunities brought by the expo, not merely to capture a greater share in the Chinese market, but also to catalyze their own product innovation and gain more steam for their recovery from the repercussions of the COVID-19 pandemic and other uncertainties.
Business opportunities
"When Altagamma invited us, we immediately said yes," said Violante Avogadro, chief communications officer of Illycaffe, a well-known Italian coffee producer. "We really want the Chinese people to discover the brand and appreciate it ... The expo is a perfect place for us."
Apart from Illy, 147 brands from Italy -- the guest country of honor at this year's expo, such as high-end fashion house Gucci and luxury vehicle manufacturer Lamborghini, are participating in the event.
"The Chinese market is really relevant," Lazzaroni said. "It's tremendously important for our brands to develop an even stronger relationship with China. It's always been the case."
From January to February, China's retail sales of consumer goods climbed 3.5 percent year on year, official data showed, indicating a rapid rebound in consumer expectations and steady resumption of off-line services.
Given the rosy prospects of China's consumer market and its commitment to higher-level opening-up, multinationals from across the globe are racing to expand their business in China through the fair.
The 2023 version saw the participation of a Polish delegation for the very first time. In the eyes of Jacek Boczek, vice president of the Polish Chinese Business Council, the Polish business community ought to intensify its endeavors to leverage the vast opportunities and potential present in the Chinese market.
"We should export to China much, much more, because we have many products of a very good quality," he said.
Since China in 2020 released a plan to build Hainan into a globally influential and high-level free trade port, a portfolio of favorable policies has been implemented in the island province, including zero tariffs and easing market and foreign investment access.
A total of 52 companies that had participated in the previous expos became investors in the Hainan Free Trade Port, said Tulenov Ruslan, a global media officer of the Hainan Provincial Bureau of International Economic Development.
Tapestry, Inc, a New York-based company in possession of such famous brands as Coach, Kate Spade and Stuart Weitzman, decided to base its China travel retail headquarters in Haikou in 2022 after participating in the first CICPE. Thus far it has opened nine duty-free stores and four retail stores in Hainan.
"The expo is an important window for global high-end brands to accelerate their entry into and expansion in the Chinese market. It has also created new opportunities to boost the development of the global market," said Charlie Hou, senior director of travel retail at Tapestry (Hainan) Group Co Ltd.