NIQ: China's consumer market recovers, green revolution empowers brand sustainability
Share - WeChat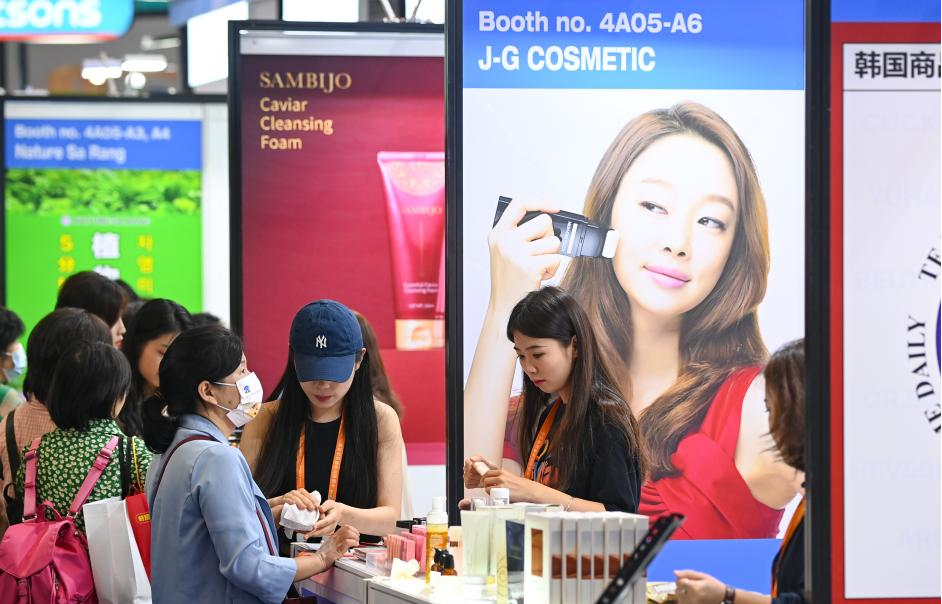 With the entry into the post-pandemic era and the roll-out of measures meant to boost consumption across the country, China's consumer market has recovered steadily, with the building of differentiated consumption scenarios and innovation of forward-looking products emerging as new engines of growth, according to two reports unveiled at the Global Consumption Forum of the ongoing third China International Consumer Products Expo in Hainan province.
Brands need to adapt to the prevailing forces of change to transition towards real sustainable business models in the next five years, according to the 2023 Consumer Outlook and the Brand Playbook: The Changing Climate of Sustainability, which were released by NIQ, a global leader in consumer research and retail monitoring services.
Nancy Song, managing director of NIQ China, said China's economy is poised for growth in 2023. The government has taken a combination of measures to bolster consumer confidence, which paves the way for consumption recovery.
However, most consumers remain cautious and highlight the "sense of safety", and consumers in different financial conditions vary in behaviors as they have different demands for "physical and mental health" and "financial security".
So, creating multi-levelled shopping scenarios using omni-channel integration and empowering consumption upgrades through product innovation can further invigorate consumer recovery, Song said, adding that the transition of brands toward sustainable business models also charts a new course for product and retail innovation in 2023.
China's consumer market gradually recovers with structural growth opportunities emerging in the CPG segment
The NIQ 2023 Consumer Outlook suggested domestic catering and key operators have experienced a 6.8-percent growth in sales amounts since the start of 2023, and main retailers leveraging modern channels saw a 5.3-percent growth in consumer packaged goods sales during the Spring Festival, both indicating the huge potential of consumption. Consumer confidence in China was also recovering, with 48 percent of Chinese consumers expecting family income to grow year-on-year in 2023.
NIQ identifies four factors decisive to consumption recovery. First, that recovering the economy and boosting consumers' ability and willingness to buy are fundamental to consumption recovery.
Next, understanding consumers' mentality, demands and behaviors under real conditions is the first step in driving consumption. Third, creating the scenarios to satisfy consumer demand provides the soil for stimulating consumption vitality. Finally, providing products that are both affordable and aligned with consumer expectations and demands is the key to facilitating deals.
The report also shows, although China's retail market faced multiple challenges in 2022, that the CPG segment still saw structural opportunities for growth.
In 2022, the omni-channel sales of beverages, casual snacks, wine, pet food and vitamins increased from 2021 and 2020, with the sales increases in 91 percent of the categories attributed to price rise and 64 percent to consumption upgrade. That's evidence that the categories meeting consumer demands have the growth room and vitality that can be tapped at any time.
Based on the retail audit database and the latest consumer surveys, NIQ found that consumers are less sensitive to the prices of daily health products like fresh vegetables, fresh meat and dairy products and rising prices won't sharply lower their willingness to buy.
By contrast, consumption of casual food, such as snacks, sweets, chocolate, beverages and wine, will be more affected by price fluctuations. If their prices continue to rise in the next three months, consumers will consider purchase cuts. So, only by combining differentiated pricing with promotional strategies can a full growth be achieved.
It's noteworthy that sustainable development will lead new consumption trends. Surveys show that 40 percent of the consumers less sensitive to prices consider a sustainability-oriented/environment-friendly lifestyle as important to them, and 28 percent have taken conscious actions to change their way of consumption.
Although some industrial pioneers have adopted measures like introducing bio-degradable materials and label-free packages and even developing carbon-neutral products, the domestic market still sees a huge gap in the support for sustainability practices. That's also a new direction for product and retail innovation in 2023.
Sustainability empowers brands in steady growth
According to the Brand Playbook: The Changing Climate of Sustainability released by NIQ, the past decade and more has seen growing consumer sentiment for sustainability; although consumer appetite didn't trigger a green revolution across the retail industry before, the existing business model has been challenged by frequent extreme weather events and climate change.
On the whole, escalating consumer demand, soaring costs caused by climate change, and other drivers will force brands to transform in the coming five years and pursue real sustainable business models. That's not about whether the brands need it, but part of the measures gauging performance of corporate governance.
So, NIQ proposed ten steps, including proactively reducing risks from the supply chain, removing barriers to sustainable choice, eliminating price premiums, and investing in reputable third-party accreditation and embracing collective collaboration to accelerate the reshaping of brands, adapt to the green revolution of CPGs, ease the impact of climate change on finances and be aligned with consumer expectations.
Surveys show that consumers require open and transparent access to the information about all constituents of brand sustainability. About 69 percent have stated sustainability is more important to them than it was 2 years ago; 76 percent believe it is important that companies take initiative to reduce their environmental footprint, and 78 percent agree that companies should show full transparency of their supply chain.
Affordability is the biggest barrier to consumers living more sustainably. In fact, 41 percent of consumers state sustainable options are too expensive, and 46 percent of consumers hope sustainable brands could have more competitive prices.
So, brands need to provide more economical, available and responsible options, which means price premiums will be more difficult to justify as consumer expectations shift to a new baseline and sustainability will no longer be a "luxury" or differentiated offer in the near future. Brands need to adjust pricing, and while sustainable practices may cause margin squeezes in the short term, but will become the more cost-effective norm in the mid to longer term.
Meanwhile, brands are entering a new era of regulatory oversight and consumer skepticism and if brands are not transparent, or found to have overclaimed sustainability credentials—there will be negative consequences. About 77 percent of consumers are likely to stop buying if brands are found guilty of greenwashing; 75 percent of consumers want governments to mandate that companies must comply with third-party certification of sustainability standards.
Investing in reputable third-party accreditation and joining sustainability foundations or industrial organizations will be a future trend for enterprises. In summary, consumers will require brands to be responsible for advancing the sustainable development of the world in 2023.
Brands will act differently in the sustainability drive, with some vigorously seeking progress while some lag behind. So, starting the sustainability process right now and adapting to changes are crucial.
When addressing the Sustainable Consumption Summit, Bris Zhang, director of NIQ China, said: "The coming five years will be a critical period to brand transition. NIQ will keep a close eye on the green trends of the retail industry, improve data accuracy to reflect the truest landscape of the retail market, while keeping pace with the dynamic retail market to help brands tackle the opportunities and challenges arising from the transition and empower them in sustainable growth."
liuzhihua@chinadaily.com.cn