'She-economy' becomes driving force at this year's CICPE
Share - WeChat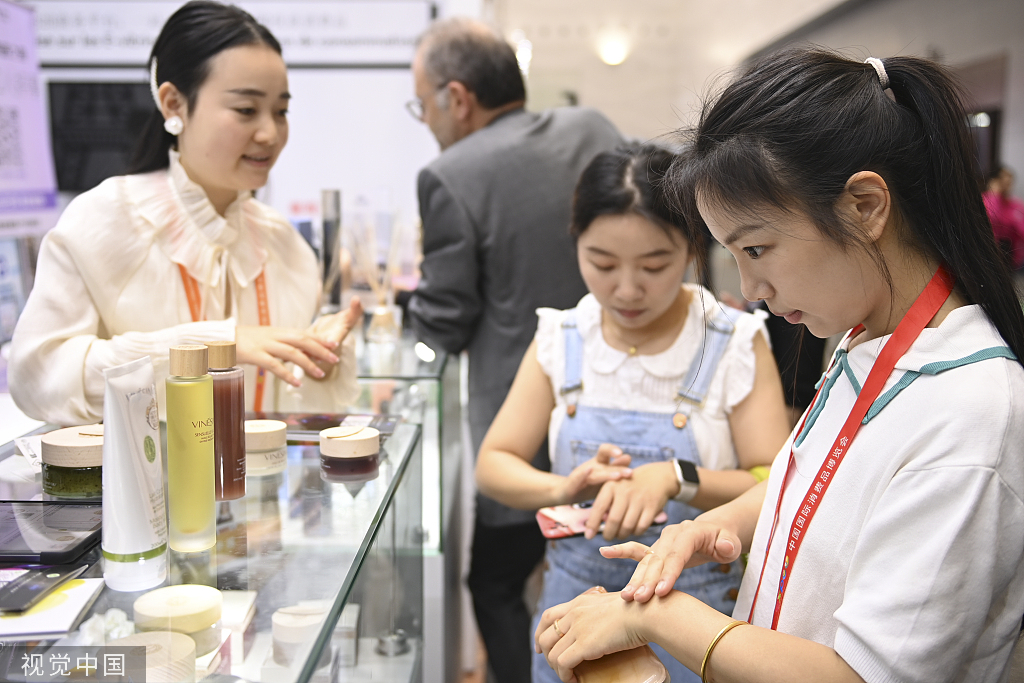 The "she-economy" is unleashing its consumption potential at the third China International Consumer Products Expo, the China Youth Daily reported on Thursday.
For every three lipsticks exported from France, one is bought by Chinese consumer, said Fabrice Megarbane, president of L'Oreal North Asia Zone and CEO of L'Oreal China.
The figure shows the "spending power" of Chinese women and is a microcosm of the "she-economy" in China, said the newspaper.
Some elements of the "she-economy" are displayed at this year's CICPE, including jewelry, makeup and skincare products, as well as fashion shows, which are becoming new impetus to stimulate the consumer market in Hainan province.
The positive policies empowered industries related to the "she-economy", which will create a historic opportunity for these industries' development at the Hainan Free Trade Port, said Xie Jiayang, head of strategy and development department of Greater China at Ernst & Young.
This year, 336 French brands are shown at the CICPE, surging 50 percent from a year ago. These brands included beauty, fashion and art and are attracting many female visitors to the immersive shopping experience at the Champs-Elysees Avenue in the exhibition area.
The cosmetics industry is a gem of China-French economic and trade exchanges, said Fabrice Megarbane. France is the world's largest exporter of cosmetics and China is the largest importer for French cosmetics. The Chinese market has become the second largest market for L'Oreal Group.
Hainan will play an important role in China's high-quality economic development as the country continues to push forward opening-up in 2023, Fabrice Megarbane added.
"The CICPE is a national level commercial exhibition and a major event in the beauty industry, and is also a great opportunity to show our strong confidence and commitment to continue investing in China", said Caroline Andreotti, chief business officer of high-end beauty department at French beauty conglomerate Coty.
The skincare category occupies a high market share in China's beauty market, which provides Coty with great opportunities to continuously develop high-end skincare market. In the future, Coty will fully develop the Chinese skincare market, and it is expected to double the sales of the group's skincare business by the fiscal year of 2025, she added.
Healthcare brands including Heide Apotheke and CATALO brought their new healthcare products focus on female to this year's CICPE as the "she-economy" is becoming a consumption hotspot that businesses are trying to capture at the CICPE.
As China's "she-economy" attraction continues to improve, some international brands are starting to customize products with Chinese characteristics to better meet consumers' habits in the country, said Yu Huanhuan, head of international marketing department at Tmall.
In the recent two years, many female consumers have become particularly fond of healthcare products, and the consumption of these products shows a rapid growth trend, which drives the cross-border e-commerce shift from beauty makeup to healthcare products in a certain extent, Yu said.