BHP to continue investment, enhance local cooperation for green opportunities
Share - WeChat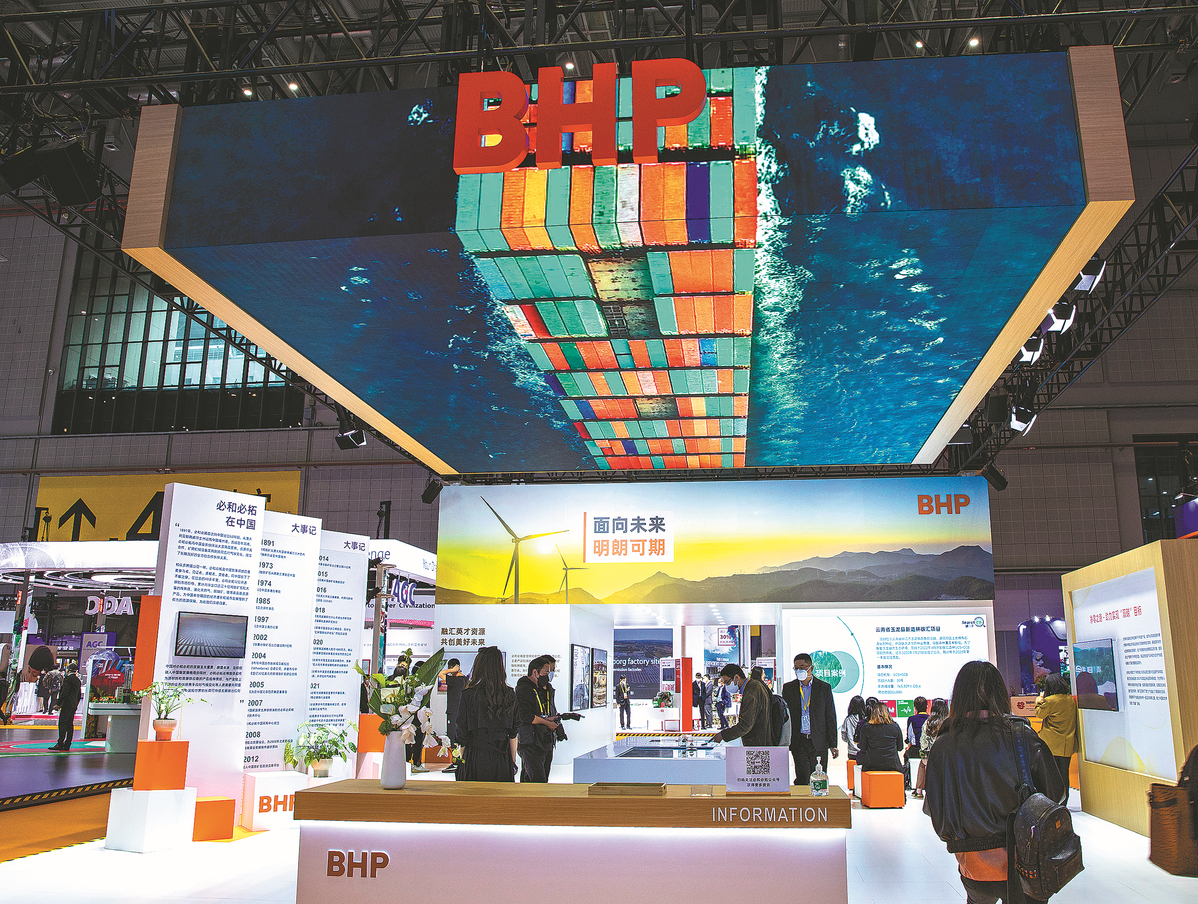 Global mining giant BHP said it will continue investing in China and deepen its partnerships with local players in the country, as demand for metals including copper and nickel is expected to rise as China goes full throttle into its green energy transition.
Demand for copper, nickel and potash is expected to increase significantly to support the megatrends of decarbonization and electrification in China, which will be providing massive opportunities for global mining companies like BHP, said Vandita Pant, chief commercial officer of BHP.
"BHP aims to grow its future-facing commodities, such as copper, nickel and potash, over the coming year, with copper for renewable energy, nickel for electric vehicles, potash for sustainable farming, and iron ore and metallurgical coal for the steel needed for global infrastructure and the energy transition," she said.
"We expect more cooperation with China in the years to come to facilitate its accelerated energy transition, continued economic development and improvement in living standards."
Estimates by BHP show that over the next 30 years, steel demand will almost double, global copper production will need to more than double and primary nickel production will increase nearly fourfold to power the next generation of battery technology, compared to the last 30 years. In addition, potash demand will increase to drive higher agricultural yields as land use competition intensifies.
An analyst said China's demand for these metals is expected to continue to grow as the country transitions to cleaner forms of energy and transportation, presenting a significant opportunity for global mining companies to expand their operations in China and supply the country with the metals needed to meet its goals of reducing emissions and transitioning to a more sustainable economy, said Zhu Yi, a senior analyst for metals and mining at Bloomberg Intelligence.
According to Pant, BHP will soon celebrate the shipping of 3 billion metric tons of iron ore to China, a major milestone between BHP and its customers and partners in the Chinese steel industry.
"China's exceptional achievements to date have improved the economic and social well-being of its population. This change has been unprecedented in terms of scale and speed," said Pant.
"Based on the current robust cooperation with China, we are positive about the demand outlook in the second half of this year and into 2024, as strengthening activity in China on the back of recent policy decisions is expected to drive stronger demand for the commodities we produce.
"We now have even greater conviction that China will be a stabilizing force for global economic growth over the remainder of this year thanks to its pro-growth policies. We already see positive early signs coming through in the property sector, and in terms of improved business and consumer sentiment, and more lending and credit being provided," she said.
BHP signed an agreement in March for the piloting of carbon capture and utilization technology with China's HBIS Group Co Ltd — one of the world's largest steelmakers and a major iron ore customer of BHP. The two parties will trial pilot-scale demonstrations of carbon capture and utilization technologies at HBIS' steel operations in China to develop and test technologies that can be integrated into steel production processes to reduce carbon emissions.
It has also signed memorandums of understanding with two of China's leading copper producers — China Copper and Daye Nonferrous — in March, to deepen collaboration to develop a more sustainable and responsible copper value chain to leverage their expertise in reducing the environmental footprint, improving materials and energy efficiency and managing waste streams in copper production.
"While BHP supplies the growing market, it is equally important for us to do so in a more sustainable and responsible way," said Pant.
"Collaboration with key industry value chain partners plays a vital role and BHP is wholeheartedly dedicated to supporting our partners to decarbonize parts of our value chain."