New energy-storing tech at forefront of nation's transition
Share - WeChat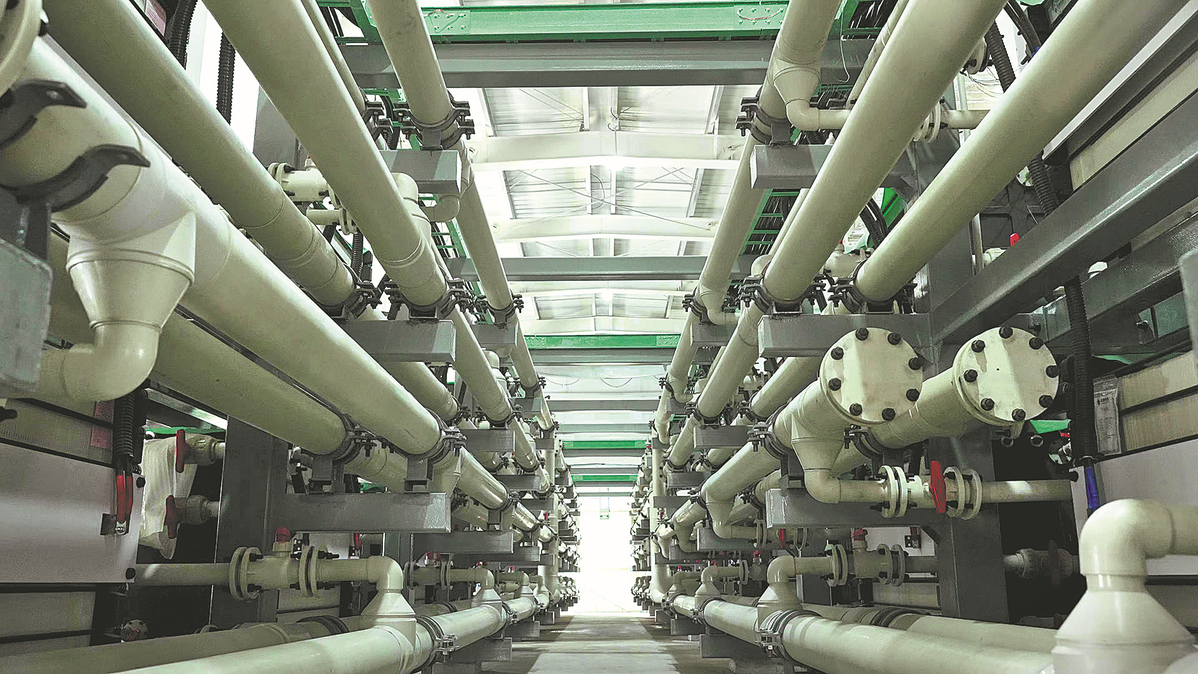 China's first megawatt-level iron-chromium flow battery energy storage project, located in North China's Inner Mongolia autonomous region, is currently under construction and about to be put into commercial use, said its operator State Power Investment Corp.
Completed in early January and put into trial operation in February, the project is composed of 34 domestically made "Ronghe 1" battery stacks and four groups of storage tanks, making it the largest of its kind in the world, said the company.
Using the chemical properties of iron and chromium ions in the electrolyte, it can store 6,000 kilowatt-hours of electricity for six hours, it said.
An iron-chromium flow battery, a new energy storage application technology with high performance and low costs, can be charged by renewable energy sources such as wind and solar power and discharged during peak hours.
Li Jianwei, chief engineer of the State Power Investment Corp, said the mega-energy storage stations can ensure stable grid operations by shaving peak and modulating frequency for the power system, as power consumption during off-peak hours is at a relatively lower price.
New energy storage is an important foundation for building a new power system in China, enjoying the advantages of fast response, flexible configuration and short construction periods, he said.
An analyst said the new energy storage installed capacity is expected to witness rapid development in the years to come.
"The power generation of renewable energy, such as wind and solar, can be intermittent due to natural variations and that's where the opportunities stand for new energy storage," said Lin Boqiang, head of the China Institute for Studies in Energy Policy at Xiamen University.
"Developing new energy storage technology, one of the measures China has taken to empower its green transition, will not only avoid clean energy waste, but also facilitate power demand at peak hours at the same time."
While pumped-hydro storage is currently the mainstream technology, it can't fully meet China's growing demand for energy storage. New energy storage, or energy storage using new technologies, such as lithium-ion batteries, liquid flow batteries, compressed air and mechanical energy, will become an important foundation for building a new power system in China, Lin said.
The National Development and Reform Commission has launched a series of policies to promote the development of new types of power storage in recent years.
Liu Yafang, an official with the National Energy Administration, said that compared with traditional pumped-hydro storage, new energy storage can complement pumped-hydro storage and address the randomness and high volatility issues brought by the integration of new energy sources into the power system.
As of the end of 2022, the total installed capacity of energy storage projects in China reached 59.4 gigawatts, with pumped storage taking up to 77.6 percent and new energy storage accounting for 22.4 percent, according to the National Energy Administration.
According to the NEA, the total installed capacity of new types of energy storage projects reached 8.7 million kilowatts with an average power storage period of 2.1 hours last year, an increase of over 110 percent from the end of 2021.
Among those, lithium-ion battery energy storage took up 94.5 percent, followed by compressed air energy storage at 2 percent and flow battery energy storage at 1.6 percent, it said.
Besides Inner Mongolia, Shandong, Guangdong and Hunan provinces as well as the Ningxia Hui autonomous region are areas ranking in the first-tier group for installing new energy storage capacity in China.
This year's Government Work Report, delivered during the two sessions, also emphasized that efforts should be made to move faster to develop a new energy system, promote the efficient and intensive use of resources, and advance energy conservation and carbon reduction in key areas.