Consumer product firms swear by China market
Share - WeChat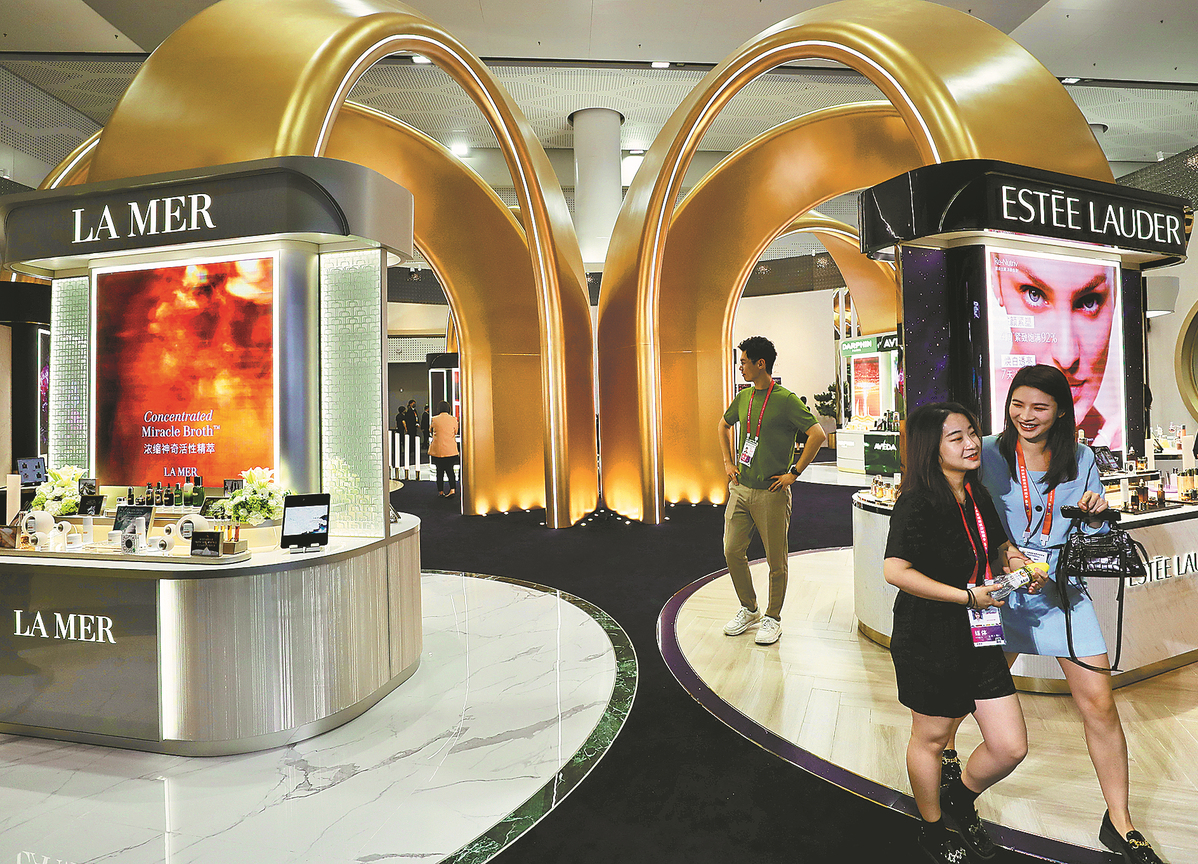 Encouraged by the huge potential of the China market, major foreign luxury and consumer products companies said they will continue to increase investments in the Hainan Free Trade Port, which, in turn, will help further develop international brands.
Such companies' top executives made the remarks during the ongoing Third China International Consumer Products Expo in Haikou, capital of the southern island province of Hainan.
They said they have witnessed the expansion of China's consumption market in recent times and hence are confident that data-backed growth predictions will come to pass as expected.
Last year, China imported consumer goods worth 1.93 trillion yuan ($280 billion), accounting for 11 percent of the total import value. Chinese consumers have shown a strong demand for high-quality products, and they prefer fashionable and green products, said the Ministry of Commerce.
"In the past three years, the expo has witnessed the resilience and significant growth potential of China's consumer market. Despite the challenges brought by the COVID-19 pandemic, China remains the world's second-largest consumer market, and new types and new formats of consumption have emerged continuously," Sheng Qiuping, vice-minister of commerce, told the expo via video link.
British luxury brand Burberry, a three-time participant at the expo, said Chinese consumers are passionate about fashion, and they are digitally savvy and more eco-conscious than ever before. In the first half of next year, its first boutique store in Hainan will open in Haikou.
"We have full confidence in the strong resilience and long-term fundamentals of the Chinese economy and look forward to its future growth. We have seen a rapid recovery in consumer confidence, reflecting the strength of China's consumer and retail industry," said Josie Zhang, president of Burberry China.
The duty-free market in Hainan has added a new dimension to the global tourism retail industry, with many on-site retailers innovating their businesses and shopping experiences for consumers, said the latest Hainan travel retail market white paper by KPMG China and Moodie Davitt Report that was released during the expo.
In the first quarter of this year, China Duty Free Group saw both the number of visitors it received and duty-free sales revenue exceed the pre-pandemic level of the same period in 2019.
Meanwhile, US luxury fashion company Tapestry, the parent of Coach, Stuart Weitzman and Kate Spade brands, and a three-time participant at the expo, said it has established its travel retail headquarters for the China market in Hainan.
"We will continue to explore digital transformation and strengthen our social media marketing efforts in China, as online sales have become increasingly important in the Chinese mainland for luxury consumption," said Janet Zhong, vice-president of Tapestry and Coach in the Asia-Pacific.
In the next 10 years, sales of China's fashion consumption market are expected to grow steadily, driven mainly by Chinese consumers' pursuit of more and more premium products with additional features rather than larger volumes, according to a forecast made by Boston Consulting Group during the expo.
US skincare group Estee Lauder said the company has confidence in the China market and has realized the importance of the duty-free shopping market in Hainan. It said it will seek more cooperation with Chinese partners, introduce new top-quality products in Hainan and contribute to the growth of Hainan FTP.