AI to help drive tech revolution
Share - WeChat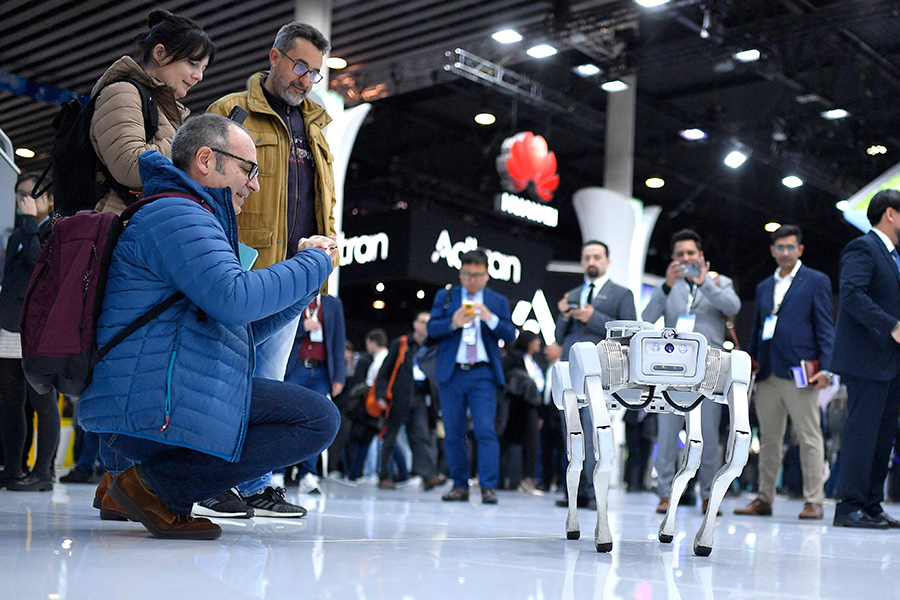 Artificial intelligence is expected to usher in speedy growth in China and become a key driving force for a new round of technological and industrial revolution, as major Chinese tech heavyweights have accelerated efforts to develop their own AI-powered large models amid a worldwide frenzy around the ChatGPT chatbot, experts said.
AI and ChatGPT-related technologies will likely free human beings from tedious tasks and enable them to focus on creative thinking, with immense application potential in fields like culture, retail, finance, healthcare and education, they added.
They called for Chinese AI companies to pool more resources into improving computing power, algorithms and quality of data, and ramp up investment in basic scientific research, including mathematics, statistics and computer science to gain a competitive edge in the AI chatbot race.
AI is gaining momentum and finding a wide range of applications across various industries, with the penetration rate expected to reach 20 percent in 2026, said Tian Qi, chief scientist in AI at Huawei Cloud.
Tian, who is a fellow of the Institute of Electrical and Electronics Engineers (IEEE) — the world's largest technical professional organization — made the remarks at a forum on AI large model technology held by the Chinese Association for Artificial Intelligence in Hangzhou, Zhejiang province, on Saturday.
He said AI is speeding up integration with traditional scientific calculations in the fields of meteorology, oceanography, agriculture, machinery, aviation, aerospace and geology, emphasizing the process of training AI models has higher requirements for capital input and computing power.
Tian said Huawei has been investing in its Pangu AI large models over the past few years, and has built AI models for industrial applications covering pharmaceuticals, electric power, meteorology, mining and finance.
He Xiaodong, vice-president of Chinese e-commerce giant JD, said at the forum that JD will launch its new-generation large model dubbed ChatJD, a ChatGPT-like product for industrial use, sometime this year.
A host of Chinese tech companies including Alibaba Group, Baidu Inc and NetEase have jumped onto the AI chatbot bandwagon, as ChatGPT has taken the world by storm.
Alibaba said on Friday that it has invited enterprise users to test a self-developed large model called Tongyi Qianwen. Last month, Baidu unveiled its large language model and Chinese-language ChatGPT alternative, Ernie Bot, which could be implemented in a variety of functions including searches, autonomous driving and smart devices.
"China has gained an upper hand in bolstering the industrial application of AI compared with its foreign counterparts, given that the country boasts relatively complete industrial categories, an ultra-large consumer market and a strong development foundation," said Pan Helin, co-director of the Digital Economy and Financial Innovation Research Center at Zhejiang University's International Business School.
Noting Chinese tech heavyweights and AI unicorns have invested heavily in building AI large models, Pan is bullish on the prospects of the AI-generated content sector and the application of ChatGPT-style conversational chatbots in China.
Global market research firm International Data Corp said China's spending on AI will likely hit $14.75 billion in 2023, accounting for about one-tenth of the global AI market. The scale of China's AI market is expected to reach $26.44 billion in 2026, with a compound annual growth rate of over 20 percent between 2021 and 2026.
China has made significant progress in developing AI technology. A Stanford University report showed that China filed more than half of the world's AI patent applications in 2021 and continued to lead the world in the number of AI journals, conference papers and related publications.
However, a new set of problems will likely emerge, including ethics, privacy leakage and data security, accompanied by the commercial use of AI large models, experts said.
The Payment & Clearing Association of China on Monday called on participants in the payment industry to use ChatGPT with caution, considering the risks of cross-border data leakage.
The risks of using ChatGPT and other tools to process work content should be comprehensively assessed, and such tools should be used in accordance with laws and regulations, the association said in a statement, underlining participants in the payment industry should not upload key and sensitive information when using ChatGPT.
Lu Yanxia, research director at IDC China, said Chinese tech companies possess the advantages of offering users AI-powered conversational results based on Chinese language, adding that generative AI has triggered a new AI wave and brought about new business opportunities for domestic AI servers, cloud computing and chip companies.