Urban renewal key to building smart cities
Share - WeChat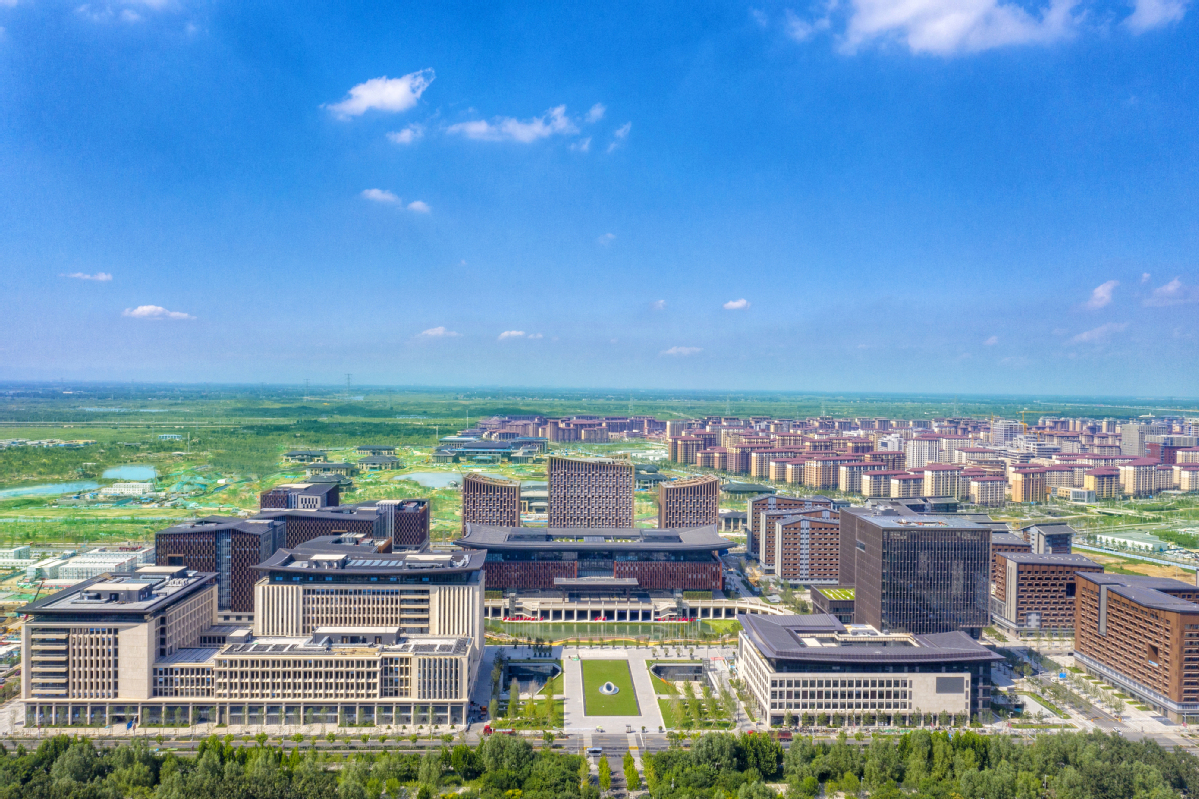 China has been implementing the urban renewal project to help build livable, green, resilient and smart cities, as well as to bolster the country's high-quality development and develop better housing units for the people.
The urban renewal project is by no means putting "old wine in a new bottle". Instead, it is a new concept and model that respects all the rules of urban development, and promotes urban transformation and upgrading, in order to realize sustainable development.
China has entered a critical period in its bid to develop a more efficient and higher-quality economy. As such, the role and significance of urban renewal have become increasingly important. Fundamentally, urban renewal opposes blind reconstruction; instead, it focuses on improving the quality and stable operation of a city, and addressing residents' problems.
Although there is no official definition of urban renewal, it involves reconstruction of space and facilities that usually are not suitable for development. Urban renewal can help a city adopt a new urban development model, improve internal and external circulation, and meet the needs of the people to lead a better life.
Urban renewal requires careful planning. It takes into consideration the overall situation and details, reflects a city's uniqueness, and benefits its residents. So urban renewal should be made part of city planning, construction, management and operation to improve the technological system and identify the deficiencies in urban development. And local authorities need to introduce policies based on the reality of the situation and establish a dynamic response mechanism. Also, governments, markets and residents should all participate in urban renewal projects and devise innovative models of urban development.
Urban renewal involves the clearing out of blighted areas and renovation of dilapidated buildings to create a better environment for residents and businesses to thrive. It is important, however, that governments at all levels protect historically and culturally significant neighborhoods and buildings, reinvigorate idle and neglected open spaces to improve the quality of people's lives.
It is also important that the authorities introduce tailor-made policies based on the real condition of a city. For example, small and medium-sized cities as well as old districts should focus on the development of communities and supporting facilities.
As for industrial cities, they can take advantage of idle plots of land and explore customized community models. Areas that have all the requisite conditions for urban renewal can integrate digitalization, low-carbon economy and urban renewal projects with the aim of bolstering digital and environmentally-friendly innovations in new technologies.
China is in the initial stage of urban renewal and yet to establish a sustainable market operation mechanism and solve the problems created by the marketization of urban renewal projects.
First, efforts should be made to eliminate institutional constraints, make clear the regulatory boundaries and define the category and investment scale of urban renewal projects so that investment methods for urban renewal projects can be fixed. On their part, the authorities should shift their focus from construction to operations, from assets' size to return on assets, and from use of assets to management of assets for social benefit, while credit funds should be more concentrated on operational projects for urban renewal.
Second, there is a need to optimize the cost-sharing mechanism and strengthen the government's support system. While related regulations and laws need to be optimized, the responsibility-sharing mechanism should be improved through the reform of the fiscal system. Hence, the central and local governments need to earmark more funds for urban renewal to encourage the participation of financial institutions and social capital.
Third, a cooperation mechanism between State-owned enterprises and social capital should be introduced to remove the barriers for the participation of enterprises in the urban renewal projects. And while encouraging SOEs to increase investments in urban renewal projects, the authorities should ensure social capital is used to improve operations. In other words, all sectors of society should be encouraged to participate in urban renewal projects.
Urban renewal is key to developing smart cities, liquidizing remnant assets and increasing investments. It can make cities more resilient against emergencies, attract new investments in the infrastructure sector, advance urban transformation and create more jobs. Urban renewal can also help develop new industrial models, increase innovations, improve the quality of residents' lives, and promote the integration of consumption and investment.
And fourth, the slow, and in some cases small, returns on investments in urban renewal projects have made some governments and enterprises reluctant to invest in such projects. Therefore, the authorities should learn from international experiences and establish a benefit-sharing market mechanism to boost urban renewal.
The author is a researcher at the China Center for Urban Development. The views don't necessarily reflect those of China Daily.
If you have a specific expertise, or would like to share your thought about our stories, then send us your writings at opinion@chinadaily.com.cn, and comment@chinadaily.com.cn.
Most Viewed in 24 Hours
China Views