Regulator backs chip firms in pursuit of breakthroughs
Share - WeChat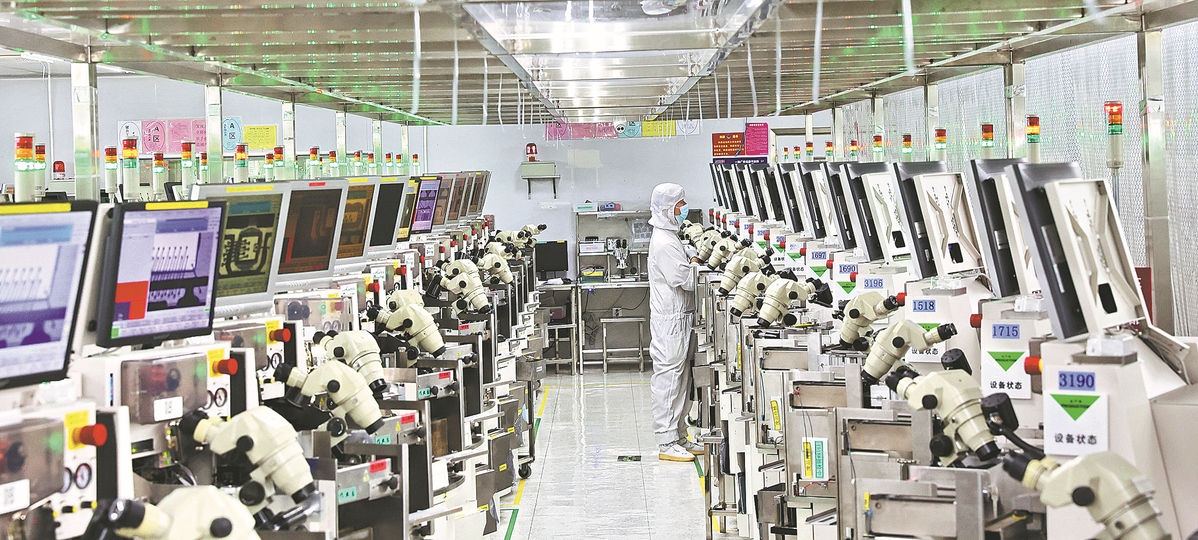 China's top regulator of State-owned assets said it will step up precise policy support in areas like human resources and funding for the development of semiconductors, a strategic industry.
Zhang Yuzhuo, chairman of the State-owned Assets Supervision and Administration Commission, or SASAC, of the State Council, said the regulator will support the centrally administrated SOEs to overcome difficulties and forge ahead toward breakthroughs in the development of the integrated circuit industry chain, so as to better promote the sector's high-quality development.
Zhang made the comments during his visit to Empyrean Technology Co, a chip subsidiary of China Electronics Corp, on Thursday. The Beijing-based Empyrean is engaged in the development of electronic design automation or EDA tools.
Dubbed the cradle of integrated circuits, EDA is a software used in the sector and is of great importance to the entire process of designing chips.
Zhang said Empyrean has gradually emerged over the years as a leading enterprise with a complete product line and strong, comprehensive technical strength in EDA tools for the entire semiconductor industry chain.
Zhang called on Empyrean to leverage its superior resources and strength to produce more landmark and innovative results, and strive to be a globally leading EDA provider in the whole process and in all semiconductor-related fields.
More efforts are needed to tackle key technological bottlenecks, and create a modern industrial cluster, Zhang said.
Following his visit to the company, shares of Shenzhen-listed Empyrean rose 3.8 percent on Friday as investor sentiment brightened on positive policy signals, market insiders said.
Zhang's comments are consistent with the current situation wherein Chinese chip companies are determined to achieve breakthroughs in crucial technologies against the backdrop of US government restrictions.
Meanwhile, Xu Zhijun, rotating chairman of Huawei Technologies Co, said the company has developed EDA tools for chips above 14 nanometers by partnering with domestic companies, and will complete comprehensive verification this year.
China has long relied on US companies such as Cadence and Synopsys for middle-to-high-end EDA tools. The EDA tools for 14 nm chips are considered midrange products but it still marks a breakthrough, experts said.
"Amid Washington's restrictions, China's semiconductor industry will not sit idle. We will work harder to pursue breakthroughs," Xu said.
A string of Chinese insurance companies has tailor-made insurance services to promote the use of homegrown chip products such as EDA tools, people familiar with the matter told China Daily.
Such insurance services, which have already been used to support domestic auto chip companies over the past two years, can help Chinese semiconductor enterprises lower research and development costs and accelerate efforts for breakthroughs in core technologies, they said.
Last year, overall sales revenue of the Chinese chip design sector reached 534.57 billion yuan ($78 billion), up 16.5 percent year-on-year, showcasing sectoral resilience amid US export restrictions, according to data from the China Semiconductor Industry Association.