Macron visit a test of the EU's strategic autonomy from Washington
Share - WeChat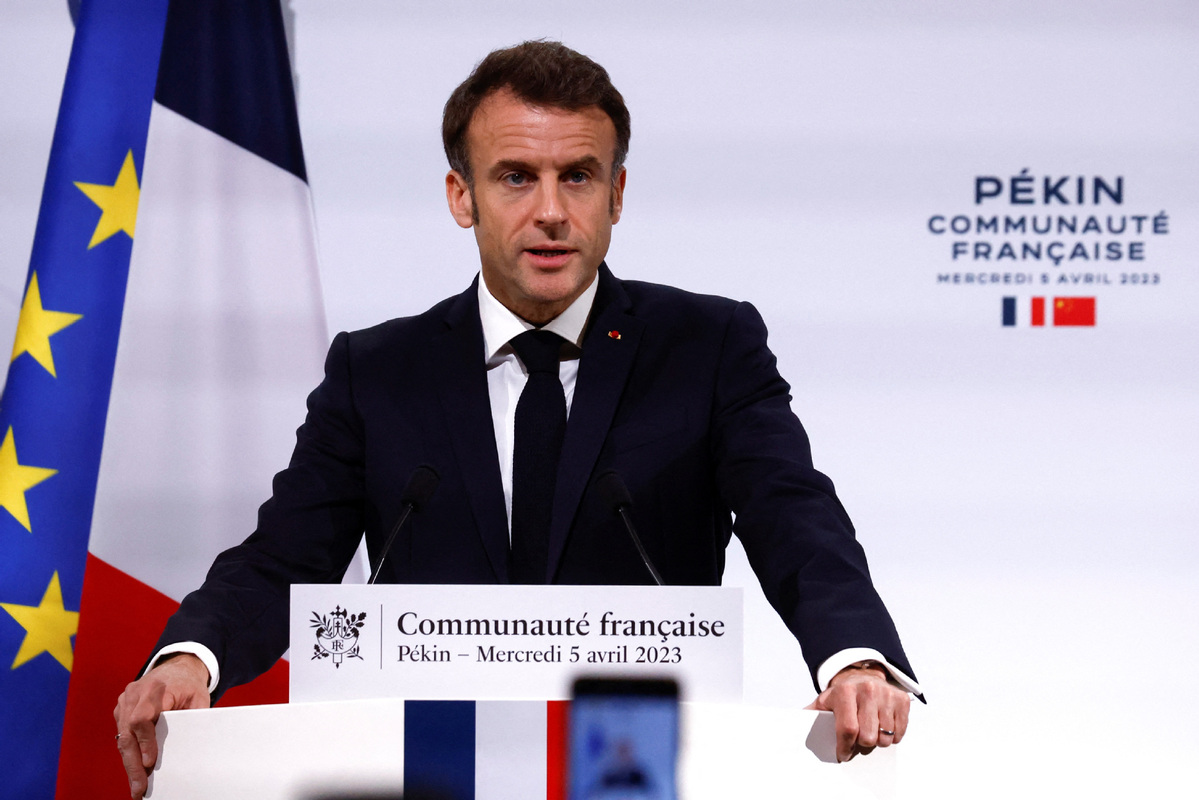 French President Emmanuel Macron is visiting China with a delegation of about 50 corporate CEOs to boost bilateral investment and trade ties. He also hopes that China can "play a major role" in bringing an end to the Russia-Ukraine conflict.
Unlike some European states which blindly follow the United States, France is known for its more independent foreign policy, as in the case of its opposition to the US invasion of Iraq in 2003.
Compared to the US, NATO and EU leaders, Macron has spoken more positively of China's 12-point position document to end the Ukraine crisis and said on Wednesday that it shows China wants to "build a pathway toward peace".
For decades, China has maintained friendly relations with both Russia and Ukraine. In the past year, it has kept urging de-escalation and diplomatic solutions to end the conflict and refrained from adding fuel to the fire.
The fact that more than 150 countries have refused to join the West's sanctions against Russia shows that the vast majority of nations want the conflict to end as soon as possible.
However, it is hard to say whether some Western leaders want China to successfully play a more constructive role in promoting peace and end the conflict, since it would steal their limelight and undermine their goal of "weakening Russia" by exploiting the conflict and "fighting to the last Ukrainian".
The fact that the US, NATO and EU leaders didn't even acknowledge China's role in successfully mediating a rapprochement between Iran and Saudi Arabia recently reflected the same narrow-minded thinking.
Macron is the only EU leader who has called for providing Russia with a security guarantee to end the conflict, but his words have not only failed to convince anyone in Washington or Brussels but also drawn fire across Europe.
European Commission President Ursula von der Leyen, who is accompanying Macron on his China visit, is a more hawkish figure in pushing for escalation of the conflict.
Like NATO and the US, the EU has not put forward any meaningful diplomatic plan to end the conflict, a plan that would address both Ukraine and Russia's concerns.
On the other hand, von der Leyen's speech last week on the EU's China policy shows her serious lack of understanding of today's China. The blind finger pointing at the South China Sea, the Taiwan Straits and at China's domestic and foreign policy grossly distorted facts and only mimicked Washington's anti-China rhetoric.
It is good for her to state clearly that "it is neither viable, nor in Europe's interest, to decouple from China," but her emphasis on "de-risk" is deeply flawed because such a move will erode mutual trust and therefore increase risks instead of reducing them.
The fact that China and the EU are each other's major trade partner means that they are highly dependent on each other and that is a good thing.
When von der Leyen meets representatives of the EU Chamber of Commerce in China, they might tell her that EU businesses have participated in many critical infrastructure projects in China and China welcomed them instead of scaremongering about them.
They should tell her that the China-EU Comprehensive Agreement on Investment whose negotiation was concluded in December of 2020 would bring many one-sided benefits to EU investors, so freezing the ratification or reassessing the agreement as von der Leyen called for in her speech last week will only undermine the interests of EU businesses.
Bilateral investment and trade is a win-win for both sides and it is wrong for some EU leaders to think they are doing a favor or charity for China.
The author is chief of China Daily EU Bureau based in Brussels.
If you have a specific expertise, or would like to share your thought about our stories, then send us your writings at opinion@chinadaily.com.cn, and comment@chinadaily.com.cn.
Most Viewed in 24 Hours
China Views