Adisseo ups output for nation's changing palate
Share - WeChat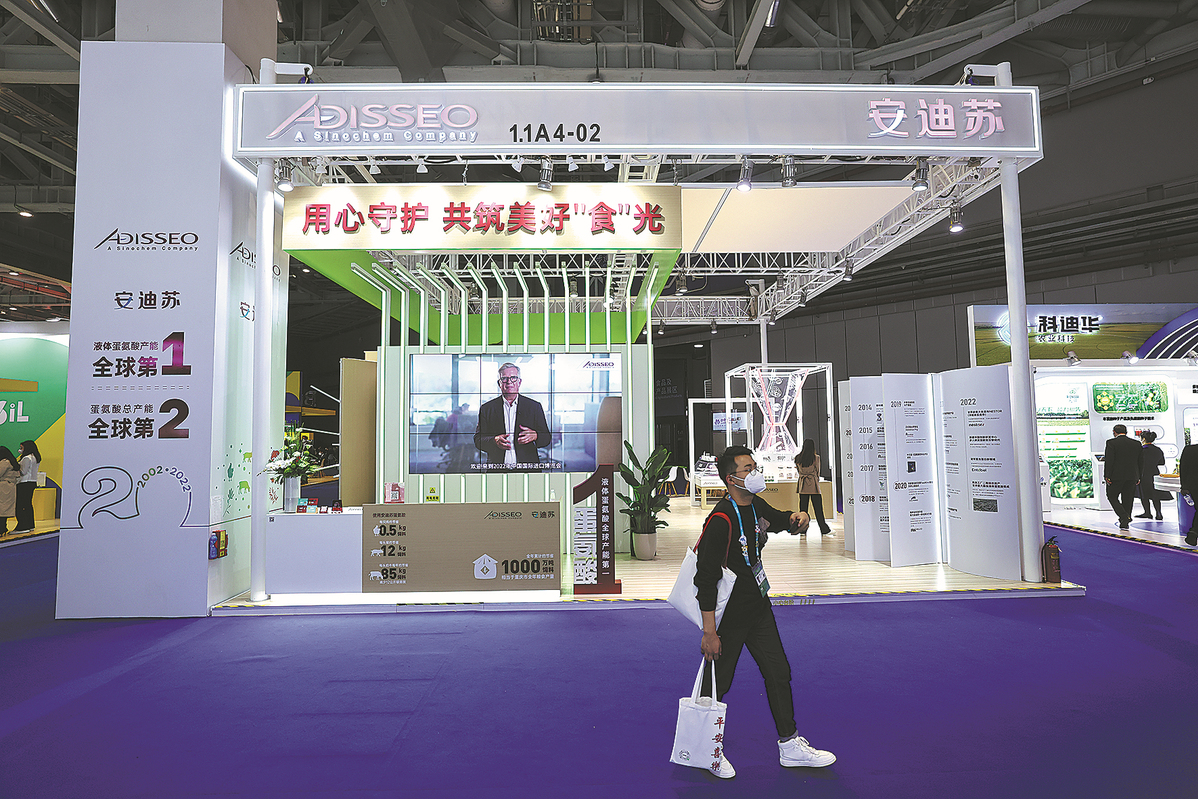 Adisseo Group, a France-based animal nutrition provider and a subsidiary of State-owned Sinochem Holdings Corp Ltd, will put a protein factory into operation in Chongqing and build a specialty factory in Nanjing, Jiangsu province, this year, said a top executive.
The plant in Chongqing is expected to produce 20,000 metric tons of protein on an annual basis this year. The products will be used in fish farming, allowing farmers to replace fishmeal and soy with a high-quality ingredient that requires no arable land and no plant matter.
The group said that initially, the plant's production will be available for use in China, the world's largest aquaculture market by consumption volume.
"China is a crucial market for us, and we see it as the largest market in the world for our products. This is why we opened last year a new phase of our Nanjing manufacturing base that can produce additional 180,000 tons annually of an important liquid component in animal feed, an essential amino acid called methionine," said Jean-Marc Dublanc, CEO of Adisseo.
Dublanc said the company's goal for this year is not only to supply sufficient animal feed in China, but also to export it to the rest of the world, with a focus on the Asia-Pacific region and beyond, from the group's manufacturing base in Nanjing.
Together with the first phase, Adisseo's Nanjing manufacturing base is currently able to produce 350,000 tons of liquid methionine a year for both Chinese and global markets. About half of its production will be exported this year, including to markets involved in the Belt and Road Initiative such as Thailand, Vietnam, Saudi Arabia and Turkiye.
The company has identified rising demand for its products in several places across China, including Guangdong and Shandong provinces, and the Guangxi Zhuang autonomous region.
To further enhance its product range and support development, Dublanc said Adisseo is building a new specialty formulation plant in Nanjing capable of producing 37,000 tons of feed additives annually, enabling the customization of products to meet specific Chinese industry requirements while remaining cost-effective.
"This will be our next step to expand our presence in China," said the French executive, adding that the company's ultimate goal in this development area is to improve the quality, sustainability and security of the food and animal protein supply in China.
He said that the Chinese economy has shown its resilience and sound long-term fundamentals amid multiple challenges. Since China's economic growth notably improved in the first quarter, it will further enrich the spending power of the country's middle-income earners and stimulate meat consumption.
Adisseo was acquired by China National Bluestar (Group) Co Ltd, a subsidiary of Sinochem Holdings, in 2006. It is a core subsidiary and the only company focusing on animal nutrition in Sinochem Holdings' life sciences segment.
With more than 2,650 employees, the company provides products and services to over 4,200 customers in over 110 countries and regions through its global distribution network. Its sales revenue amounted to over 2.04 billion euros ($2.22 billion) in 2022.
Ding Lixin, a researcher at the Chinese Academy of Agricultural Sciences in Beijing, said eating habits in China are changing with the country's economic growth.
Food consumption is rising and the types of foods purchased are diversifying. Palates are becoming more sophisticated, and there is greater demand for convenience. That has dramatically transformed the animal feed industry in China, he said.