Cole flowers bloom in urban Zhejiang
Share - WeChat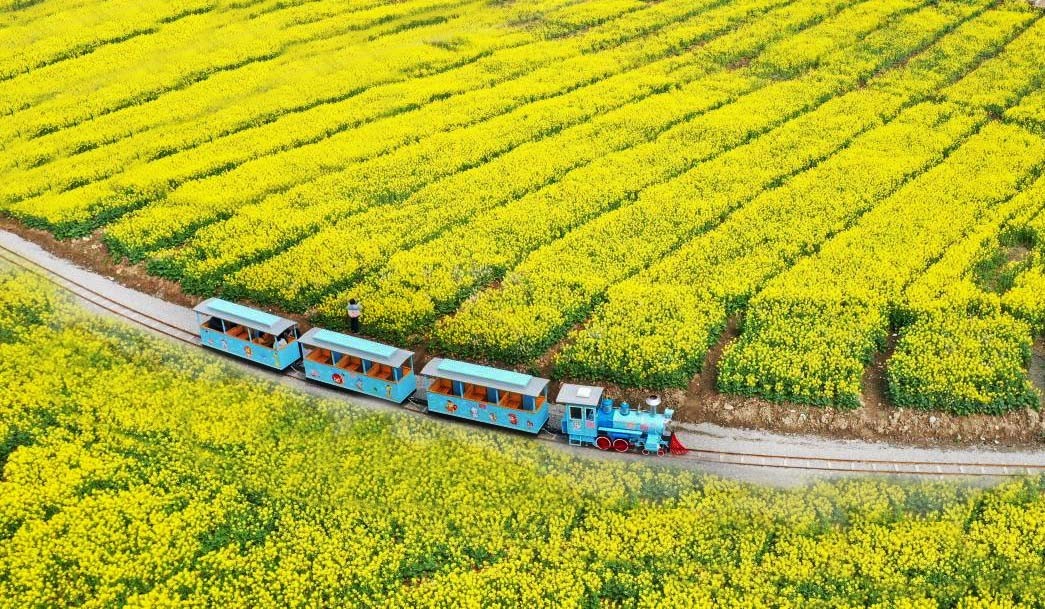 Golden yellow cole flowers are blossoming in urban Zhejiang province, attracting crowds of viewers.
"It feels so wonderful to visit this tourist spot for its natural beauty and pastoral scenery in the urban area of Yueqing. In the past, we could only appreciate it in the countryside," said Lian Lili, a resident who lives on Chengnan Street.
"This time, the establishment of a unique viewing platform enables us to enjoy nature, which is carpeted in yellow cole flowers. It's so beautiful," said Lian, who brought her whole family to see the flowers.
Each year in March and April, as spring arrives, cole flowers enter full bloom. Golden flower fields become a prime destination for weekend excursions for Chinese families.
For 13 days, from March 24 to April 5, the Yueqing First Urban Tourism Festival and Cole Flower Festival attract visitors. China has a long history of planting cole flowers a must-see tradition.
During the festival, tourists can meander through the picturesque sea of flowers and catch a glimpse of village culture. They can also enjoy floriculture, visit creative markets and take part in parent-child games.
The urban cole flower is a part of Yueqing's modern urban pastoral complex, set amid a network of lush green rivers and plains and is reputed to be one of the most beautiful spots to enjoy cole flowers in the province.
"The basic idea of designing the complex is to respect the natural ecosystem. Then, we integrate it with other landscapes and leisure activities, such as the spring flower tourist train and the urban creative market," said Qian Liguang, deputy general manager of Yueqing Urban Construction and Investment Group.
Qian said the design integrates traditional agriculture with modern building and creates a place for appreciating the pastoral lifestyle.
With the nation's rapid urbanization, Yueqing has ramped up efforts in recent years to build a city that is modern, convenient and comfortable.