Power equilibrium
Share - WeChat China must strike a balance between participation in the global energy market and its energy independence and security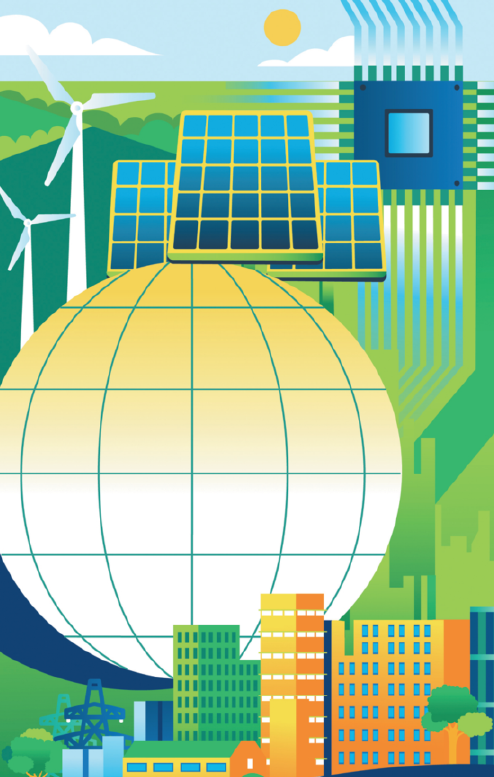 The global energy system is experiencing rapid changes in production and consumption as low-carbon energy consumption is booming. It is also affected by sharp fluctuations in the global energy market and the escalating geopolitical competitions.
China's energy consumption structure is more complicated than that of developed countries. China has rich coal reserves and inadequate oil and gas reserves, but it is shifting from the use of coals to oil and gas, exposing the limitation of traditional definitions of energy security and restricting its energy system transformation.
Many consumers are reluctant to reduce the use of coal due to its availability and affordable price. Oil and gas, viewed as scarce and expensive energy resources, are listed as key industries for national energy security reasons, restricting the participation of companies. The lack of competitions in the oil and gas market has made it hard for small- and medium-sized enterprises to play a major role in the oil and gas sector of China as their peers do in the United States, which has promoted shale revolution. Oil and gas prices have long been determined mainly by administrative means instead of market forces, which restricts oil and gas consumption and fails in substantially reducing coal consumption.
China has attached much national strategic and geopolitical consideration to oil and gas resources. There have been concerns about supply, price and transportation channels of oil and gas following an energy embargo, price extortion and channel blockade. Such thinking makes the Chinese government assume the main responsibility for ensuring national energy security, managing the energy system and addressing energy challenges, while the market and social communities are absent.
In recent years, China's increasing reliance on the oil and gas of other countries has caused further concerns about energy security. The "Malacca dilemma" often highlighted by China's energy strategy communities is a typical case. The concerns are partly due to confusion between wartime and peacetime energy security, which has exaggerated the risks and threats to energy transportation and security.
The international energy strategic landscape is undergoing systematic changes. Facing the upheaval, we need to update understandings of energy security, and develop new energy security views based on China's practical demands for energy security and development of the global energy system.
First, China should adopt a dynamic view of energy and resource security, and strike a balance between fossil and clean energy, domestic energy and resources from other countries, and peacetime and wartime situations. There is no absolutely correct indicator system for energy security for it is constantly changing. Such a dynamic system should keep pace with the trend of global energy development, socio-economic environment of a certain country and the reality.
The Chinese government should be fully aware of the country's energy endowment. While recognizing the comparatively insufficiency of its oil and gas resources, it should focus on tapping into the huge potential of its non-fossil energy, especially renewable energy. Some worry that China relies too much on importing oil and gas, which causes great risks. In fact, the energy system is a complete supply and value chain. Supply disruptions will threaten the interests of energy importing countries, and exert great impacts on energy exporters, whose export and fiscal revenue will be affected. There is no general security standard for oil and gas imports in the international community and the volume of imported oil and gas doesn't necessarily relate to security issues.
We should consider in particular energy security in wartime, while also keeping an eye on risks such as an economic war and energy embargo that may emerge amid international tensions. In a peaceful era, China should not restrict oil and gas import overly for fear of wars leading to supply disruption, and needs to hedge risks by diversifying energy import resources and increasing strategic energy reserves.
Second, China should balance energy supply and demand for security by meeting energy demands with high-quality and sound supplies. As the world's second-largest economy, China will continue to see contradictions between growing energy demands and low-carbon transformation, for which it needs to improve supplies and demands. It should continue to promote the energy supply revolution, establish a modern supply system with diverse, complementary, secure, efficient and clean energy resources, and enhance the capacity of its independent energy supply. China also needs to promote energy consumption transformation and curb excessive energy exploitation while controlling total consumption.
Third, China should develop energy security views on environmental risks and climate change, and involve the views as important parts of energy security. China should turn to the energy revolution to address climate changes and ensure sustainable environmental development. It should promote low-carbon transformation steadily, promote sustainable economic growth while improving the use of new energy to achieve both economic growth and environmental protection.
Fourth, the country should ensure energy security through technological progress. The international energy industry chain consists of resources, funds, technologies and market, with their respective weight changing. The progress of energy technology has increasingly become a key driving force for the reform of the international energy system. With the boom of energy science and technology, technology will play a greater role in the energy security system. To better uphold China's energy security, it should move toward the higher ends of the energy science and technology chains, enhance the core competitiveness of energy modernization, and guarantee energy security through sci-tech innovation.
China also needs to develop a global energy security view, improve international cooperation and uphold its energy security while opening its doors. After the Cold War, the global energy system has become more market-oriented, and energy resources such as oil and gas have increasingly gained commodity and financial attributes. The resources are less viewed as strategic reserves. Energy producers, transporters and consumers have developed a network of transnational relations involving multiple entities, which are interdependent, competitive and cooperative. In the long run, the general trend will not change. However, globalization has been temporarily disrupted in recent years, and the global energy system has seen violent fluctuations due to the suspension and reshuffling of global energy supply chains. Considering the general trend and periodic changes, China needs to strike a balance between participation in the global energy market and its energy independence.
The author is the deputy director of the Institute of International Studies and the director at the Center for Russian and Central Asian Studies at Fudan University. The author contributed this article to China Watch, a think tank powered by China Daily. The views do not necessarily reflect those of China Daily.
Contact the editor at editor@chinawatch.cn.
Most Viewed in 24 Hours
China Views