Boao Forum sanguine on Asia prospects
Share - WeChat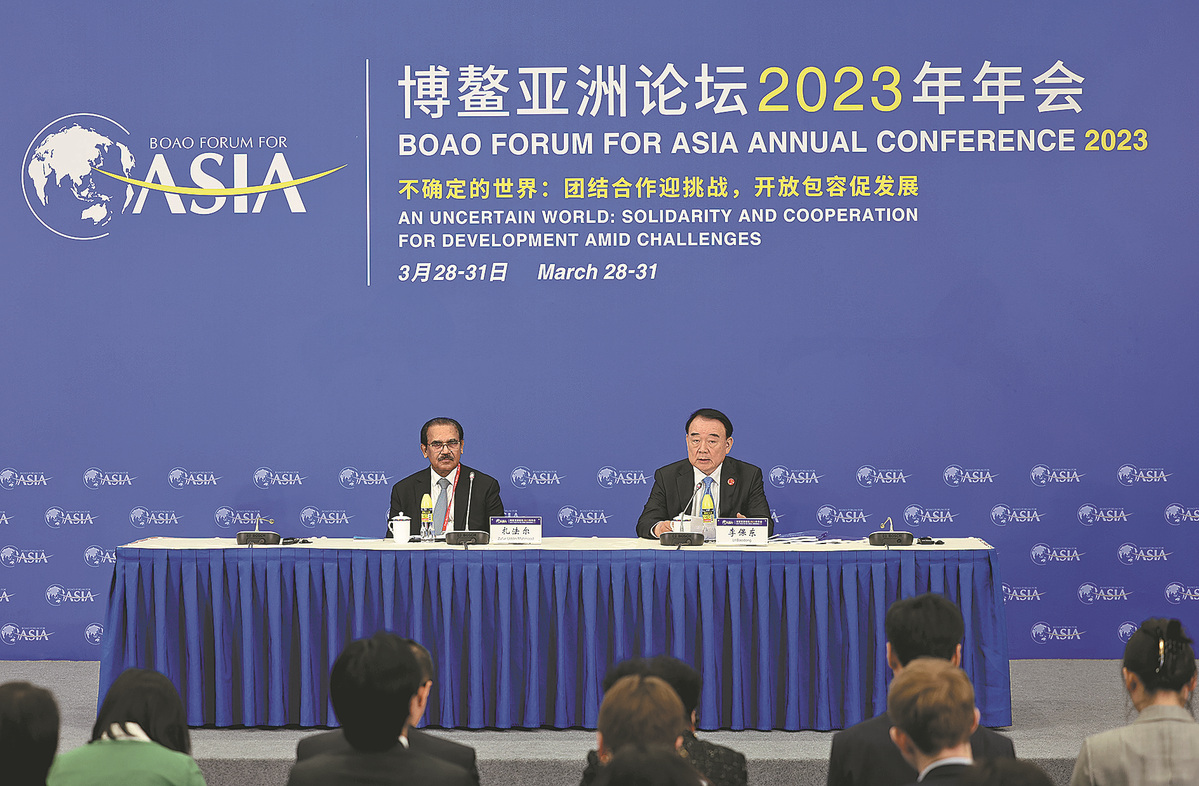 Key report expects region to lead world to economic recovery this year
The Asian economy is on track for recovery with strong resilience and vitality despite pressure from weakening global demand and mounting uncertainties, according to a key report issued on Tuesday.
While sluggish global growth may weigh heavily on external demand for Asian exporters, China's notable economic rebound is sending out a positive signal to the rest of Asia and the world, according to the flagship report from the Boao Forum for Asia Annual Conference 2023. Themed "An Uncertain World: Solidarity and Cooperation for Development amid Challenges", the forum opened on Sunday in Boao, a coastal town in South China's Hainan province.
Asia will remain a key driving force for supporting global growth, upholding multilateralism and advocating global economic governance amid a cloudy global economic outlook and mounting uncertainties, said Li Baodong, secretary-general of the Boao Forum for Asia.
According to the report, the weighted real GDP growth rate of Asia in 2023 is expected to be 4.5 percent, making the region a standout performer amid the global economic slowdown.
"Asia is expected to accelerate its pace of overall economic growth, continue to advance regional production, trade, investment and financial integration and cohesion, and seize the 'Asian moment' for global economic governance," it said.
In the bleak global economic landscape, Asia is expected to be a bright spot in 2023. Despite weakened global demand, Asia as a whole is showing signs of recovery thanks to its strong economic resilience and vitality, the report said.
But the report also warned of the relatively weak growth momentum of emerging markets and developing economies, primarily due to weakened external demand, tightened financing conditions as well as insufficient investment.
Despite mounting uncertainties and challenges ahead, Zhang Yuyan, director of the Chinese Academy of Social Sciences' Institute of World Economics and Politics, voiced strong optimism for a robust 2023 for Asia's economy, saying that it is mainly aided by China's rapid economic recovery.
He said the world's second-largest economy has become the "stabilizer" of Asia's economic growth as well as global economic growth.
Citing IMF analysis, the report said that China and India together would contribute to half of the world's growth this year, with every 1 percentage point increase in China's economic growth leading to a 0.3 percent increase in output for the rest of Asia.
Notably, East Asia will see the most obvious growth rate rise in 2023 compared with the prior year, mainly aided by China's economic growth. And East Asia's growth rate is expected to rise from 3.2 percent in 2022 to 4.5 percent in 2023, according to the report.
Xu Xiujun, researcher at the Chinese Academy of Social Sciences' Institute of World Economics and Politics, said China's economy is picking up in the current quarter, and many international organizations have upgraded their forecasts for China's growth prospects.
"As an open economy, China's high-level opening up will closely link the Chinese economy to the rest of the world. And China's economic growth will play a key role in boosting global economic recovery," he said.
Samson Khaou, executive vice-president of Dassault Systemes Asia-Pacific, which joined the forum, said the French industrial software company is confident about the growth of China, as China remains a strong manufacturing powerhouse and the country is playing a leading role in the supply chain of the global market.
"We believe that the growth of China will be sourced by domestic demand as well as global demand. We truly believe that the growth will be rooted in China," he said.