Aero sports become new tourist attraction in China's Hainan
Share - WeChat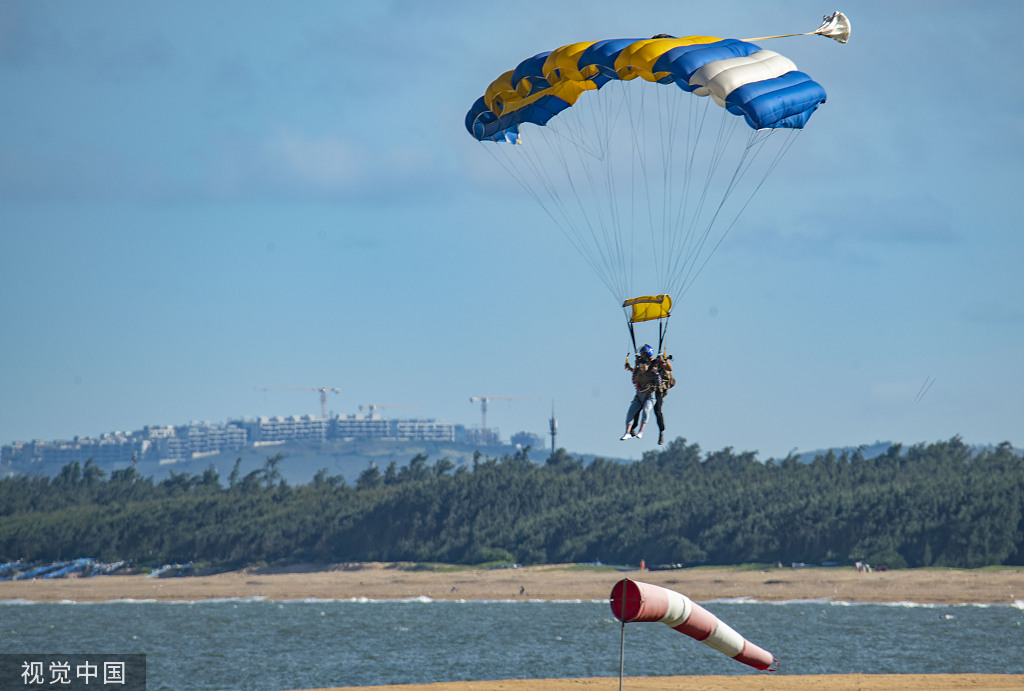 HAIKOU, March 27 (Xinhua) -- "This time I came to Hainan not for the sea, but for the blue sky," Su Na said cheerfully while waiting with her husband for their first skydiving experience.
Like many frequent visitors to China's southernmost island province, the young couple from northeastern China chose to admire Hainan's fantastic scenery not just at the beach, but also from high above with the help of professional skydiving coaches.
According to Zhang Enming, general manager of Sanya Tarhe Skydiving Club, which the couple went to in the resort city of Sanya, the club saw a record-breaking single-day reception of 166 customers during this year's Spring Festival holiday.
Already popular in the United States, New Zealand and other countries for decades, aero sports such as skydiving, paragliding and hot air ballooning are undergoing rapid growth in China, and Hainan has seen the combination of such sports and tourism thriving over recent years.
Besides its natural beauty of endless sea, golden beaches and lush tropical forests, a warm climate and over 300 sunny days each year also provide favorable conditions for aero sports in Hainan, said Xu Liwen, secretary general of the Hainan Aero Sports Association.
Statistics from the association show that since 2020, local enterprises operating low-altitude tourism activities have been growing, with projects distributed in eight cities and counties across Hainan generating a total investment of 200 million yuan (about 29.1 million U.S. dollars).
"So beautiful! What a different feeling to look at the sea from such an unusual angle!" 28-year-old Lu Yisi from Beijing gave an excited shout after landing on the beach, still immersed in the breathtaking bird's-eye view of Hainan which she had just enjoyed during the even more breathtaking minutes falling through the air.
Yin Tao, an Accelerated Free Fall instructor at Ledong Yinggehai Skydiving Center in Ledong Li Autonomous County, believes that when participants jump out of a plane with a parachute, they give full expression to their feelings and personalities, and liberate themselves from their sometimes boring daily routines.
With the rising popularity of aero sports, as well as advantageous policies in building the Hainan Free Trade Port, an increasing number of professionals from home and abroad have settled in Hainan.
Guo Rui, general manager of Ledong Yinggehai Skydiving Center, started his business in 2017 in north China's Tianjin Municipality and moved it to Hainan three years later, as he believed the province would be "a paradise for aero sports and low-altitude tourism."
Safety standards and regulations are also improving for the industry in Hainan. All bases are required to strictly enforce safety measures, such as following meteorological indicators and prohibiting fatigue flights.
"Nowadays, many skydiving participants ask professional questions about the qualifications of coaches, wind speed and direction," said Guo.
Lee Nam, a master rigger and coach from the Republic of Korea currently working for Sanya Tarhe Skydiving Club, regards safety as the top priority.
"If I keep safety first, check the wind, check the weather, check the airplane, check my body condition and everything, then skydiving can be safe," said Nam.
According to Xu, based on a series of preferential policies offered by Hainan, including visa-free entry for tourists from 59 countries, talent introduction and zero tariffs on some imports, aero sports tourism will continue to prosper there.
The province has hosted several national-level aero sports events in the past few years and is striving to build a national sports tourism demonstration zone by 2025.
"By then, tourists will be able to experience leisure skydiving on the east coast of the island and watch wonderful competitive aero sports events on the west coast. This is the new direction of aero sports development in Hainan," said Xu.