Culture a winner for cosmetics brands
Share - WeChat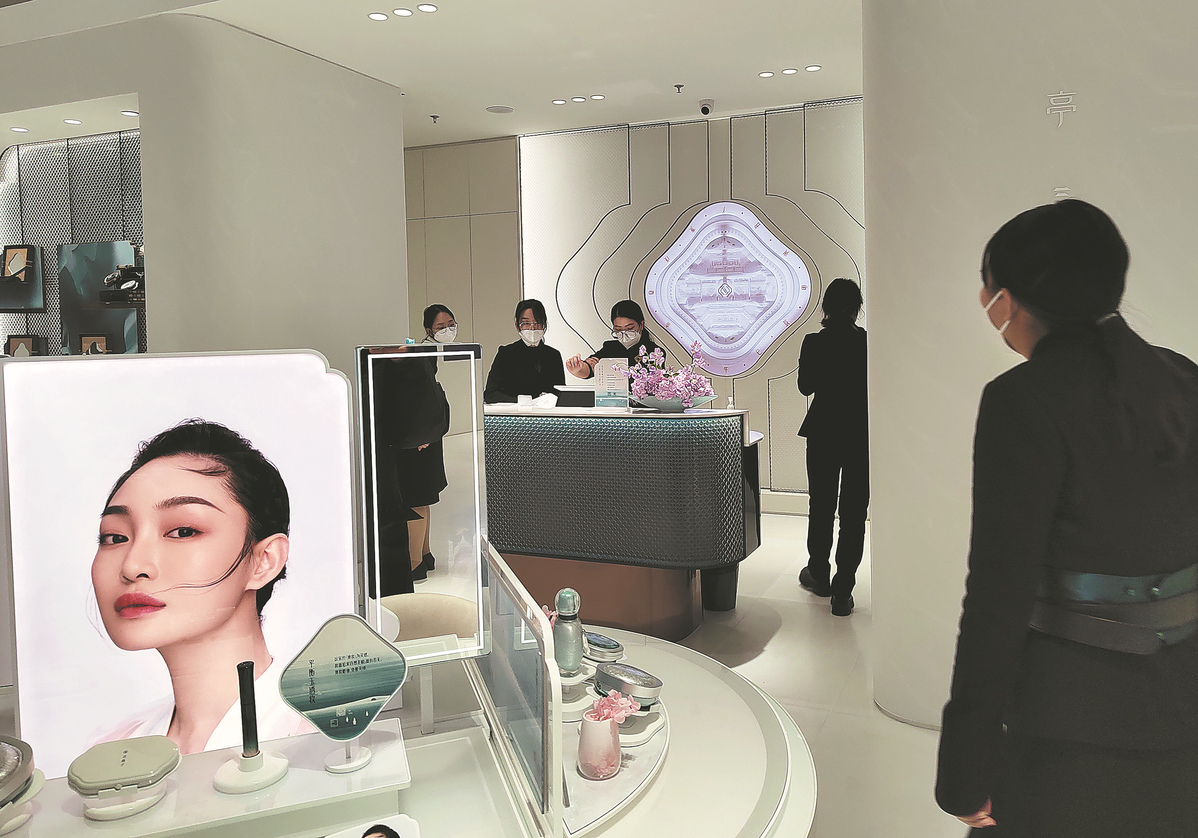 Domestic firms find younger shoppers drawn to products that incorporate traditional associations
With buying power rising among young, heritage-minded consumers, domestic cosmetics brands are winning hearts with guochao — a trend that is seeing younger buyers drawn to products with Chinese cultural elements.
In one case, brands are embracing solar term or jieqi marketing, a concept based on China's ancient calendar, incorporating elements of lunar and solar calendars, which divides the year into 24 periods. This type of marketing is used to inject a sense of nature into beauty routines.
Chinese cosmetics brand Timage launched a product series in the third quarter of 2022 based on the theme of liqiu, the 13th solar term, which starts around Aug 8 and signals the beginning of fall.
Grain Rain, a Chinese skincare brand, is inspired by the eighth solar term, guyu, referring to early crops, which starts around April 20. It was accompanied by a spring-inspired marketing campaign represented by actress Zhou Dongyu in April 2022. It uses the solar term's traditional association with picking herbs to reinforce the label's herbal skincare branding.
Likewise, Hangzhou-based beauty brand Huaxizi, called Florasis in English, has been marketing "solar term makeup" since the beginning of 2021. It suggests wearing different makeup for different solar periods, such as chunfen, or spring equinox; xiaoshu, or minor heat; bailu, or white dew; and daxue, or major snow.
That numerous brands are using the ancient calendar as a seasonal marker reflects a broader revival in China of heritage-related products, especially among younger consumers.
"We have always integrated culture with cosmetics and combined traditional Chinese culture with fashion. Solar terms, as an excellent part of traditional culture, represent Chinese customs and lifestyles, so integrating solar terms into our products was not done on a whim. We aren't doing it for a short-term connection with consumers. It's a long-term thing we are doing," said Lin Zengsheng, branding director of Huaxizi.
Consumers are expressing confidence in themselves by using Chinese brands, marketing experts said. Also, their identification with Chinese cultural elements incorporated by the brands is a reflection of the improvement of national strength and the return of the collective aesthetic, they said.
Generation Z — those born from the mid-to-late 1990s and into the 2000s and a major consumer group — is being affected by the country's cultural renaissance and the development of the internet. They are more independent in their choices and have a greater sense of national identity, experts said.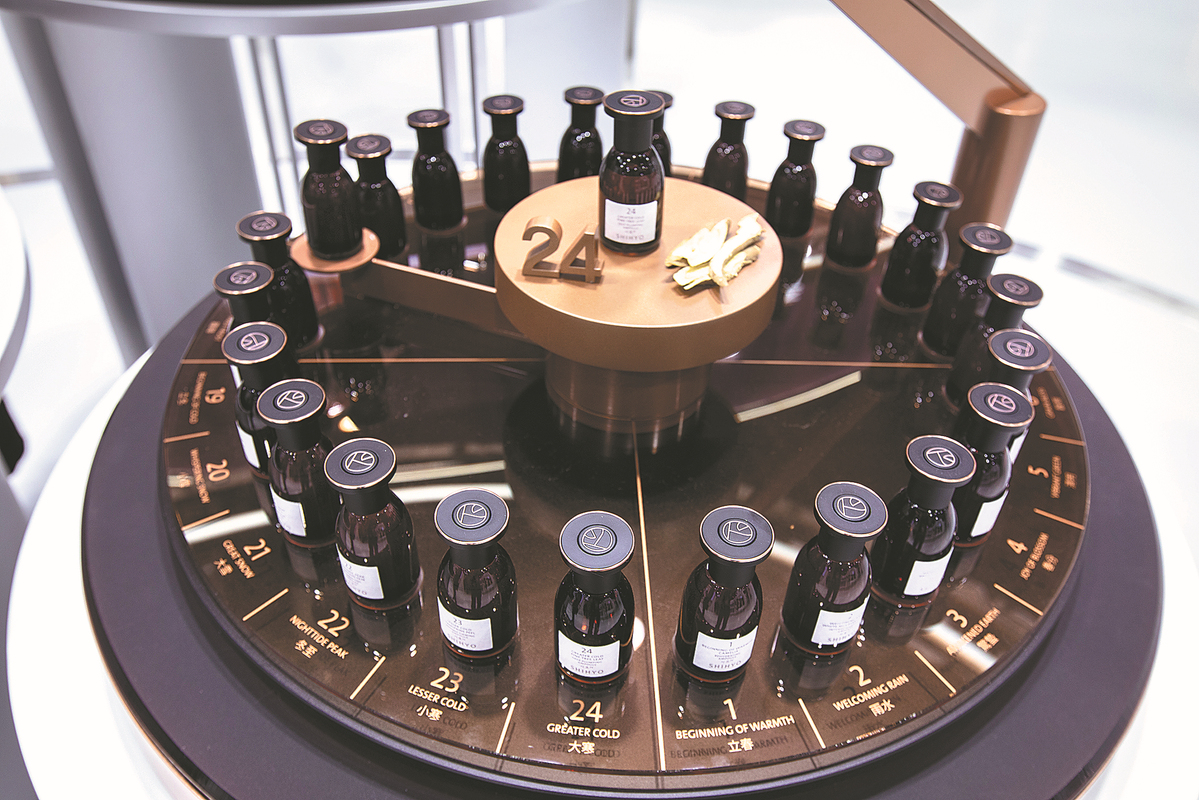 With the rise of guochao, and the influence of the expansion of China's manufacturing ability, consumers are showing an increased preference for domestic cosmetics brands, according to a recent report issued by consulting firm Ernst & Young. Although China's high-end cosmetics market has been dominated for a number of years by international brands, the market influence of homegrown brands has been rapidly rising.
A white paper issued by Tencent Inc states that domestic cosmetics companies have a market share of 56 percent. It said 60 percent of surveyed consumers prefer to purchase domestic cosmetics brands, while 42 percent had a strong willingness to make repeat purchases of those brands.
Also, the post-90s generation is becoming an important source of customers for domestic cosmetics, accounting for nearly 50 percent of sales of those products, according to the white paper.
"With young people becoming the backbone of consumer buying, guochao is entering a new stage in which Chinese brands, Chinese culture and Chinese technology will lead to new fashion trends and lifestyles," the white paper said.
"Among the numerous guochao categories, cosmetics, as one of the most popular categories, is expected to embrace rapid development. It is estimated that China's cosmetics market will surpass 500 billion yuan ($72.65 billion) by 2023," added the white paper.
In China's third-tier and smaller cities, the penetration rate of domestic cosmetics surpasses 90 percent, and the growth rate of lip balm and lipstick sales has been over 60 percent for two consecutive years, according to a report launched by Juhuasuan, the group-buying arm of e-commerce giant Alibaba.
A survey from iiMedia Research showed that in 2022, 36 percent of the surveyed Chinese consumers spent between 200 yuan and 500 yuan on cosmetics monthly, while 35.5 percent spent between 500 yuan and 1,000 yuan monthly.
"With people's makeup and skincare awareness rising and the recovery of the economy, it is expected that China's cosmetics market will see more growth," iiMedia Research said in a survey report.
According to the survey, nearly half of the surveyed consumers considered guochao cosmetics creative and were willing to support its development, while nearly 30 percent of interviewees thought guochao cosmetics interesting but were taking a wait-and-see stance.
"Although domestic cosmetics have made gains using the idea of guochao, the product itself is important. Only when quality matches appearance will the product win the hearts of consumers," said iiMedia Research.
On Feb 15, Huaxizi launched a pop-up store in Tokyo, Japan, the company's first overseas. It sets the mood with a classical Chinese garden display and decorative styles of ancient China.
The store showcases most of Huaxizi's products, including Flawless Jade Breathable Setting Powder and Concentric Lock Lipstick. The pop-up store drew attention on its first day, attracting nearly 100 media staffers and over 500 consumers.
"We chose Japan as our first destination for an overseas pop-up store because Chinese and Japanese cultures share the same origin, and it is easier for Japanese customers to understand and accept Asian aesthetics and cultural implications in our products," said Lin of Huaxizi. "We hope that through some face-to-face interactions, Huaxizi will better understand Japanese users' beauty habits and beauty culture, and Japanese users will also understand Huaxizi better and see the quality and beauty coming from China."
He added that "to some extent, our going global process is not only the internationalization of our products but the internationalization of Chinese culture. We are not doing overseas 'cultural marketing' deliberately. Everything happens naturally.
"We believe that beauty is pluralistic and has commonality, national beauty is world beauty and a product can be the best carrier of culture and aesthetics. We have always insisted on integrating culture with products, and then the world take notice."
Chen Jia, a researcher at the International Monetary Institute of the Renmin University of China, said: "The rise of guochao-empowered cosmetics is an inevitable trend during China's modernization process. To realize high-quality development, domestic cosmetics brands should promote technological advancement and the integration of culture and products. In this way, they can stand out in the market and win the trust of consumers."