Grain of sense
Share - WeChat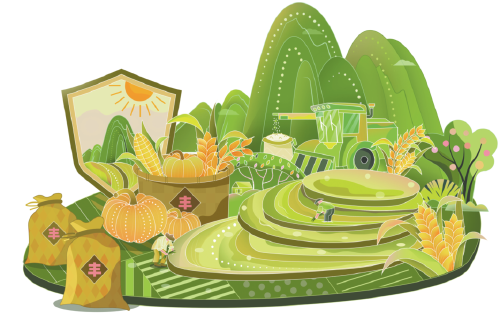 Closer rice cooperation between China and its Asian neighbors benefits food security
Rice is the most important staple food grain for China and its Asian neighbors, accounting for over 60 percent of China's total staple food consumption. Therefore, ensuring a stable supply of rice is safeguarding grain security and food security.
The vast majority of global rice production and consumption is in Asia. Production, consumption and exports of rice by Asian countries account for 86.7 percent, 80.1 percent and 74.4 percent respectively of the global total. India, Vietnam, Thailand and Pakistan are the world's top four rice exporters, with a combined export volume accounting for 65.3 percent of the global total in 2020. In recent years, Myanmar, Cambodia and Laos have recorded surging rice exports, becoming emerging exporters of the grain. In 2020, China was the largest producer, the largest importer and the fifth largest exporter of rice in the world.
But the lack of cooperation in the rice industry among Asian countries has lowered the efficiency of resource allocation and hampered the enhancement of production capacity.
In the area of rice technologies, Asian countries either restrict or prohibit the imports and exports of germplasm resources, breeding technologies and breeding outcomes. With regard to the rice trade, certain countries have been protecting their domestic produce with extremely high import tariffs — domestic consumers have to shoulder a higher cost for buying the grain and exporting countries' farmers suffer reduced incomes because of the trade barriers.
Furthermore, Asian countries have blocked grain exports during food crises with a beggar-thy-neighbor approach, further worsening the crises. Since 2000, the global rice price has experienced three rounds of hikes, all closely related to Asian countries' rice export restrictions. Major exporting countries have imposed such export restriction measures as export bans and permits, further intensifying the food crises.
Strengthening cooperation with Asian countries in the field of rice is of great strategic importance for China.
Stronger rice cooperation between China and its Asian neighbors could help increase the latter's rice production capacity and thus improve regional food security.
Despite their great resource endowment for rice production, Southeast Asia and South Asia have insufficient actual capacity in rice production and face food insecurity due to their large populations. Restricted by less advanced agricultural infrastructure and technologies, the average rice yield per unit of China's neighboring countries is only 60 percent that of China. The Philippines, Bangladesh and other populous countries need to import a large amount of rice and fluctuations in global rice prices threaten the grain security of the low-income groups in those countries. Also, the frequent occurrence of extreme weather events and natural disasters in the region has made the stability of rice supplies vulnerable to shocks from climate change and natural disasters. China's strengthening cooperation with neighboring countries on infrastructure construction and agricultural technologies related to the rice industry and jointly pushing for the construction of a regional food common market as well as a food reserve and assistance mechanisms could enhance neighboring countries' rice production, improve regional food security, stabilize the global market and global supply chain, and underpin China's food security.
Also, it is conducive to deepening mutually beneficial cooperation between China and its Asian neighbors as a crucial part of building a community with a shared future for mankind.
The rice industry is of great importance to the economic growth of China's neighboring countries as well as people's livelihoods and employment. According to research findings, incomes from rice sales account for 44 percent of Cambodian farmers' household incomes; therefore, local farmers are very sensitive to fluctuations in rice export prices. China's neighboring countries are sparing no efforts to develop the rice industry and are striving to expand rice exports in an attempt to increase agricultural output value and increase farmers' incomes. China has become a major rice export destination for its Asian neighbors, accounting for 35 to 63 percent of the total rice exports of the countries concerned. Based on this, they should further cooperate in the rice industry for mutually beneficial outcomes.
To strengthen cooperation in the rice industry, China and its Asian neighbors should focus on the following areas.
To start with, China should give full play to its scientific and technological edge in the rice industry, deepen exchanges and cooperation with its Asian neighbors in this regard and expand science and technology services for and trade with them.
China should vigorously carry out international cooperation and exchanges with its Asian neighbors on basic scientific research on rice technologies, promote inter-governmental rice germplasm exchange deals, and join hands with its Asian neighbors to build an Asian rice germplasm resource pool and a scientific research and experimental system that covers all main rice-producing areas in Asia. China should also support domestic agricultural research institutions and agro-tech businesses to "go global" to conduct rice breeding and seed production and provide services for popularizing agricultural technologies.
Second, China should make the most its bilateral and regional free trade agreements to enlarge economic and trade cooperation with its Asian neighbors in the rice industry.
China should, based on the latest changes in domestic rice consumption, reasonably increase rice imports from its Asian neighbors to meet the ever-growing demand for food and processing purposes. China should also support domestic agricultural materials companies and machinery companies increasing exports to neighboring countries, encourage domestic agro-tech firms to provide whole-process agricultural services in neighboring countries, and beef up infrastructure construction including transnational railways, shipping and ports. China should promote investment cooperation in such areas as agricultural infrastructure and water conservancy infrastructure and roll out policy support for relevant companies to incentivize them to invest in rice technology R&D, agricultural material production, post-production processing, warehousing and logistics in host countries.
Last, it is important for China to promote rice security governance cooperation with its Asian neighbors.
They should jointly build a regional investment and financing platform for the agricultural sector, beef up investment and financing support for the development of the rice industry in the region, and jointly fund the establishment of a regional grain security and agricultural development fund. China should vigorously carry out foreign assistance in the rice industry, provide emergency food assistance and production material assistance in emergencies, and carry out long-term assistance and cooperation through such means as dispatching experts. Relevant parties should facilitate the establishment of an inter-governmental rice security cooperation mechanism, such as a high-level inter-governmental consultation mechanism and a common reserve mechanism for rice security in Asia.
Zhang Yunhua is a research fellow and deputy director-general of the Rural Economy Research Department at the Development Research Center of the State Council. Ning Xia is an associate research fellow of the Rural Economy Research Department at the Development Research Center of the State Council. The authors contributed this article to China Watch, a think tank powered by China Daily.
Contact the editor at editor@chinawatch.cn.
Most Viewed in 24 Hours
China Views