Tech leaders back in China after COVID
Share - WeChat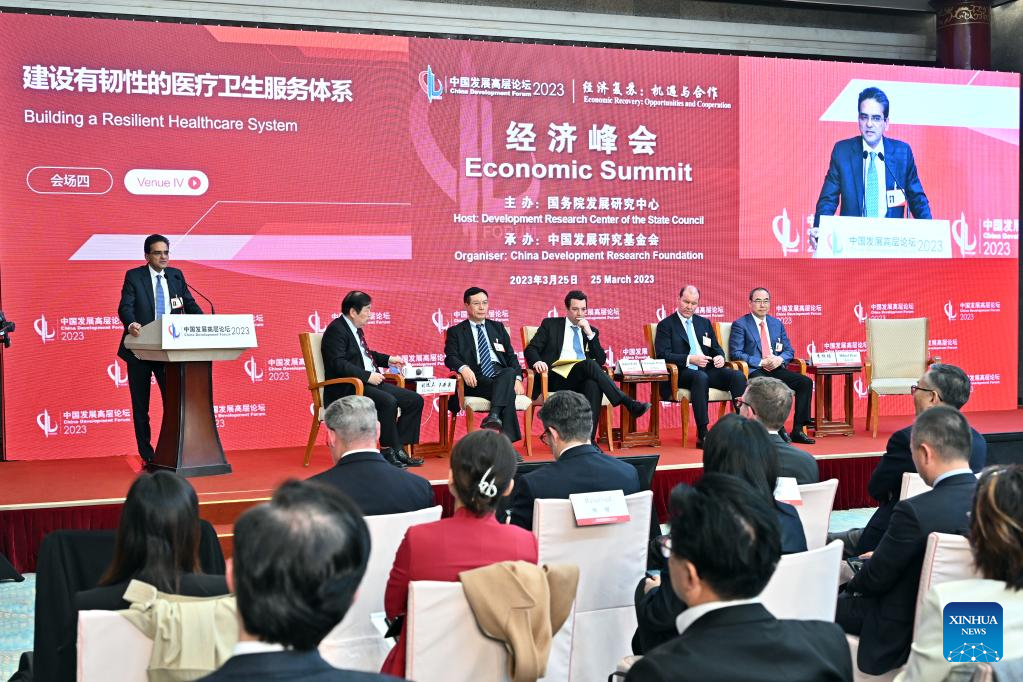 Senior executives from tech giants in the United States spoke highly of the Chinese market and supply chain after their long-delayed return to the China Development Forum this weekend, a sign that industry experts believe reflects their recognition of one of their biggest markets worldwide.
Tim Cook, CEO of US tech giant Apple Inc, started his speech to the forum on Saturday by saying that "it was so wonderful to be back". It was his first trip to China since the COVID-19 pandemic.
He spoke of the way Apple's relationship with China has changed from focusing on supply to "more and more interactions with Chinese customers" later.
"Apple and China grew together, a symbiotic kind of relationship both enjoyed," he said.
Amid market rumors that some US tech firms are exploring the possibility of moving production and assembly away from China, Cook didn't directly mention the issue but spoke highly of the company's "very large supply chain", millions of developers and thriving App Store.
The US tech giant assembles most of its components in China and has 5 million registered Chinese mobile app developers in its iPhone ecosystem.
Cook was among a group of delegates from leading multinationals attending the forum. Others include Ray Dalio, founder of Bridgewater Associates and Albert Bourla, CEO of Pfizer.
Noting at a subforum that the digital economy is quickly transforming the world, Cristiano Amon, president and CEO of Qualcomm Inc, emphasized that "no single company can do it alone".
"Qualcomm has a long history in China that spans nearly three decades. We are proud of the deep relationships we have built over the past 30 years… and the new partnerships we are building today," he said.
Bourla said that by supplying technology and semiconductors to wireless communications, advanced and power-efficient computing, and cutting-edge artificial intelligence, Qualcomm has worked closely with companies across industries and around the world — including in China — to innovate and advance social development and drive economic growth.
He said that one of the most significant trends is digital transformation, which has quickly become a strategic imperative for sustainable growth and innovation, even in the current macroeconomic climate.
Bourla said that China's recent plan for its overall digital development, which is designed to accelerate the creation of a "digital China", is a vivid example.
Despite rising calls from US officials to decouple from China, Huang Qifan, former mayor of Chongqing, emphasized that such an undertaking could never succeed.
"China has a uniquely massive single market, unified in terms of law, tax, business rules and other factors key to economic development," Huang said.
India, for instance, which is a potentially larger market than China, is fragmented and its market is governed by different state-level laws and business rules, he said.
"Thus, China's single market advantage greatly lowers costs related to manufacturing, research and development, fixed asset investment, logistics, market development and even raw material procurement. This scale advantage can reduce manufacturing costs by 30 to 40 percent," he added.
Instead of worrying about economic and geopolitical uncertainties, Huang said that China should develop future industries, like automated new energy vehicles and humanoid robots for housekeeping services, and turn them into world-class and durable products, to be globally competitive.