Foreign firms confident in Chinese market
Share - WeChat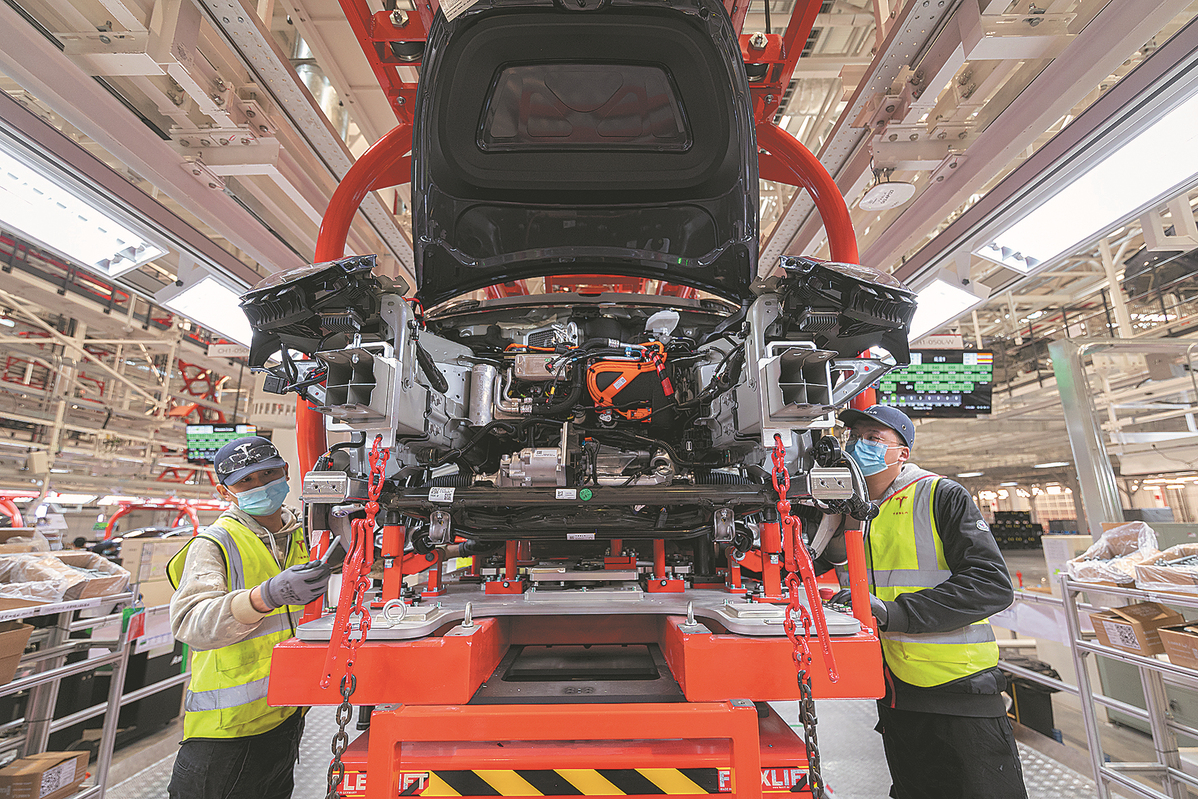 With China firmly committed to opening-up and continuing to expand market access while improving the business climate and services for foreign investors, more and more foreign firms will feel that investing in China is investing in the future, according to government officials and business executives.
Commerce Minister Wang Wentao on Sunday reiterated that China is devoted to building a market-oriented, law-based and internationalized business environment, and will keep expanding market access for foreign investors while promoting institutional opening-up.
"As China's door opens wider and its business climate and services for foreign investors continue to improve, more and more foreign-funded enterprises will come to China and take root," Wang said at a subforum of the China Development Forum 2023, which kicked off on Saturday and ends Monday.
"Many foreign companies have told us that China is a must-go market, and we also told them that they are not outsiders, but part of the 'family'," Wang added.
According to Craig Allen, president of the United States-China Business Council, cooperation between US companies and their Chinese counterparts is extremely resilient despite challenges.
US exports to China reached record highs in 2022, and China remains a crucial destination for US agriculture, food, chemical exporters and other commodities, he said, adding that USCBC data suggest that about one million people in the US are employed as a result of exports to China.
Apart from trade, US investment in China is also very important, and 77 percent of what US companies make in China is sold in China for the local market and only 7 percent is re-exported, Allen said.
The minister said that China will properly downsize the negative lists for foreign investors to further cancel or relax restrictions on market access. It will align with high-standard international economic and trade rules to expand opening-up with regard to rules, regulations, standards and management, and implement the upgrading of pilot free trade zones while advancing the construction of the Hainan Free Trade Port.
He also said that areas of interest to many foreign investors, such as government procurement, bidding, standards formulation and intellectual property rights protection, will be key focuses for improvement.
The country will reinforce support for innovation and encourage foreign companies to engage in new development tracks to gain greater impetus for growth. Relevant measures include encouraging foreign investors to set up research and development centers in China, and cultivate emerging sectors like digital trade and the green economy.
Allen said that he expects further liberalization be considered in areas like cloud computing, internet services, legal services and entertainment.
"More competitive environments, fairer markets in China will lead to jobs, efficiencies, innovation and growth," he said.
In light of the commitment to opening-up, many top multinational companies have reaffirmed their long-term confidence in China.
Oliver Zipse, chairman of BMW AG, said that he believes cooperation is the foundation for economic progress and that the modernization of China will unleash demand for innovative goods and services. He added that the growth and success of BMW in China has created prosperity in both China and Germany.
Foreign direct investment in China and Europe links the economies and is a significant counter to decoupling, he added.
Albert Bourla, chairman and chief executive officer of US pharmaceutical company Pfizer, said that it will continue to work with key stakeholders in China to drive progress and promote innovations that will improve patients' lives. In 2022, 11 new Pfizer drugs and indications were approved in China, and the company expects to submit up to 12 new drug applications in the country by 2025.
Stefan Hartung, board chairman of Robert Bosch GmbH, said the German industrial and technology group will strengthen the layout and development of new energy vehicle-related products in China.
"Electrified powertrain solutions will drive major growth in business over the course of the decade," he said, adding that Bosch will accelerate the development of fuel cell, hydrogen and electric-mobility technologies in China.
The Gerlingen-headquartered group's innovative electric-drive systems for commercial vehicles will be localized in China in 2023. It launched the first production line for high-volume membrane electrodes in Wuxi, Jiangsu province earlier this year, and plans to produce bipolar plates in the country by 2025.
Yann Bozec, president of US luxury fashion company Tapestry's Asia Pacific branch, said that the company will continue to expand investment in China.
"For Tapestry, China is not only a crucial market, but also a source of inspiration in seeking breakthroughs and innovation," he said.
Tapestry plans to open 30 new stores in China in 2023 and 100 by 2025.