Event to show distinctive charm of Chinese culture
Share - WeChat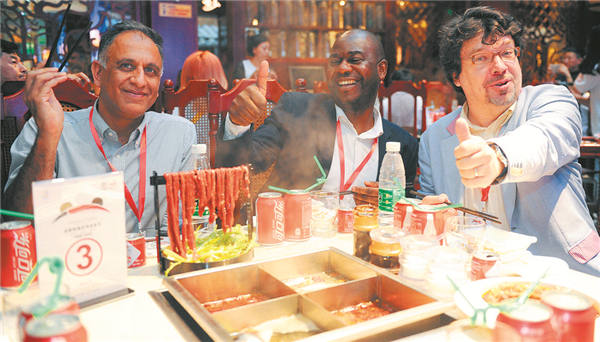 A gold ornament featuring the sun and immortal birds discovered at the Jinsha Site was designated as a symbol of Chinese cultural heritage.
As one of the eight major Chinese cuisines, Sichuan cuisine is popular all over the world with its unique flavor. Recognized as a city of gastronomy by UNESCO, Chengdu is the birthplace of classic Sichuan dishes such as kung pao chicken and mapo tofu. It is also famous for spicy and delicious hot pot and a variety of snacks.
Li Bai and Du Fu, two great poets during the Tang Dynasty (618-907) in China, both stayed in Chengdu and wrote many poems. Schooling said he loves poetry. "I've tried to understand some of their poetry," he said. "It's exciting to read it and understand their journey across China."
Koung Manivong, a Lao student at Chengdu University, came to the city because of her love for the Three Kingdoms culture. "I heard a lot of Chinese stories when I was a child, which made me particularly interested in Chinese culture," she said. She likes the character of Zhuge Liang, a military strategist of the Shu Kingdom (221-263), in the Romance of the Three Kingdoms, and feels excited to study in the same place where he lived. Zhuge is a symbol of wisdom and loyalty in traditional Chinese culture.
For Three Kingdoms culture fans, Wuhou Shrine Museum is a must-see place in Chengdu. It was built in memory of the heroes who died during that period.
Jinli, an ancient street beside the museum, which also features the culture of Three Kingdoms, was named by CNN Travel as one of the world's 21 most beautiful streets.
In recent years, with the continuous expansion of China's opening-up to the outside world, Sichuan's exchanges with the world have become increasingly frequent and Chengdu emerged as a leader among China's "new first-tier cities".
Chengdu is home to more than 20 consular institutions and more than 100 international sister cities and cities with friendly and cooperative relations. It has built trade relations with more than 200 countries and regions around the world.
Chengdu is the third city on the Chinese mainland to have dual international airports after Beijing and Shanghai, and has opened up more than 130 international routes.
Chengdu's history and culture complement each other with modern fashion. The fast pace of the metropolis blends perfectly with the slow life of the city, giving birth to the unique aesthetics of life.
An open and inclusive cultural atmosphere and a uniquely attractive lifestyle have become important factors that attract people to stay in Chengdu.
"Chengdu is really a place to discover. Every corner has a surprise," said Radek Cais, a Canadian who works in Chengdu's hotel industry. Cais added that he chose the city because it is full of vigor and life. "Chengdu people's attitude of living in the moment is also attractive to me." Cais enjoys Chinese tea culture and appreciates the teahouses all over Chengdu.
Abolfazl Bayat, a British expert who works at the University of Electronic Science and Technology of China, has lived in Chengdu for five years. "Chengdu offers a very nice balance of work and life in China. If you want to come to China, this is the best place," he said.
Most Popular