UK students face chaos as strikes hit universities
Share - WeChat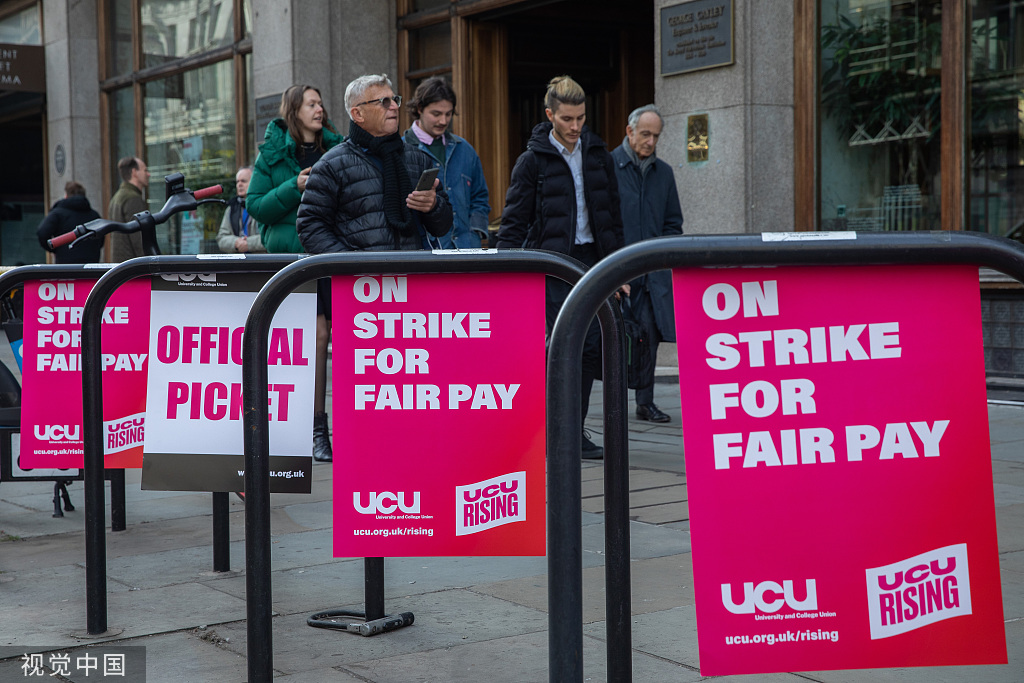 More than 2.5 million college students in the United Kingdom face disrupted teaching as new waves of university strikes began on Monday, in the first of three days of industrial actions this week.
Over 70,000 staff at 150 UK universities are walking out over pay, precarious contracts, excessive workloads and pension cuts, which means any scheduled classes, seminars or lectures on strike days could be cancelled, and may not be made up.
Some student support services, such as libraries or laboratories, could also be impacted due to staff shortages.
Before this week's disruption, students had faced a total of 9 days of strikes taking place between February and March, with an additional 6 planned days of action having been called off after the Universities and Colleges Employers Association (UCEA) and the University and College Union (UCU) made progress in negotiations.
Strike action in the sector dates back to 2018. According to the UK Parliament, UCU called 36 days of strikes between 2018 and 2020, with actions resuming in December 2021 and continuing throughout 2022, after strikes had been suspended because of the novel coronavirus pandemic.
Hermione Blandford, a third-year undergraduate home student at the University of Exeter, said in an opinion piece she wrote for youth news site The Tab that she felt "a little short-changed" as her university life has been continuously hit by the pandemic, strikes, a housing crisis, and the cost of living crisis.
Though she "believes in the strikes" and agreed that lecturers' working conditions, contracts and pension cuts are "not acceptable", she is "tired of students feeling like they have to choose between their morals and their emotions".
"We're paying so much money and not getting the experience out of it that we should…so it's understandable people make sure it's worth it."
Overseas students can spend much more on tuition at both undergraduate and postgraduate level, as the cost is set by providers and is usually not regulated or capped by the government, according to the UK Parliament's explanation.
For example, undergraduate fees for home students are currently capped at 9, 250 pounds ($ 11,333) per year in England, while the average overseas fees are estimated by the British Council, a UK organization for international cultural and educational opportunities, to be around 22,000 pounds ($26,918) per year.
"I paid all these expenses, but now I am stuck in here," said Jin Siyu, a Chinese student at University College London.
"I don't blame them (students) for being exhausted and tired," said Peter Chonka, a lecturer in Global Digital Cultures at King's College London (KCL). "We don't want to be out here. We want a proper settlement to get back in the classroom to teach. And I think the number of days that have been lost to strike actions is an indication of how serious the issues are.
"Students pay huge amounts of money, especially international students…but where is that money going…it's not going to the people actually teaching, and not being paid to support students, which is what they deserve."
Ella Parry-Davies, a lecturer in Theater, Performance and Critical Theory at KCL, added that teaching staff are not able to deliver on their expertise with poor working conditions.
"The year after I finished my PhD, I taught in five different education institutions…For example, in one week, I woke up at 5:30 in the morning, and I travelled to the University of Warwick, which is about 2 hours outside of London. In the evening, I was teaching at Birkbeck from 8 to 9pm.
"I have to commute between different universities, just to pay the rent because I was earning so little under casualized contracts.
"All of those students, I knew their names, I knew what they were interested in, I knew what they cared about…but you're maintaining those personal connections when you don't have any support in doing that."
Last Friday, UCEA agreed to review the key issues in the dispute, but critics argued that the "offer" did not mean anything substantial other than a promise to hold fresh talks, the Times High Education magazine reported.
UCU's Higher Education Committee, or HEC, has decided not to put the proposals out for its members to vote on.
Rej Jethwa, the chief executive of UCEA, said he was "deeply disappointed" by the decision, and urged UCU to "think again".
"The agreement reached earlier this week reflected the employers' genuine desire to positively reset industrial relations in our sector. There is a tangible offer on the table from employers to negotiate on the issues at the heart of this dispute. It is disappointing that the HEC has refused to put this to members," he added.
Zheng Wanyin contributed to this story.