Turkiye's FM visits Cairo in big step to mending ties
Share - WeChat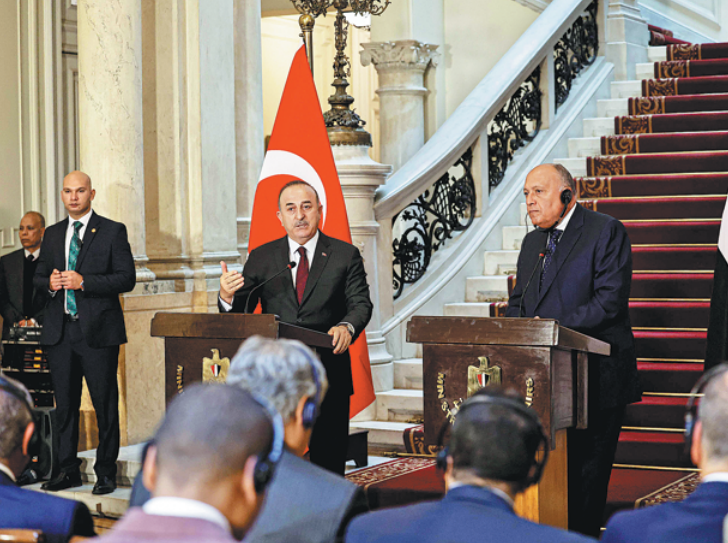 CAIRO — Egypt and Turkiye took another step toward mending relations on Saturday when Ankara's top diplomat visited Cairo for the first time since ties were ruptured a decade ago and held talks with his Egyptian counterpart.
Relations were severely strained in 2013 after Egypt's then-army chief, now President Abdel Fattah al-Sisi led the ouster of the Muslim Brotherhood's Mohamed Mursi, but have gradually thawed since 2021.
At a joint news conference with his Turkish counterpart, Egyptian Foreign Minister Sameh Shoukry said talks with Turkiye on the possibility of restoring ties to ambassadorial level would happen at "the appropriate time".
He said the talks had been "honest, deep and transparent".
Turkish Foreign Minister Mevlut Cavusoglu said Turkiye would upgrade its diplomatic relations with Egypt to ambassador level "as soon as possible".
"I'm very glad that we are taking concrete steps for normalizing relations with Egypt … We will do our best not to rupture our ties again in future," Cavusoglu said.
The United States welcomed the visit. Jake Sullivan, White House national security adviser, writing on Twitter, said it was "an important step toward a more stable and prosperous region".
Last month, Shoukry visited Turkiye in a show of solidarity after the massive earthquakes that killed more than 50,000 people in Turkiye and Syria. It was the first visit to Turkiye by Egypt's top diplomat since relations soured.
"There is a political will and directives from the presidents of both countries when they met in Doha … to launch the path toward a full normalization of relations," Shoukry said.
He was referring to a brief meeting between al-Sisi and Turkish President Tayyip Erdogan at the Qatar World Cup where they shook hands.
Cavusoglu on Saturday said the meeting between Erdogan and al-Sisi would take place "after the Turkish elections", including the presidential vote slated for May 14.
While diplomatic exchanges were once frosty, business never stopped. In 2022, Turkiye was the largest importer of Egyptian products totaling $4 billion.
Last month, Egypt, which has been struggling to manage an acute foreign currency shortage, said Turkish companies had committed to $500 million in new investments in Egypt.
Consultations between senior foreign ministry officials in Ankara and Cairo began in 2021, amid a push by Turkiye to ease tensions with Egypt, the UAE, Israel and Saudi Arabia.
Agencies via Xinhua