SOEs all in on environmental goals
Share - WeChat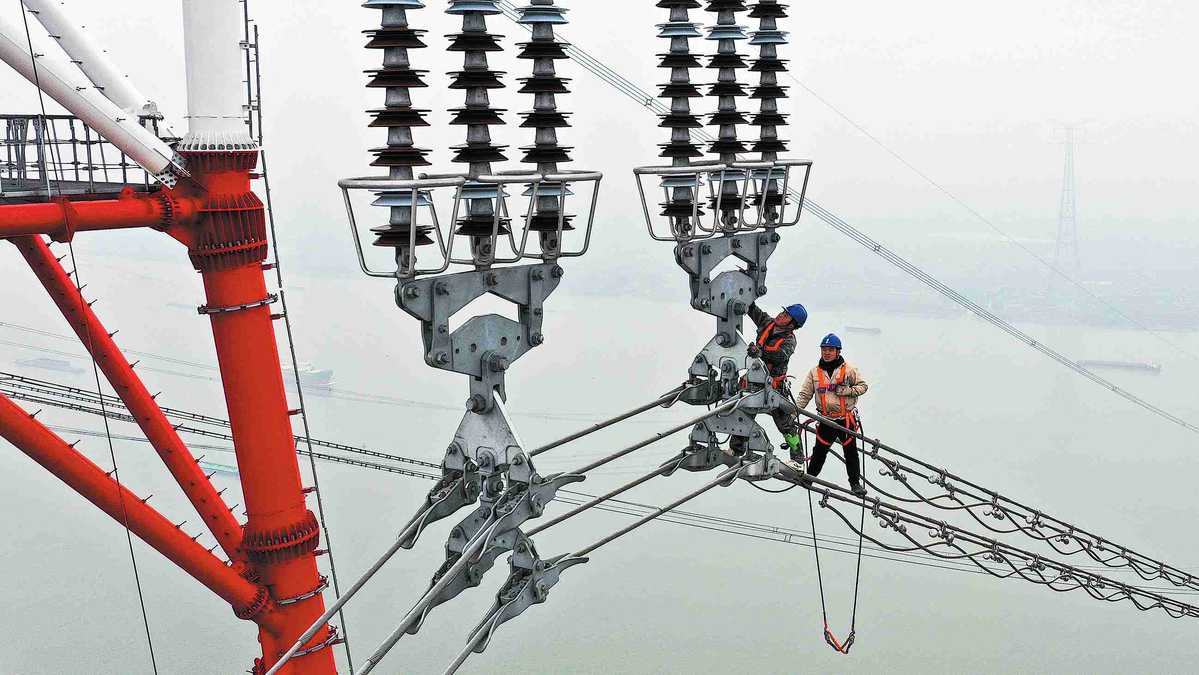 Numerous power companies begin accelerating 2023 projects to achieve dual carbon targets
China's State-owned enterprises have been accelerating construction of new energy projects since the start of the year, from photovoltaic power stations to offshore wind farms, which, according to analysts and industry observers, are expected to become new engines driving the country's economic growth.
A large number of SOEs — including State Power Investment Corp, China National Nuclear Corp and State Grid Corp of China — have all kicked off new projects across the country right after Chinese New Year, as they increased investments in the green sector, in accordance with the government's pledge to peak carbon dioxide emissions by 2030 and achieve carbon neutrality by 2060.
State Power Investment Corp kicked off construction of a nuclear heat transmission pipe network in February. As the support facility of the 900-megawatt nuclear power-based district heating project in Shandong province, the network, with a total investment of up to 700 million yuan ($102 million), will further facilitate the expansion of nuclear power-based heating projects to more areas nationwide so as to further reduce carbon emissions, it said.
State Grid has also recently launched construction of its 1,901-kilometer Jinshang-Hubei 800-kilovolt ultra-high voltage direct current power transmission project, the highest-altitude UHV direct current power transmission project in the world.
This is part of its ambition to step up investment in 2023, with funds set aside for power grid construction to hit a record 520 billion yuan, up 4 percent compared with a year ago and the fourth consecutive year State Grid has upped investment in the sector.
Efforts will also be made to raise trans-provincial and trans-regional power transmission capacity to 300 million kilowatts by 2025, and 370 million by 2030, with electricity generated from clean energy accounting for over 50 percent of the total, State Grid said.
So far, the company has completed construction of 33 UHV projects nationwide, and it plans to construct more pumped-storage hydropower stations with an estimated total installed capacity of over 27 million kW during the 14th Five-Year Plan (2021-25) period.
An analyst said China's SOEs have always been the biggest clean energy investors and developers in the country, actively facilitating the country to meet its dual carbon goals.
The investment opportunities are also benefiting them in critical sectors for China's carbon neutrality drive, including green finance, renewables, energy efficiency, hydrogen and others, said Lin Boqiang, head of the China Institute for Studies in Energy Policy at Xiamen University.
"China's SOEs are actively responding to the policy of cutting carbon emissions, with more and more SOEs in the process of making concrete plans to contribute to the national carbon neutrality target," he said.
Considering the year 2023 a critical period for breakthrough developments in the renewable energy sectors, SOEs are further expanding their investment in the sector. China Huaneng Group, for example, has vowed to operate renewable energy projects with a total capacity of more than 30 million kW and investment is likely to reach 100 billion yuan this year.
A total of 152 new energy projects involving 29 provinces, municipalities and autonomous regions are underway or at the preparatory stage, covering clean energy bases in the country's north, offshore wind farms in the east and integrated bases of hydropower and wind farms in the southwest, China Huaneng Group said.
China Energy Engineering Group, one of the world's largest energy engineering conglomerates, also vowed to further accelerate construction of new energy projects in the country this year, after its new energy related contracts exceeded 355 billion yuan last year, up 83.9 percent year-on-year. The new energy sector is growing far faster than other sectors, it said.
According to Song Hailiang, chairman of China Energy Engineering Group, green development has brought impetus to the company as well as the national economy, driving the development of related industries, including technological innovation and investment in related fields.