Building bridges
Share - WeChat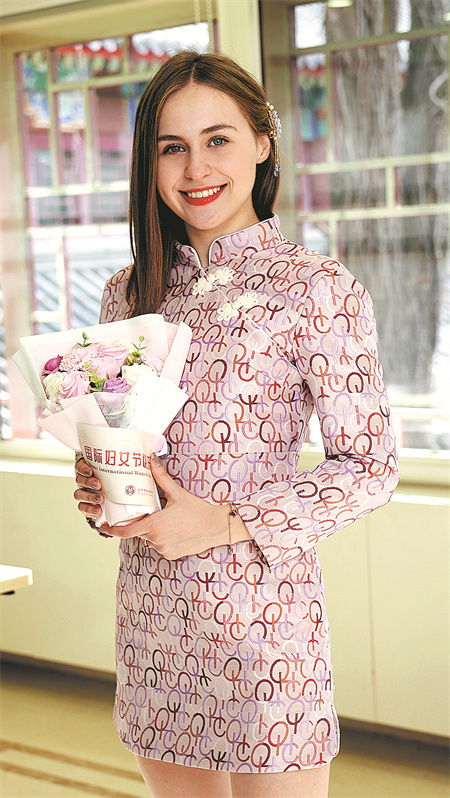 "Language barrier is one of the obstacles that hamper the development of cooperation ... and there is a shortage of specialists," said Belarusian President Alexander Lukashenko, who just completed his official state visit to China, in a comment to support the proposal to expand the study of the Chinese language in Belarus in 2017.
That was also the year when Ekaterina Kaligaeva became the Belarus State Chinese Bridge Competition champion, but her journey of learning Mandarin was no coincidence.
Foreign-language learning is not new in her multilingual family. Kaligaeva describes her parents who speak Russian, Spanish and German as role models with accomplished international careers in diplomacy, teaching and interpretation. Kaligaeva tells China Daily that she began learning Chinese almost a decade ago and is planning to take her level 9 HSK Chinese proficiency test this year, which is the highest level of the test and would qualify her to become an official translator.
Kaligaeva shares how this journey started with a "challenge" proposed by her father who told her that "learning another European language is easy because they are similar and it's in the 'family DNA', but mastering a language from the East would make him very proud".
Under the leadership of President Xi Jinping and Lukashenko, Chinese-Belarusian relations have developed comprehensively and cooperation in education has brought many results in recent years.
Kaligaeva and her twin sister are among the 40,000 Belarusian youth who have studied the Chinese language being taught in 35 schools across Belarus, as of 2022.
Kaligaeva recalls that registering for Chinese classes at their local Confucius Institute was easy, but only one of the sisters managed to keep up with the challenge throughout the years. For example, Kaligaeva's beginner class started with 15 students, but the year ended with only six learners in the classroom. Although the quality of instruction and instructors has improved since she started learning Chinese many years ago due to an increased popularity of the language among young people, she warns future learners that Chinese learning takes commitment and should not be taken lightly. She says the past years of learning Chinese have been rewarding and that it is a beautiful language, which has opened her up to a culture of 5,000 years.
Most Popular