Additional support needed to advance digitalization
Share - WeChat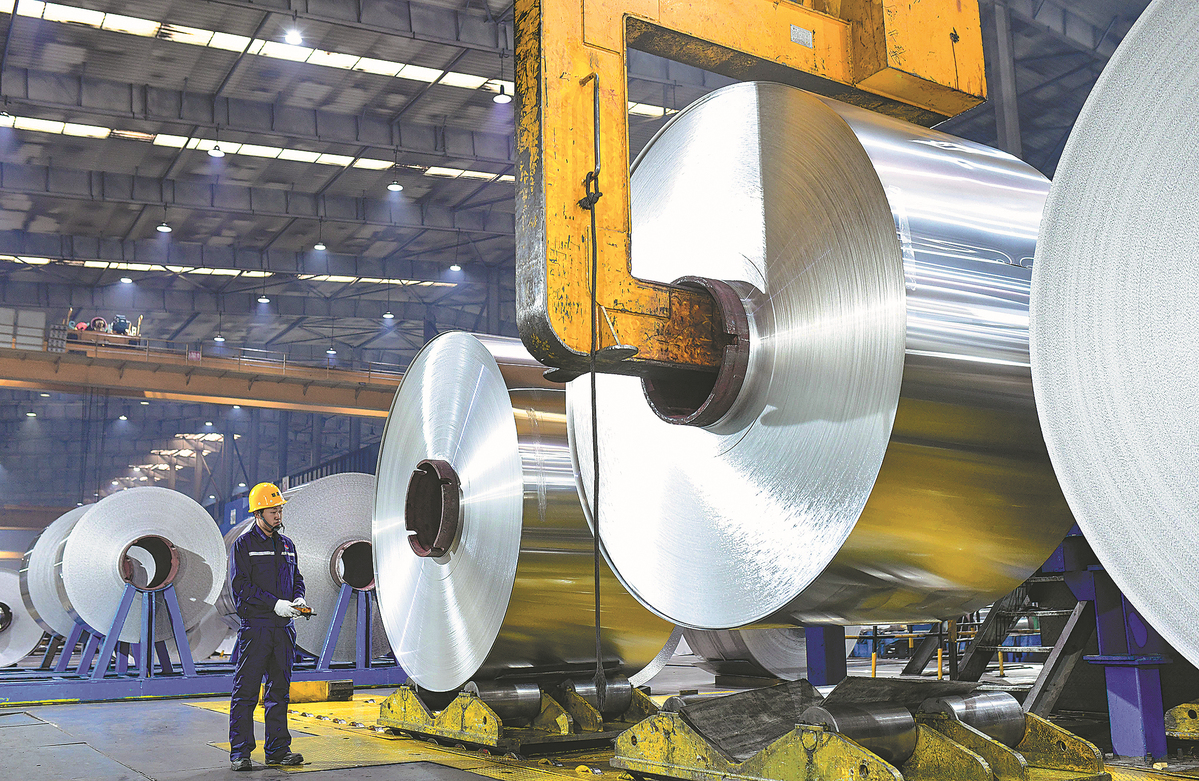 Lawmakers point to concerted efforts to boost supply, industrial chain resilience
More efforts are needed from private companies to drive digital transformation to boost the resilience of supply and industrial chains for higher-quality development, said the country's lawmakers during the annual two sessions.
"More high-tech support is needed for traditional enterprises to drive digital transformation and green and low-carbon development to promote innovative industrial development," said Cai Jinchai, president of Fujian Panpan Foods and a deputy to the 14th National People's Congress.
"Promoting private companies to digitalize is of great significance to pushing the manufacturing industry toward more quality and innovation instead of growth speed," Cai said.
"In addition, more policy support should be given to the purchasing of raw and auxiliary materials, logistics and transportation, and low-carbon production to reduce the production and operating costs of enterprises, so that enterprises can devote themselves to innovation and entrepreneurship," he added.
Cai called for more policies to encourage private enterprises to expand international markets, especially those involved with the Belt and Road Initiative and the Regional Comprehensive Economic Partnership.
"With more overseas support, private companies can extend their supply chains into foreign markets through overseas equity participation, mergers and acquisitions, and establishment of strategic alliances," he said.
In the Government Work Report, China said that the country will accelerate the modernization of the industrial system, with a focus on key industrial chains in the manufacturing sector, pool quality resources and make concerted efforts to achieve breakthroughs in core technologies in key fields.
China will also support the development of the industrial internet and vigorously promote digital and smart manufacturing. The country will speed up the digitalization of traditional industries and SMEs to make them higher-end, smarter and more eco-friendly, the report said.
"Digital resilience can help companies rapidly adapt to business disruptions by leveraging digital capabilities. It will not only enable businesses to restore supply chains, but also drive them toward more innovations and growth," said Huo Jinjie, president of leading market research firm International Data Corp China.
IDC predicted that 65 percent of global GDP would have been driven by digitalization by 2022 and will drive over $6 trillion in IT spending from 2020 to 2023.
The digital economy is also a key focus of the 14th Five-Year Plan (2021-25), in which China aims to push forward the digitalization of a raft of industries. The plan also highlights the necessity to promote safe and controllable financial digitalization.
Xu Guanju, chairman of leading chemicals firm Transfar Group and a deputy to the 14th National People's Congress, suggested the acceleration of new infrastructure to promote the efficiency of China's supply chains during this year's two sessions.
"It involves leveraging digital methods to promote new infrastructure in the logistics sector. With such improvements, both supply and industrial chains will be greatly smoothed," he said.
"The key to such transformation will be technological innovation," Xu said. "Transfar Group is determined to increase spending on R&D, technological innovation and upgrading for high-quality development, to ensure that energy will be used more efficiently."