Nio expects to be profitable by end of this year
Share - WeChat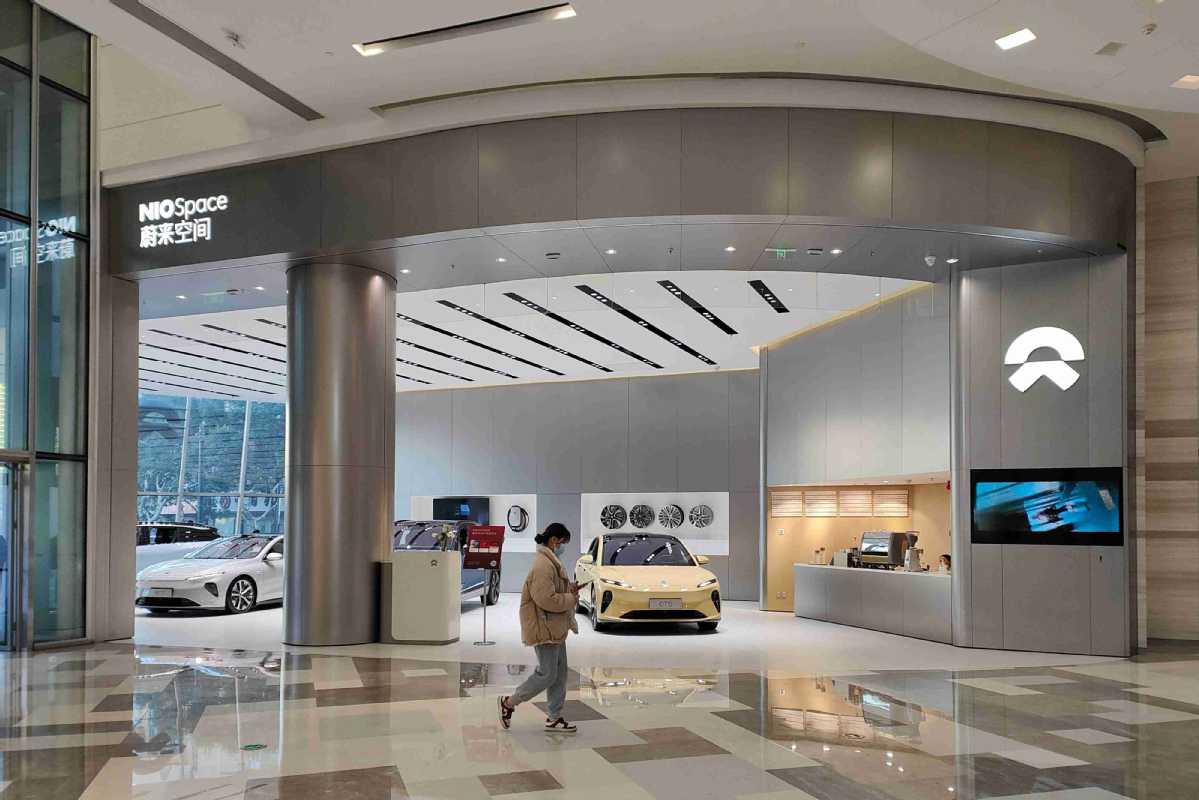 China's leading electric carmaker Nio expects its 2023 sales to double figures from 2022, in hopes the firm will no longer be in the red by the end of the fourth quarter.
Nio CEO William Li revealed the estimates last week as the New York-listed startup released its financial results for 2022.
The Shanghai-based company delivered 122,486 electric vehicles in 2022, representing a 34 percent growth year-on-year.
Li said he hopes the 2022 figure can be doubled this year, although the first quarter will be tough as its new models will not arrive until the second quarter.
Nio has established itself as the most competitive premium brand in China's smart EV market.
In the fourth quarter of 2022, it seized a 54.8 percent share in the EV segment priced from 300,000 yuan ($43,437) and a 75.8 percent share in the segment priced more than 400,000 yuan, Li said, citing data from the China Automotive Technology and Research Center.
Li said Nio will deliver five new models based on its second-generation platform this year, four of which will hit the market in the first half, and they will boost its sales from the third quarter.
The carmaker also aims to build 1,000 battery-swapping stations this year to bring the total figure to 2,300.
The new models and a larger infrastructure network are "to further improve the holistic user experience and continuously strengthen our competitive advantages in key areas of smart EVs," Li said.
Despite the robust sales, all Chinese EV startups are in the red so far.
In 2022, revenues from vehicle sales totaled 45.51 billion yuan for Nio, representing an increase of 37.2 percent from the previous year.
Its vehicle margin was 13.7 percent in 2022, 6.4 percentage points lower than in 2021, primarily because of a 50 percent increase in cost of sales.
Revenues from vehicle sales brought its total revenues in 2022 to 49.27 billion yuan, representing an increase of 36.3 percent from the previous year.
Yet its net loss soared to 14.44 billion yuan, compared with a net loss of 4.02 billion in 2021, due to a surge in its cost of sales, expenses in research and development as well as general and administrative expenses.
He said the growing sales of its new models, coupled with the raw materials' prices that are less likely to see huge fluctuations this year, will enable the startup to stop losing money by the fourth quarter.
Nio also mentioned its business in Europe, which it entered in 2021 with Norway as its first stop. In 2022, it expanded into four other European countries including Germany and Sweden.
But Nio's deliveries in Europe will be lower than 10,000 units this year because of "much lower infrastructure construction", Li said.
"So far we have only 11 battery-swapping stations, much less than our planned figure," he said.