China still growth engine of world economy
Share - WeChat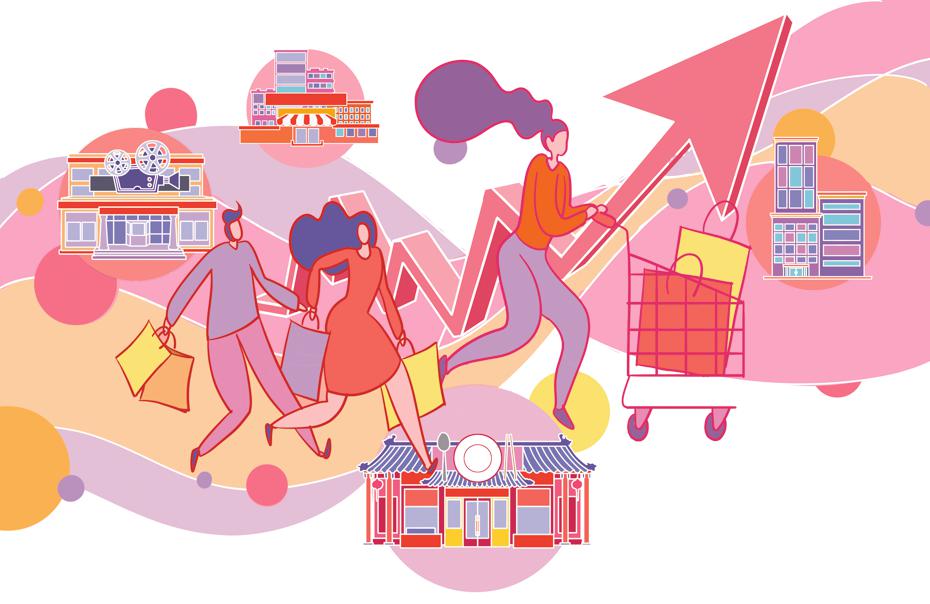 At the beginning of 2023, China "re-opened" its borders to all foreign visitors by doing away with the health code check, and lifting the other strict pandemic prevention and control measures such as central quarantine. China's decision signified that China is back on the world stage amid the gloomy global economic outlook, fear of global economic recession and slowing down of domestic growth.
This has prompted many to ask whether China can still be a growth engine for the world economy like it had been since the 2008 global financial crisis. The answer is "yes". This time, China's economic (especially macroeconomic) policy and digitalization will pave the path to sustainable domestic economic growth and help boost global growth by, for instance, unleashing the suppressed demand of the middle-income group in China, globalizing Chinese brands and pursuing high-quality economic development.
It is important to state here that a stable macro policy is most critical to help China break out of the slow growth circle.
Rising demand of new middle income group
China is the world's second-largest consumer market and the largest e-commerce market, and although its GDP growth in 2022 was a relatively low 3 percent, its economy has grown to 121 trillion yuan ($17.42 trillion).
Also, China's retail sales reached 44 trillion yuan and internet sales totalled 12 trillion yuan last year. And a McKinsey report issued in 2021 said consumers in the upper-middle-income brackets are likely to drive the lion's share of growth in China in the next decade.
By 2030, about 60 percent of urban consumption is projected to be driven by upper- and middle-income consumers (with annual household incomes ranging from 160,000 yuan to 345,000 yuan in real 2020 terms), compared with 35 percent in 2021. Another 20 percent of consumption could come from the segment above them, as the "affluent" (with annual household income of 345,000 yuan or more) double their current 10 percent share.
All this means rising demand and consumption.
Chinese consumers choose home brands
Chinese consumers demonstrated their demand potential in 2022 at a time when consumption was severely affected by the COVID-19 pandemic. While the Chinese people's consumption in 2022 was less than in 2021, they did not reduce their spending much. Rather, they behaved more like smart, sophisticated consumers by choosing diverse brands and discount channels. The consumers chose Chinese brands because they respond faster to market needs and emergencies, give timely feedback on the products, and can increase R&D to make smarter and innovative products.
Besides, the fact that the savings rate in China is one of the highest in the world makes Chinese consumers more resilient to economic shocks and more likely to tap into their savings to unleash demand in the future.
Chinese consumers will be the trendsetters for the new middle class worldwide. According to Brookings' research, by 2030 there will be 5.3 billion middle-income households worldwide, with 1.7 billion of them being in Asia, accounting for 65 percent of the total.
The World Economic Forum describes middle-income households as those having per capita income of $10 to $100 per day (according to purchasing power parity). As China's middle-income group is one of the largest in the world, it tends to lead global growth. Thanks to China's vast and still fast-growing e-commerce market, the Chinese people are the second-largest group of consumers globally. And China's innovation-driven e-commerce market and business models will help increase the demand of the middle-income group in Asia and beyond.
The need to globalize Chinese products
Chinese brands, too, have risen along with the Chinese middle-income group. According to McKinsey's 2023 China consumer report, Chinese brands (including Chinese-owned foreign brands) occupy more than 60 percent of the value shares of the top 20 brands in fields such as infant formula, mobile phones, apparel and "quick service restaurants" in China. Another McKinsey report in 2021 showed Chinese brands have leading market shares in domestic consumer-packaged goods, electronics, automobiles, apparel and footwear.
Globally, too, Chinese brands lead the market share in many categories, particularly in e-commerce, electric vehicles, mobile phones, consumer electronics, electrical appliances, solar energy and white goods. They have also increased their brand value.
According to a Kantar BrandZ report, Chinese brands have been steadily ascending to the top 100 global brands list in the last 15 years — from one brand in 2006 to 18 brands in 2021. In fact, only the United States has more brands than China on the 2021 list of Kantar BrandZ's Top 100 Most Valuable Global Brands. However, due to the impacts of the COVID-19 pandemic, only 14 Chinese brands — including Tencent, Alibaba, TikTok, Pinduoduo and Ping An Insurance — made it to Kantar BrandZ's top 100 global brands list in 2022.
In 2023, Chinese brands are likely to further globalize their products through an efficient brand delivery system, thus unleashing the middle-income group's consumption potential worldwide. And China's e-commerce platforms, mobile hardware, 5G network, and the country's push to improve infrastructure connectivity worldwide will create an ever-expanding platform for Chinese brands to consolidate their presence in foreign markets and offer better products and services to win over more consumers. Alibaba, Xiaomi, Oppo, Vivo and Huawei are all global brands.
Chinese brands' appeal lies in the fact that they are more innovative and reliable when it comes to using digital technology. They have increased their data-driven e-commerce and social media network capability, and are able to meet local people's needs and demands. With more Chinese brands investing in improving their image and enhancing their appeal, the number of Chinese brands in the global market will continue to increase.
Moreover, Chinese social media, gaming and AdTech networks have also been helping Chinese brands reach the new middle-income group worldwide, with TikTok, Tencent and Kuaishou being among the top players in the field. By using local influencers, Chinese brands have been attracting more and more consumers on the strength of their quality products and services.
In fact, the globalization of Chinese brands has been made possible by some competitive advantages enjoyed by China's manufacturing industry: the industry cluster advantage, the system integration advantage, capital intensity advantage and technological innovation advantage. China has more than 100 industry clusters that are high on efficiency and productivity and, to top it all, make goods at relatively low prices and offer fast delivery, leveraging China's advanced infrastructure, relatively high productivity and manufacturing know-how.
Quality growth of China's economy
Since 2020, Chinese companies have dominated the Fortune 500 list. On the 2022 list, for instance, the number of Chinese companies would be 145. For the first time, the aggregate revenue of Fortune Global 500 companies based on China exceeded that of US companies, accounting for 31 percent of the total, reported Cision.
However, the profits of the Chinese companies were much lower than the global average — about 66 percent of the world average and 40 percent of the US companies' average. And although privately-owned Chinese companies were better managed, their profit was still lower than the global average.
Also, improvement in management is playing a big role in brand building. The policy of adding value to "made in China" products to transform them into "created in China" products will significantly improve Chinese companies' growth quality, fetch higher prices for the products, and increase the profit margin.
This year is likely to see more privately-owned Chinese companies increasing their profit margin and consolidating their foothold in foreign markets.
Digitalization is another quality growth engine, and consumer brand companies are using the data-driven marketing technology to create "Hot SKUs" (Hot Stock Taking Units — a popular item with a high volume of requests during a specific period of time) to quickly build new brands. Beverage brand Chi Forest and cosmetic brand Perfect Diary are among the new brands that quickly expanded to Southeast Asian and other foreign markets through both online and offline sales channels.
Management tech driven by data
Data-driven management technologies will also help companies to learn more about as well as reach out to users, and provide real time support for decision-making on new, innovative products and investments.
However, the digital transformation of China's manufacturing industry will be a long process. With China's open market policies, more international investment is likely to flow into the fields of "industrial internet of things", automation and smart factory, which will help manufacturing companies become efficient and competitive.
The Year of the Rabbit is known to bring good fortune, and if China achieves healthy economic growth this year, it will bring good fortune for the world economy, by accelerating the global economy's recovery and creating a peaceful, friendly and more open international environment.
The views don't necessarily reflect those of China Daily.
The author is the founder and chief executive officer of IMT Management Tech Consultancy and chief growth officer of Smart Factory Kunshan.
Most Viewed in 24 Hours
China Views