GDP passes 121 trillion yuan, pointing to steady recovery
Share - WeChat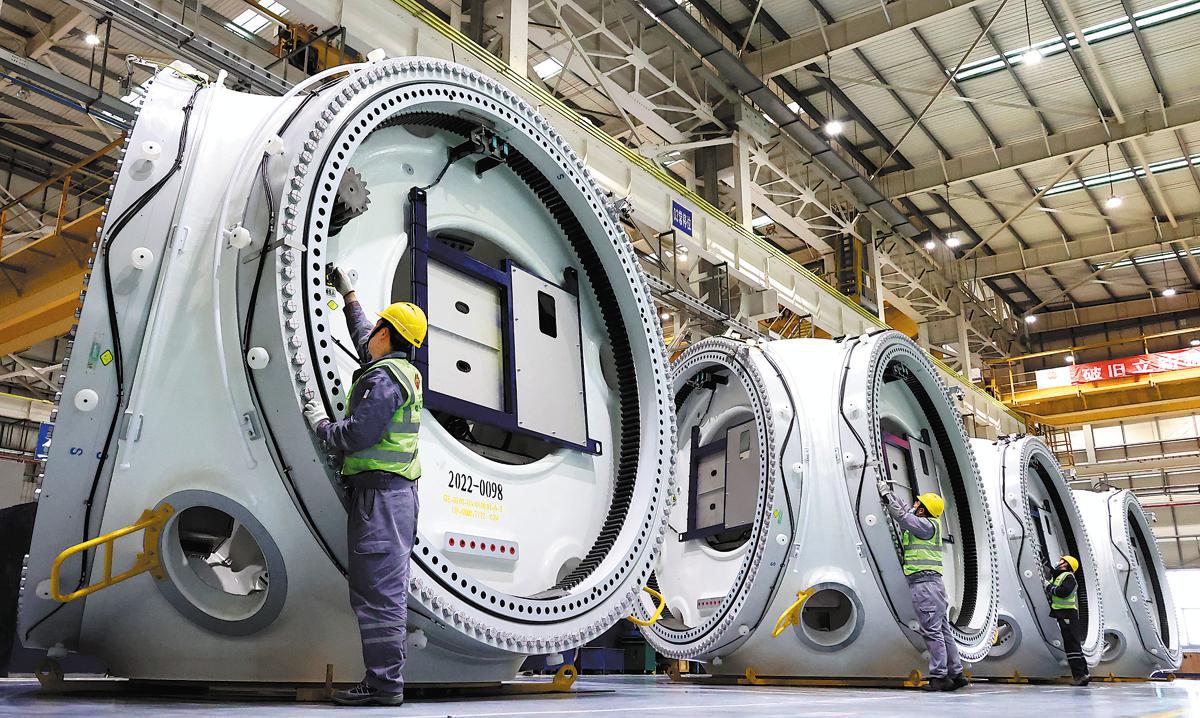 Economy: Nation remains world's largest manufacturing hub
China remains the world's second-largest economy as the country's GDP surpassed 121 trillion yuan ($17.44 trillion) in 2022, pointing to a steady recovery trend despite economic shocks, the National Bureau of Statistics said on Tuesday.
While facing pressures and challenges from a gloomy global outlook, slowing external demand and a weak property sector, China will be able to buffer headwinds and post notable growth this year, making a good start for building a modern socialist country in all respects, officials and analysts said.
"We have the conditions, confidence and capabilities to ward off multiple risks and challenges," Sheng Laiyun, deputy head of the NBS, said in a statement.
China has managed to deal with economic shocks in 2022, posting a 3 percent year-on-year growth, the statement said.
Louise Loo, a senior economist at British think tank Oxford Economics, highlighted the stronger-than-expected fourth quarter data and the "green shoots of recovery" emerging in recent economic activities.
"For the first quarter of 2023, we expect growth to accelerate sequentially," Loo said.
"As China is giving priority to reviving the economy and stabilizing growth, we expect to see more stimulus policy measures highlighted in the annual Government Work Report (to be) released during the upcoming two sessions," she added.
Loo said that exports will also continue to be a major drag on the outlook for 2023, given the softening global demand conditions, an eventual run-down inventories across key advanced economies and the ongoing global manufacturing and semiconductor downcycles.
Wu Chaoming, deputy director of the Chasing International Economic Institute, voiced optimism for a robust 2023, given the optimized COVID-19 measures and the stronger macroeconomic policy support, despite pressures and challenges ahead.
Wu said he expects the country's GDP to grow by about 5.3 percent year-on-year in 2023, with a robust recovery in consumption, especially as the increase in household savings over recent years may partially translate into a rebound in consumer spending.
Deutsche Bank is also bullish on the Chinese market and has revised its 2023 economic growth forecast for China from 4.5 percent to 6 percent.
Luo Zhiheng, chief economist at Yuekai Securities, said the country may set this year's national GDP growth target at around 5 percent year-on-year, adding that expanding domestic demand and boosting market confidence will be key for stabilizing the overall growth.
While facing a more complicated and grimmer external environment — as well as multiple pressures from shrinking demand, supply shocks and weakening expectations — Sheng, of the NBS, said that China's economy, characterized by strong resilience, tremendous potential, great vitality and long-term sustainability, will remain sound.
He said the necessary production factors for quality development remain unchanged.
According to data released by the NBS on Tuesday, China has maintained its position as the world's largest manufacturing hub, with the value-added output of the manufacturing sector hitting 33.5 trillion yuan in 2022.
Notably, China's gross domestic expenditure on R&D reached 3.1 trillion yuan last year, surpassing the 3 trillion yuan milestone for the first time, the NBS said.
Mao Xinsheng, chairman of Beijing-based AI medical company Shukun Technology, spoke highly of China's intensified efforts to foster innovation-driven growth, saying the development of the high-tech sector and the digital economy will add fresh impetus to the economy.
"We will continuously increase investment in R&D. … We will work with more partners to jointly promote the digital and smart transformation of the healthcare sector," he said.