China dismisses smear over Russia ties
Share - WeChat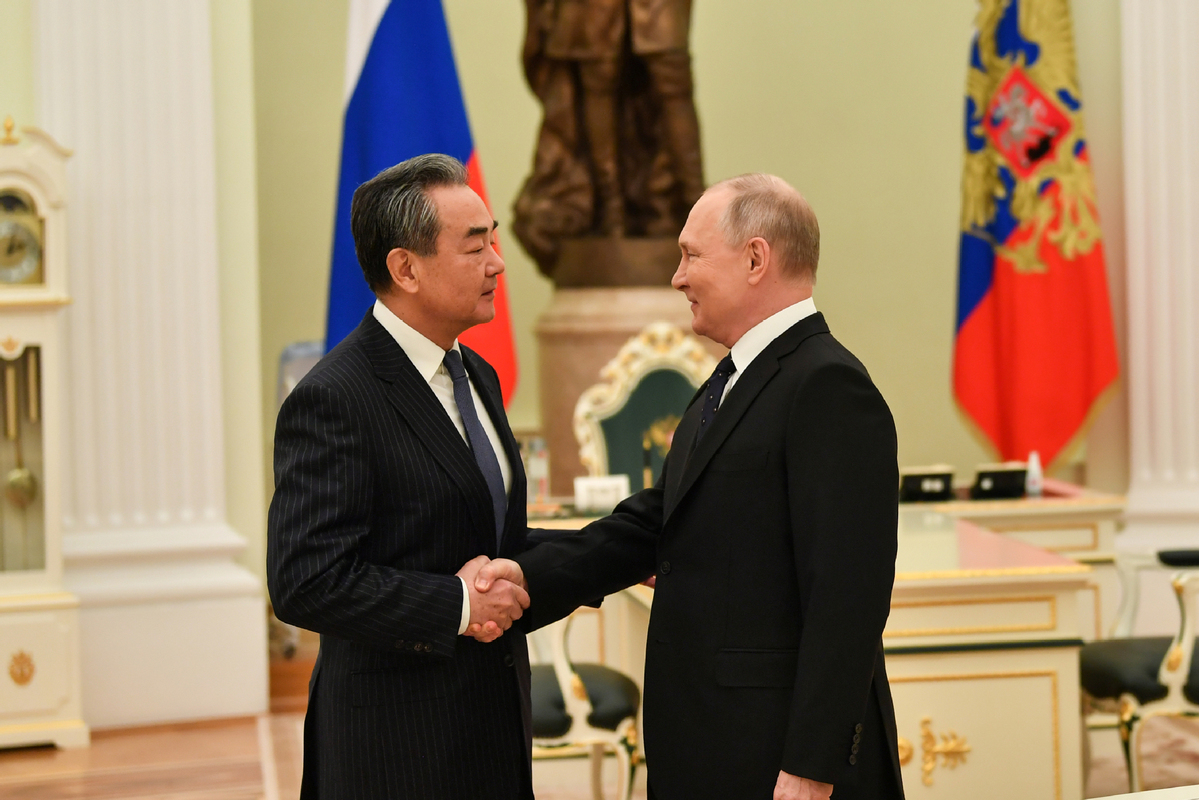 Foreign Ministry spokesman Wang Wenbin on Wednesday pushed back against Washington's so-called concern over China-Russia ties after a senior Chinese diplomat visited Moscow, saying it is the destructive role the US has played in world peace and stability that is truly concerning.
US State Department spokesman Ned Price called the recent visit by Wang Yi, director of the Office of the Foreign Affairs Commission of the Communist Party of China Central Committee, to Russia as "further evidence of Beijing's alignment with Moscow".
"The relationship between China and Russia is built on the basis of non-alignment, non-confrontation and not targeting any third party," Wang told a regular news conference in Beijing. "It is a boon for safeguarding peace and stability in the world, so there is no reason to worry about it."
By contrast, the US is the world's No 1 maker of war, he said, adding that there were only 16 years when the country was not at war throughout its more than 240 years of history, while the US has also initiated over 80 percent of the world's armed conflicts since the end of World War II.
Wang cited reports saying that the US has made attempts to overthrow more than 50 foreign governments, grossly interfered in elections in at least 30 countries, and tried to assassinate more than 50 foreign leaders.
Noting that the trilateral AUKUS partnership of the US, the United Kingdom and Australia has drawn vigilance over its impact on security in the Asia-Pacific, Wang said the world cannot get the peace it deserves "as long as the US hegemonism and bellicosity still exist".
He also dismissed speculation that China is considering providing arms to Russia, saying that any so-called intelligence regarding this is nothing but a smear against China.
As the biggest weapon provider for the battlefield in Ukraine, the US' attempts to smear China in this way will not only hinder the political settlement of the Ukraine crisis but also further undermine China-US relations, Wang said.
"We urge the US to stop deflecting blame onto others or playing up the situation, and to work with the international community to push for diplomatic talks to solve the crisis," he said.
"If the US does have valuable intelligence to share, we hope it will be the truth about the Nord Stream pipeline explosion, as the US is expected to respond to this issue in a serious and responsible way, instead of trying to cover it up."