Threading a path through time
Share - WeChat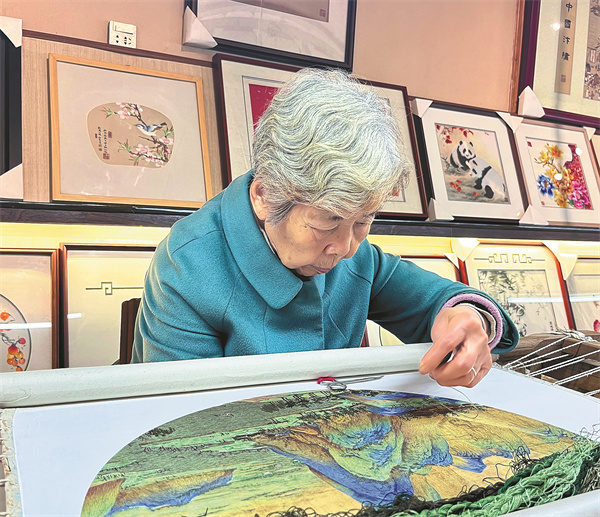 Craftswoman dedicates her life to revitalizing traditional embroidery by re-creating masterpieces, Yang Feiyue reports.
Snow-white woven silk, colorful threads and silver needles were flying under the dexterous hands of Wang Suhua at her home in late January.
The woman from Kaifeng, Central China's Henan province, was trying to use Bian embroidery to restore a scene from Qianli Jiangshan Tu (A Panorama of Rivers and Mountains), a masterpiece by the painter Wang Ximeng of the Song Dynasty (960-1279).
In the wake of Wang Suhua's dancing fingertips, intricate patterns of flowers, birds, fish, insects and vast landscapes of mountains and rivers emerge on the brocade.
Delivering a piece of Bian embroidery requires a dozen steps, including material selection, framing, stretching, thread matching, embroidery, and then the finishing touches.
"For material selection, one must choose satin fabric colors and specifications according to the embroidery design, and there cannot be any flaws, however slight," Wang Suhua says.
"The fabric to be embroidered also has to be fixed on the frame, the size of which should be based on the size of the work, and it must be tightened just right to keep the fabric surface flat," she adds.
Those requirements are necessary to ensure the final work is smooth, bright and clean.
"Each step must be carried out meticulously and perfectly, which requires years of experience."
Most Popular