China NEV auto brands setting up plants overseas
Share - WeChat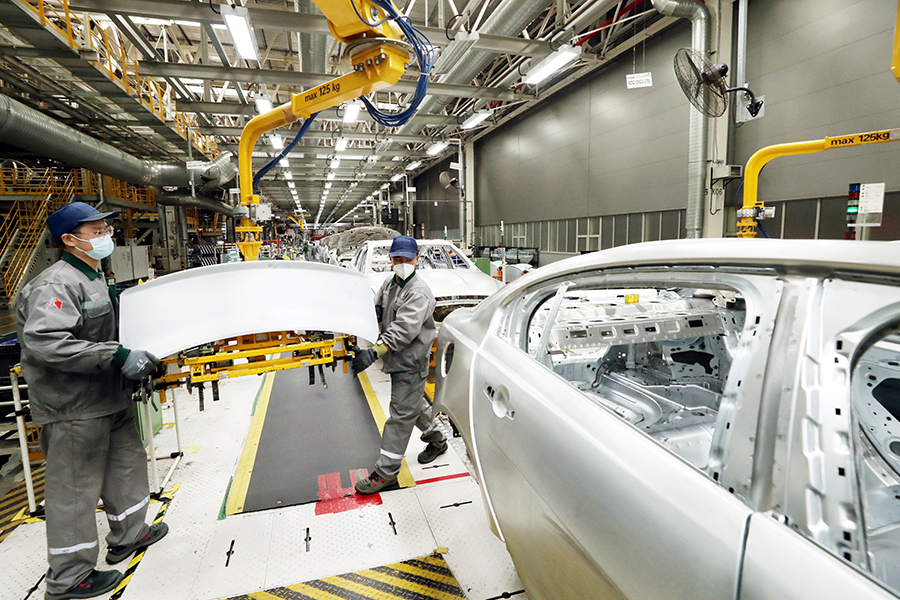 Chinese automakers are building factories overseas to explore the global market as the popularity of their new energy vehicles continues to grow.
Chery announced it would invest $400 million to build an electric car plant in Argentina, said the embassy of the South American country in China last week.
The embassy said the manufacturing facility is expected to produce up to 100,000 vehicles per year and generate 6,000 jobs by 2030.
Chery aims to grow the facility into a regional center of NEV production, which will further cover the Latin American market together with the automaker's plant in Brazil that is already up and running.
Chinese battery maker Gotion High-tech has agreed to supply batteries to Chery from its factory in northern Argentina, which was co-built with a local mining company.
Argentine Ambassador to China Sabino Vaca Narvaja said China is very competitive in the NEV sector.
He added that the investment from Chinese companies, including Chery, will be essential for Argentina's electrification plan, which boasts lithium resources that are critical in battery production.
Argentina passed a bill in 2021 that aims to ban gasoline vehicle sales in the country from 2041.
Statistics from the embassy show that NEV sales in Argentina totaled 7,848 units in 2022, up 33 percent year-on-year. Among them, pure electric vehicle sales stood at just 260 units.
Great Wall Motors, China's largest SUV producer, is making inroads into the South American market as well. It announced it will launch 10 NEV models in Brazil by 2025.
It has completed technological upgrading at its Iracemapolis plant in Brazil, which it acquired from Mercedes' parent Daimler in 2021. Great Wall Motors said it will invest $1.68 billion in its Brazilian manufacturing base in 10 years.
"GWM will offer new energy vehicles for users with innovative products and new technologies, bringing them clean and intelligent mobility experiences," said Yang Weiqi, president of GWM Brazil.
Southeast Asia is another major destination for Chinese automakers. Great Wall Motors said it is planning to launch four NEV models in Thailand in 2023.
BYD is exploring the possibility of building a plant in Europe, said Li Ke, its executive vice-president, earlier this month. Li's remarks came after reports that the Chinese NEV maker may take over a Ford plant in Germany.
In October, car rental company Sixt inked a deal with BYD to purchase 100,000 vehicles over six years, with the first ones being the Atto 3.
Chinese NEV carmakers are attracting overseas customers with new models and may thus see their positions rise on the global stage, according to a McKinsey report released in late 2022.
NEV vehicles have boosted China's total exports. Last year, 679,000 NEVs were shipped from China, up 120 percent year-on-year, according to the China Association of Automobile Manufacturers.
They helped China's total auto exports in 2022 soar 54.4 percent to hit 3.11 million units, overtaking Germany as the world's second-largest vehicle exporter.
Zhang Yongwei, vice-president of China EV 100, an automotive think tank, said China's NEV exports are expected to reach 800,000 units this year.