Luxury cruiser to open new chapter in shipbuilding and tourism
Share - WeChat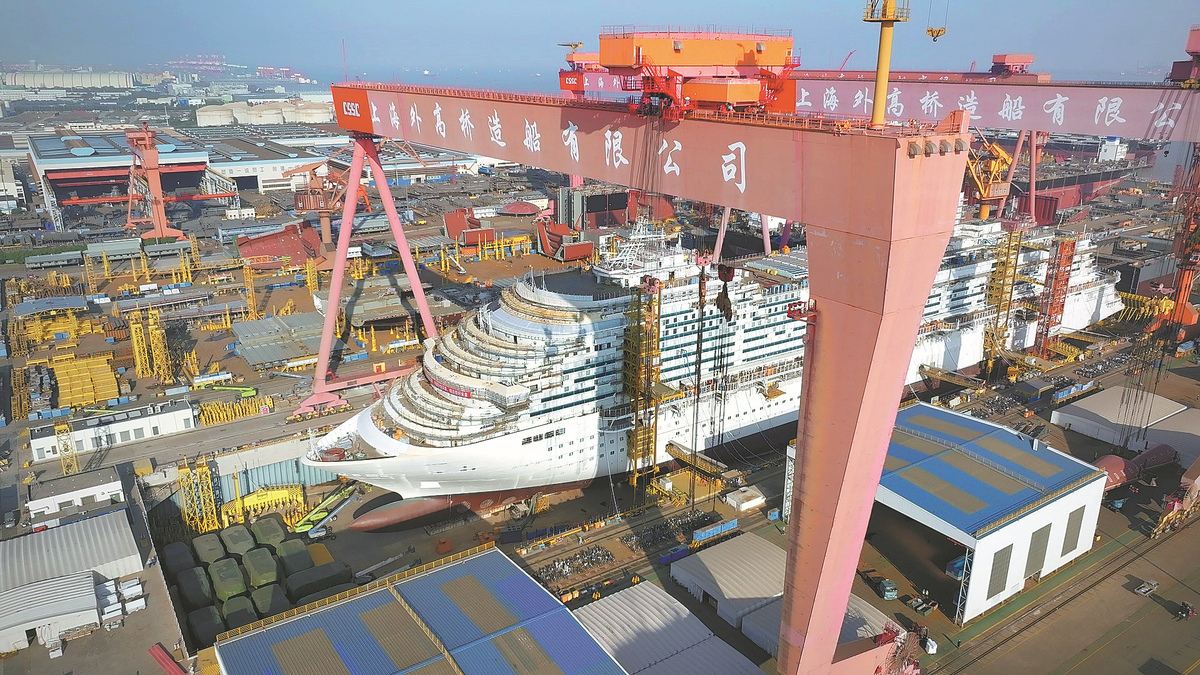 The first large-tonnage luxury cruise ship in China, built by Shanghai Waigaoqiao Shipbuilding, is expected to be unveiled by the end of 2023. The move is to mark a major breakthrough in the field of large-scale cruise ship construction in the country, according to insiders.
The gross tonnage of the ship is said to reach 135,500 metric tons, with a total length of 323.6 meters and a width of 37.2 meters. With 2,125 rooms, the ship can accommodate a maximum of 5,246 passengers.
When aboard, guests will be able to visit a large-scale performance center, specialty restaurants, various bars, cafes and shopping malls. During their journey, they can also have a culturally enriching experience in the art corridors, children's centers, water parks and other facilities.
Unlike cargo ships, building a cruise ship is like building a "mobile city", said Ma Wangkou, a researcher of China Cruise Technology Development. It is much more difficult to achieve a good design, a complex core system and integrated supporting facilities and at the same time ensure passengers' safety and meet environmental requirements, he said.
For this reason, China has built a close connection with world-class shipbuilding enterprises and made strides in construction to overcome any shortcomings in experience, core technology and equipment.
"Building large cruise ships has been a dream of Chinese shipbuilders for generations," said Ye Xinliang, deputy head of the School of Management Studies of Shanghai University of Engineering Science, who has studied the cruise industry for years.
China has grown into one of the few major shipbuilding countries in the world. However, the bulk of its products are cargo ships, which have low added value.
The cruise-driven economy is closely related to the economic development of a country and its shipbuilding industry, Ye said. He added that cruise ship construction directly reflects a country's comprehensive scientific and technological development and industrial capacity. Such advanced technologies bring China the potential to tap into this powerful part of the tourism industry.
Zhou Weihong, deputy general manager of Springtour Travel Agency, said that according to the studies of the company since 2012, cruise tourism has attracted a large proportion of outbound tourists. As a tourism industry insider, he is excited to learn that the Chinese-made cruise ship will make its debut in 2023.
"This signals that a more complete industrial chain of China's cruise industry is taking shape, and at the same time, it injects new impetus into the cruise tourism business," Zhou said. "Domestic cruise ships enjoy home advantages in terms of safety, comfort and environmental protection, which means they will have greater attraction for Chinese tourists."