Deep diving for truth: The Nord Stream pipeline destruction
Share - WeChat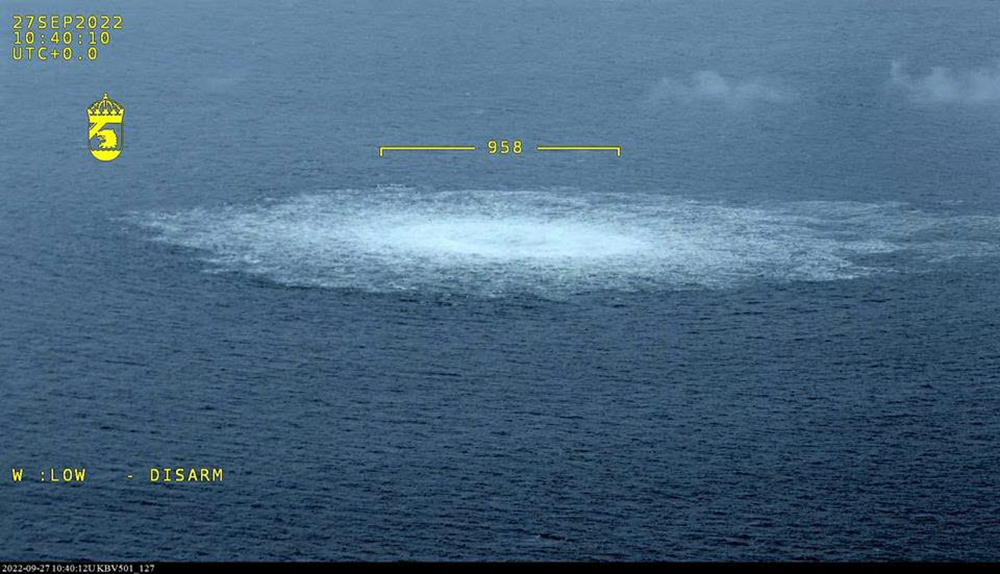 A boxer who climbed into the ring and then started nonsensically punching themselves would make about as much sense as the frequently laid charge by Western governments and compliant media that Russia was responsible for detonating the charges which demolished its Nord Stream 1 and 2 pipelines, the second of which had just been finished at a cost of $20 billion.
Now Pulitzer Prize-winning investigative journalist Seymour Hersh has added his voice to those saying that the concocted story bears little connection to actual events.
Hersh's voice is significant. It was he who uncovered the 1968 My Lai massacre by US soldiers. The killing of 500 Vietnamese villagers, including large numbers of women and children, had been successfully covered up until Hersh revealed its horror to the world. His subsequent book, 'My Lai' won him the Pulitzer.
Hersh was also involved in uncovering the Watergate criminality to have President Nixon re-elected in 1972, before in 1973 revealing the massive illegal bombing raids carried out by US B52 bombers over Cambodia.
He also wrote several reports on the US invasion of Iraq, including one in 2004, in which he covered the US military's mistreatment of detainees at Abu Ghraib prison near Baghdad.
Now in a 5,000-word piece Hersh published on February 8, he asserts that it was the US who was primarily responsible for destroying the Nord Stream pipelines.
Hersh was immediately met by howls of criticism for his reliance on a "source with direct knowledge of the operational planning." Where is the hard evidence his critics have chorused, as though state players involved in such events leave evidence behind.
Understandably Hersh wishes to protect his source, given the punishments meted out to those who have revealed illegal US military actions; Julian Assange, Chelsea Manning and Edward Snowden.
Hersh suggests that those within the media who criticize him for using anonymous sources should "understand the business a little better," while criticizing the Western media's compliant coverage of the Russia-Ukraine conflict. "The war I know about is not the war you're reading about."
In coming to his conclusions, Hersh also refers to circumstantial evidence centering on statements made by US President Joe Biden and members of his administration.
Prior to Russian military action, on February 7, 2022, Biden, following a meeting with German Chancellor Olaf Scholz, threatened, "if Russian tanks or troops cross the border of Ukraine, there will be no longer a Nord Stream 2," while US Secretary of State, Anthony Blinken, again prior to the destruction of the pipelines, suggested halting Nord Stream is a "tremendous opportunity to once and for all remove the dependence on Russian energy" stopping Russia from "weaponizing energy" for political purposes.
The dependence of the Russian economy on the export of energy, gas and oil representing as much as 45 percent of Russian exports, according to Hersh, is further evidence for his conclusion.
The White House has called Hersh's report "utterly false and complete fiction."
Relying both on his source and circumstantial evidence, Hersh concludes that it was the US, along with Norway, who was responsible for the explosions which destroyed the pipelines.
Norway is one of the original 1949 NATO members. Current NATO General Secretary Jens Stoltenberg, known for his anti-Russian views, is a former prime minister.
The Norwegians were able to identify the best place for such an operation, near Denmark's Bornholm Island, he said.
The explosions laid by highly trained US Navy divers using the cover of the annual NATO Baltops (Baltic Operations) military exercises in June 2022 were the result of C4 charges. These remotely triggered explosives were then ignited on September 26, 2022, when a Norwegian Navy P8 surveillance plane, making a seemingly routine flight, dropped a sonar buoy which, emitting a special low frequency sound, triggered the explosives, destroying 3 of the 4 pipelines.
In commentating on Hersh's thesis, The New York Times (February 2, 2023) noted that German investigators remained open to theories that a Western state carried out the bombing with the aim of blaming it on Russia, and that the explosions were also being investigated by Denmark and Sweden.
Further, the Washington Post (December 21, 2022) reported that 23 diplomatic and intelligence officials from nine different Western countries claimed they had seen no evidence linking Russia to the attack, some declaring they did not believe Russia was to blame.
President Putin's spokesman said allegations that Russia would cripple its own pipelines were "stupid and absurd."
In cases such as this it is always good policy to ask the question, who benefits?
Clearly, there would be no reason for Russia to blow up their own pipeline when, if they wanted to stop the flow of gas, they could have simply turned off the tap.
For Washington, however, the bombing presented two benefits. First, coming amid the NATO military escalation against Russia in Ukraine, it helped fuel more anti-Russian war propaganda. Second, by making Europe more dependent on US natural gas imports to replace Russian gas it brought Europe more firmly under US control.
Russia has called for an open international investigation into the attack, which it called a clear breach of international law, saying it was "impossible to leave this without finding the perpetrators and punishing them."
John Queripel is a Newcastle, Australia, based writer, historian and social commentator.
The opinions expressed here are those of the writer and do not necessarily represent the views of China Daily and China Daily website.
If you have a specific expertise, or would like to share your thought about our stories, then send us your writings at opinion@chinadaily.com.cn, and comment@chinadaily.com.cn.
Most Viewed in 24 Hours
China Views