From choice to crime: Facts about abortion bans in the US
Share - WeChat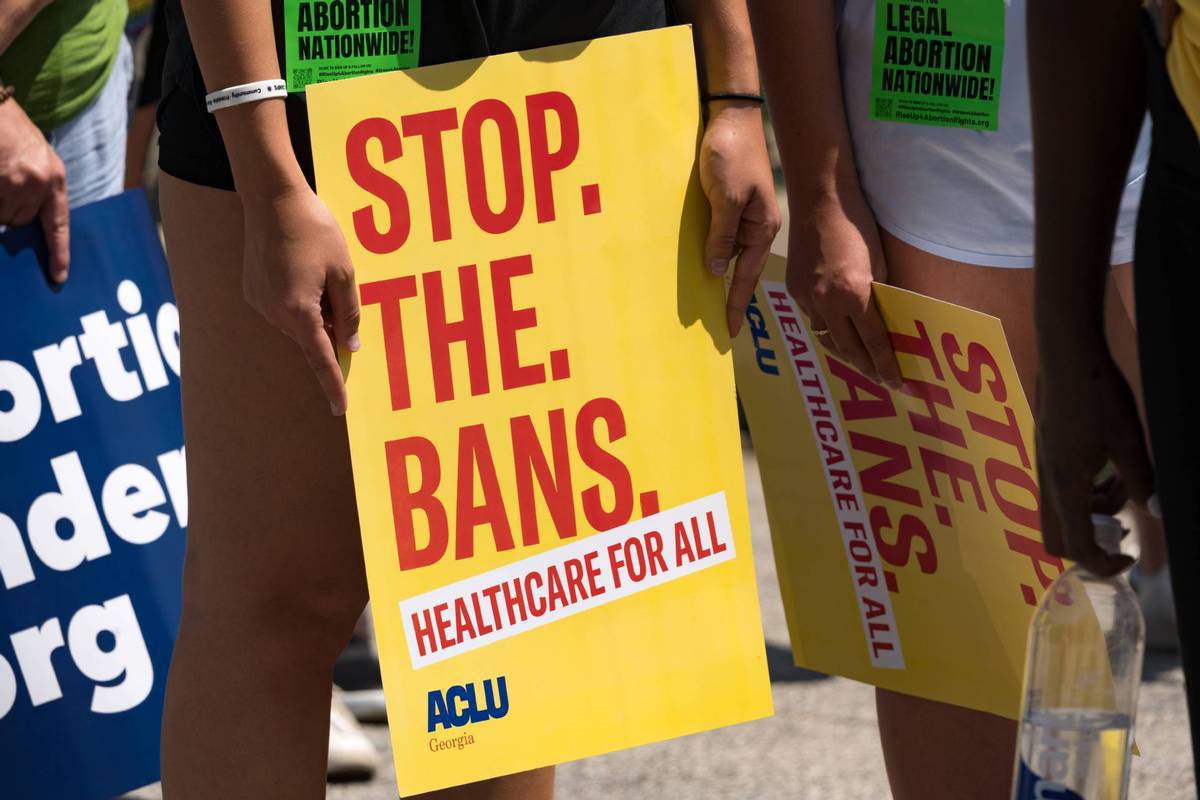 In the United States, a country proclaiming itself as a "beacon of human rights", women can be convicted of abortion - a choice about their own life and their own body - which is an ironic and flagrant violation of human rights.
From the founding of the United States until the early 20th century, abortion was considered a crime. In 1973 Roe v. Wade became a milestone for establishing a new American civil right - the right for a pregnant woman to have an abortion in the first 24 weeks of pregnancy without government restrictions. It was a new right and new choice for women to control their own body, choose their own lifestyle and pursue their own happiness.
And yet after 49 years, the choice of abortion in most instances becomes a crime again with the overturning of Roe v. Wade on 24 June 2022. To date, 31 states have enacted one or more abortion bans and 19 million women cannot access abortion in their state of residence, demonstrating that the development of human rights has not always been a linear process in the United States, and it has gone in reverse.
The lack of health exception in abortion bans tremendously endangers women's health. In 2021, Marlena Stell, from Texas, found out that her fetus was not viable in a routine ultrasound check when she was almost 10 weeks pregnant. She asked for a standard D&C (dilation and curettage) procedure. However, due to Texas's abortion ban, she was told to get another ultrasound to confirm that the fetus was dead. By the time she was arranged to have an abortion, she had carried the dead fetus for two weeks. In this horrifying story, the woman should not have had to wait so helplessly for the medical care she needs. Abortion bans greatly violate the rights to life and health.
In addition, abortion bans create obstacles for victims to get timely and confidential access to abortion when sexual assault results in pregnancy. It is cruel and inhumane that in many states like Alabama, Ohio and Texas, exceptions are not allowed even for a pregnancy that is the product of sexual assault after the first 6 weeks of pregnancy. In June 2022, a 10-year-old girl and rape victim in Ohio was denied an abortion in her home state because she was 6 weeks and 3 days pregnant and therefore was forced to travel to Indiana for a legal abortion. Laws about abortion bans amplify the harms of sexual assault, violating the victim's bodily autonomy a second time and exposing them to further indignity and trauma.
It should also be noted that the harms brought on by abortion bans disproportionately affect women of color, who have less access to medical care due in large part to systemic discrimination, exclusion from the workforce and expensive health care.
The abortion issue has been drifting toward politicization because of the need of party politics, and supporting or opposing abortion bans is just part of political tactics. From Roosevelt's New Deal in the 1930s to the Civil Rights Movement in the 1960s, the Democratic Party had been in power for a long time and won support from voters of color, urban working class and immigrants. To change this situation, in 1968, the Republican Party proposed the "Southern Strategy" to attract white southern voters who were extremely dissatisfied with the Democratic Party's reform policies, most of which were anti-abortion. In the mid-1970s, the Republicans began to put anti-abortion content in their election manifesto for the target voters who opposed abortion. From then on, anti-abortion policies have become an important card for Republicans to attract more voters.
As for the Democrats, though claiming their opposition to abortion bans, they also focus heavily on abortion issues because they need to use this as a campaign strategy. In the 2022 US midterm elections, a Gallup poll showed that abortion issues became the second highest concern and a major motivating issue for American voters. Democratic President Joe Biden pledged, on Nov 16 last year, that if the Democrats get it through Congress in the midterm elections, the first bill he would sign into law would be to allow women to enjoy the fundamental right to abortion. However, during Biden's term of office, 2021 marked the first time that US states enacted more than 100 abortion restrictions in a single year. According to The Washington Post, "Democrats and their allies are talking about one thing above all else: abortion" and "have spent $103 million on such ads in congressional races." Just like the Republicans, the Democrats don't care about women or human rights, and only political gain will be considered.
There is a great irony that the US has always been boasting its respect for human rights, while on the issue of abortion it goes back to where it was 49 years ago. The human rights in US will not be fully attained before accessible, affordable and compassionate abortion care for every woman can be guaranteed.
Xin Ping is a commentator on international affairs, writing regularly for Xinhua News Agency, Global Times, CGTN and China Daily. The views don't necessarily reflect those of China Daily.
If you have a specific expertise, or would like to share your thought about our stories, then send us your writings at opinion@chinadaily.com.cn, and comment@chinadaily.com.cn.
Most Viewed in 24 Hours
China Views