An essential medical guide
Share - WeChat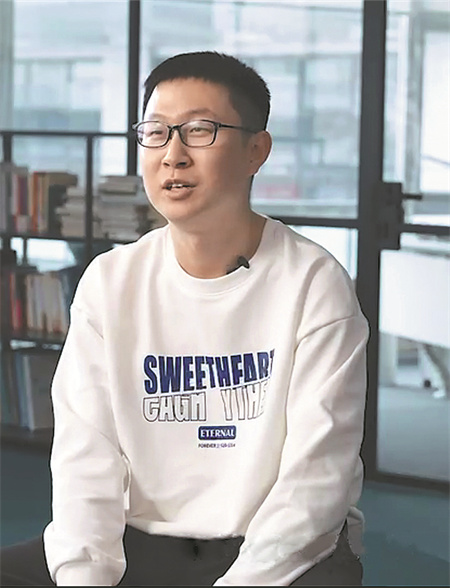 Beijing resident provides welcome assistance to patients facing unfamiliar and sometimes overwhelming hospital visits, Yang Feiyue reports.
Han Zheng strongly believes that more people are availing of outpatient services at hospitals across the capital following the Spring Festival holiday.
"Perhaps it's because the pandemic has passed, and many patients who postponed their hospital visits before are lining up for treatment," the Beijing resident says.
Han is in his mid 30s and started to work as a medical guide about 13 months ago after he found that many patients were struggling to find their way around hospitals.
"After the COVID-19 outbreak in Beijing in December, the respiration and internal medicine departments had been full to bursting, while the rest of the departments experienced that patients were thin on the ground," Han recalls.
He accompanied one of his patients to an emergency treatment in late December.
"She was one of my regular clients, and was suffering from an enduring pain in her lungs for half a month," Han says.
"The emergency room was crowded, and it took five hours for us to see the doctor, and another three hours to take the CT scan," he recalls, adding that it would have been about two hours to finish the whole process before.
Han kept his patient company the whole time and helped to make the wait easier.
The patient was in her 30s and was working and living alone in Beijing, with her family far away from her.
"Every now and then, she would have me run some errands for her at the hospital," Han says.
In December, the young woman and many of Han's patients would turn to him when they had trouble getting an appointment with the right doctors or simply didn't want to be alone at a hospital.
Han answered their calls after taking a weeklong rest after getting COVID himself at the beginning of December.
"Most of my orders during the period were from patients who I had dealt with before," he says, adding that some of them had left Beijing but still had unresolved problems, such as test results that had yet to come out.
"One patient from Henan (province) had his bone operation done in 2015, and needed me to find information on the steel nails used on him," Han explains.
Most Popular